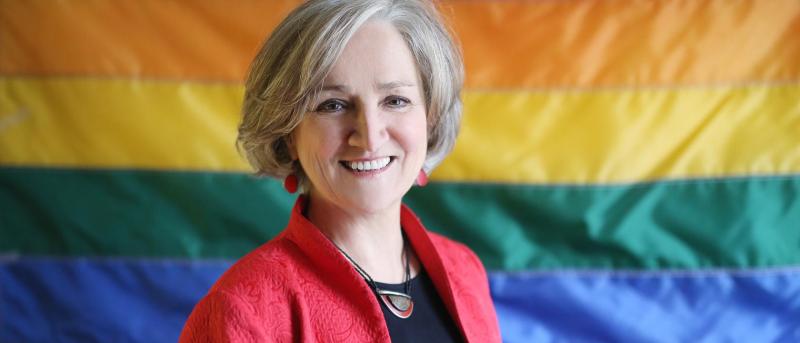 New Global Health Research Director Aims to Expand Columbia Nursing's LGBTQ Research in the US and Abroad
Tonda Hughes, PhD, has spent her career fighting for visibility and long-term research involving the health of lesbian, gay, bisexual, transgendered, and queer (LGBTQ) communities. Long before most health disparities scholars recognized that sexual orientation contributed to inequities in health, Hughes was building a body of work that demonstrated how gender, gender roles, and sexual orientation impact health.
Hughes took on the role of director of Columbia Nursing's Global Health Research in February, and holds appointments as Professor in both nursing and the department of psychiatry where her primary role will be to conduct research and also mentor students and faculty. Prior to Columbia Nursing, Hughes spent more than 25 years at the University of Illinois at Chicago (UIC), where she will continue to lead the longest running longitudinal study involving sexual minority women's (SMW) health with a focus on alcohol use and mental health.
According to Hughes, it was Dean Berkowitz's interest in developing a stronger focus on LGBTQ health in the school that drew her to the position. She is excited to channel her passion for LGBTQ health, both domestically and abroad, to continue the school's commitment and leadership in the field.
What do you bring to your new role at Columbia Nursing?
With this new role, I hope to meld my expertise and passion for SMW's health and global health. Columbia Nursing is the perfect setting to do this because of the strength of its LGBTQ program and its stellar global health and global nursing program led by Jennifer Dohrn, DNP, director of the Office of Global Initiatives.
I am also doing work with researchers in a number of other countries with the goal of increasing research and visibility about LGBTQ health not just in nursing, but in other disciplines as well. For example, I am currently a visiting professor at Oxford Brookes University in Oxford, England, and I also hold honorary professorships at Deacon University in Melbourne and the University of Technology in Sydney, Australia. In addition to my own work with faculty in those institutions, I hope to foster collaborations between nursing faculty in overseas institutions with faculty at Columbia Nursing as well.  
Why is it so important to have a global eye on this issue?
LGBTQ health has made progress here in the United States, but we still have a ways to go. In a lot of other countries, especially countries that are not westernized, there is a real lack of visibility and harsh conditions for LGBTQ people. There are currently at least 75 countries where it homosexuality is illegal, and in about 10 countries it is punishable by death.
I think that people are afraid of what they don't understand. Increasing visibility and understanding of LGBTQ people and LGBTQ people's health concerns is critically important in changing some of these draconian laws and perceptions.
You are on faculty, but not yet in New York. Talk about why you are still based in Chicago:
I've been in Chicago for 33 years, and all of that time at the University of Illinois at Chicago (UIC) College of Nursing. I completed my PhD at UIC, and then joined the faculty. I lead a long-term longitudinal study of SMW's health—focused on alcohol use and mental health—funded since 1999 and is currently funded until 2021.
The study is called the Chicago Health and Life Experiences of Women (CHLEW) study because we recruited our sample in Chicago. I've worked very long and hard to gain the trust of the women in my study, and having a presence in Chicago is important. I will be telecommuting to my job at Columbia Nursing until the summer, and then will move to the campus here once the new building opens.
The CHLEW is a landmark study; there is very little published longitudinal work on SMW's health, and to my knowledge the CHLEW study is currently the longest-running study of sexual minority health that exists.
Is there anything else about your research you would like to share?
I am very proud of the research that I do because longitudinal work is so important—especially with stigmatized and marginalized populations where the knowledge base is relatively small. There's not a lot of research out there on SMW, and the majority of research that does exist, only provides us with a snapshot in time of what is happening. Longitudinal research is essential to understanding the mechanisms underlying sexual-orientation-related health disparities.
In order to understand how societal attitudes and policies impact LGBTQ people's health--and in my case SMW (lesbian, and bisexual) women's health--you need to be able to track changes in health and well-being over time. I'm in this amazingly wonderful position where we have this longitudinal data set that includes tons of rich data collected before marriage equality (legal recognition of same-sex marriage). And now we are in the field, collecting new data to understand how these recent policy changes have impacted lesbian and bisexual women's health and well-being. I feel privileged to be in a position to advance understanding of the impact of current societal changes--both positive and not so positive changes—on the health of this population. 
What are you most looking forward to about your transition to Columbia Nursing?
Columbia Nursing gives me the ideal setting to do the work that I am passionate about. I'm very excited to work with the amazing people in nursing and in other disciplines who are doing such incredible work. Dean Berkowitz's interest in, and support of, LGBTQ health research is fairly unusual. I've had a great experience at UIC, but the fact that Columbia Nursing is so interested in taking a leadership role in LGBTQ health was impossible to pass up.
My goal is that every nurse has a level of cultural competence and cultural humility around LGBTQ issues. All nurses should be able to work with and treat all people with dignity and respect. I prefer cultural humility to cultural competence because it is really not possible to be fully knowledgeable about cultures other than one's own. But we can all be willing to look at ourselves and our gaps in understanding to be open to learning.