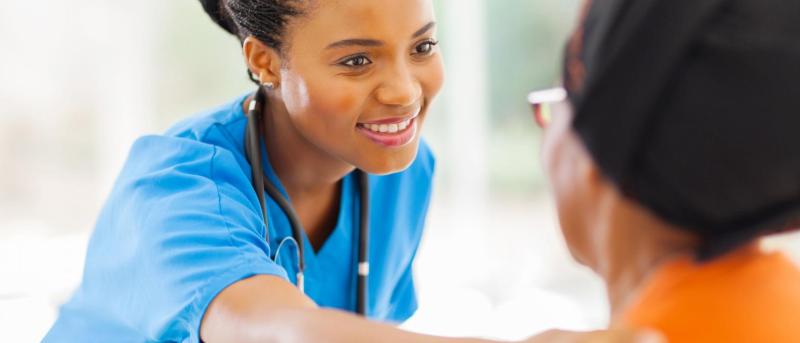 New Program Brings Palliative Care Philosophy to All Columbia Nursing Students
This month, Columbia Nursing is launching a school-wide palliative care education program that reflects the recent development of competencies and recommendations from the American Association of Colleges of Nursing (AACN). AACN is encouraging palliative care education of nursing students in pre-licensure programs. Both the call-to-action and the program come at a time when health care professionals are bracing in anticipation of an unprecedented number of Americans who are or will be living with one or more chronic, life-limiting illnesses.
Palliative care focuses not on the disease, but on the person. It emphasizes meeting the needs of patients and families and easing suffering across the trajectory of a serious illness and across the lifespan. It includes, but is not limited to end-of-life care, and is provided by an interprofessional team that works in tandem to address the physical, intellectual, emotional, social and spiritual needs of people with a serious illness. This team also helps patients and families make medical and care-related decisions.
"As palliative care providers, we talk to patients about what they value, what their goals are, and what their understanding is of their medical illness so that they can make decisions about next steps in their care," said Mary Ellen Tresgallo, DNP, assistant professor of nursing. "The patient is the central focus and we work to enhance their quality of life."
Providing palliative care requires knowledge on a wide range of topics from understanding the financial impact of an illness on patients and their families to helping them adjust to and cope with grief and loss. It also necessitates communicating effectively and sensitively with patients and families of different cultural backgrounds and with colleagues of different disciplines.
"Palliative care goes beyond having a strong knowledge of physiology and includes understanding the way human beings react to their illnesses and to one another," said Penelope Buschman, MS, assistant professor of clinical nursing.
While Columbia Nursing already offers specialized programs in palliative and end-of-life care for advanced students, this is the first time the basic principles of palliative care will be integrated into the curriculum for all students. This includes master's direct entry (MDE) students, who are just entering the field of nursing, and advanced practice students earning a nurse practitioner (NP) degree or doctoral degree in nursing (DNP).
The AACN recommendations and the launch of the program seek to meet an important need in health care.
"We are reaching a moment of crisis in the U.S. as more and more people, especially older Americans, are living with serious illnesses and experiencing impairments in their quality of life from pain issues to loss of function and depression," said Marlene E. McHugh, DNP, assistant professor of nursing. "Providing every health care professional with the basic tenants of palliative care is crucial to meeting the needs of these patients."
While palliative care principles are essential for this population, there are not enough palliative care specialists to attend to them. Nurses, and particularly Columbia Nursing graduates who will go on to practice in settings throughout the U.S., are uniquely suited to help meet this need.
"Nurses are the largest health care workforce in the U.S., and we hold the most intimate relationships with patients," said McHugh. "Who better to help improve the quality of life for seriously ill patients by learning and implementing basic palliative care principals?"
The program includes a series of six End-of-Life Nursing Education Consortium (ELNEC) modules developed in partnership with the AACN and distributed by Relias Learning. Beginning in April, all MDE, NP and DNP students will be required to complete the modules and faculty who wish to do so can take them as well—an achievement made possible by a gift from the Dr. Scholl Foundation.
"We are very grateful and excited to be able to add these rigorous modules, particularly for those students near the beginning of their nursing journey," said Buschman "We hope to establish the palliative care philosophy as part of the foundation that guides them as they move into their professional practice, regardless of their specialty or the setting in which they practice."
McHugh adds that faculty participation is also a key part of the new program. "The modules have been developed by national leaders in nursing in palliative care. Columbia Nursing faculty will be able to carry this knowledge forward, not just into the classroom but into clinical arenas and beyond."
Another important part of the modules is that they provide self-care strategies for nurses.
"Nurses need to know how to care for themselves and their colleagues." said Tresgallo. "The caregiver, whether it's the nurse, physician, social worker, bereavement counselor or other professional, needs to know how to sustain themselves and each other in the work we do as partners."
The rollout is being driven by the Palliative Care Planning Group which comprises McHugh; Tresgallo; Debra Miller-Saultz, DNP, assistant professor of nursing and Karol DiBello, DNP, assistant professor of nursing, under the leadership of Buschman.
In addition to meeting a significant health care need, providing standardized and evidence-based palliative care education to all students fills a gap in Columbia Nursing's curriculum. This new program will provide entry into the palliative and end-of-life care subspecialties that are available for advanced students. From there, students can apply for a specialized doctoral/post-doctoral fellowship which has been offered since 2013 with support from the Louis and Rachel Rudin Foundation.
"With this early introduction, we hope to whet nurses' clinical appetites," said Buschman "First, we want to see them incorporate this information and skill into their practice no matter where they may be. Second, we encourage them to consider continuing the journey along the novice-to-expert continuum of palliative care by pursuing a subspecialty and a fellowship."