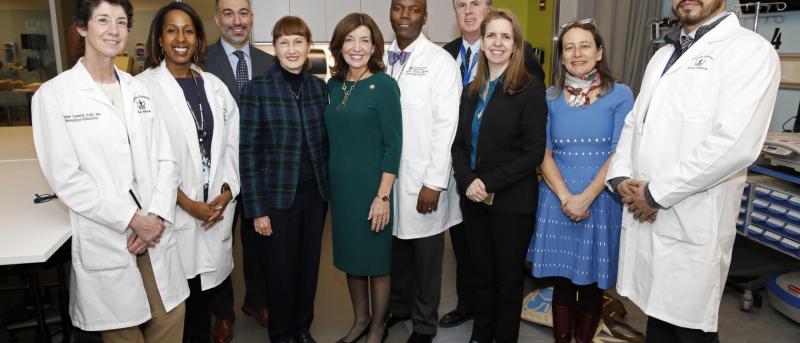 New York State Lieutenant Governor Kathy Hochul Visits Columbia Nursing
The School of Nursing had a special visitor on January 18th, as New York State Lieutenant Governor Kathy Hochul visited the new building and had a hands-on demonstration of the Helene Fuld Health Trust Simulation Center. After being welcomed by Dean Bobbie Berkowitz, Dr. Kellie Bryant, Columbia Nursing's executive director of simulation, lead the Lt. Governor through a simulation exercise so that she could see and better understand how the school uses state of the art technology and training techniques to educate the next generation of nurse practitioners. 
Dean Berkowitz explained that, "Lt. Governor Hochul played the role of a nurse midwife during a simulated birth. She did a great job and helped deliver a beautiful, healthy, baby girl manikin."
One of the issues that Lt. Governor Hochul has focused on during her time in office is fighting the opioid epidemic that has hit New York State. Columbia Nursing is participating in a training program to educate members of the public on how to administer naloxone, a drug that helps treat people suffering from an opioid overdose. Drs. Bryant and Eileen Thomas trained Lt. Governor Hochul on how to deliver the treatment.
"New York is investing heavily in higher education to train our students of today for the careers of tomorrow, especially careers in STEM related fields," said Lieutenant Governor Hochul during today's tour. "Columbia University School of Nursing is at the cutting edge of clinical simulation, providing students with a realistic setting to hone their skills before entering the field and caring for real patients. By investing in the future of our students, we are investing in the economic future of New York State."
After leaving the nursing school, the Lt. Governor used her visit to Columbia University Irving Medical Center (CUIMC) as an opportunity to present on Governor Andrew Cuomo's State or the State address and budget proposal. Members of the CUIMC and surrounding community heard her outline the Cuomo Administration's policy agenda for the upcoming year focusing on job creation, infrastructure, health care, and civil rights.
See more photos from Lt. Governor Hochel's visit.