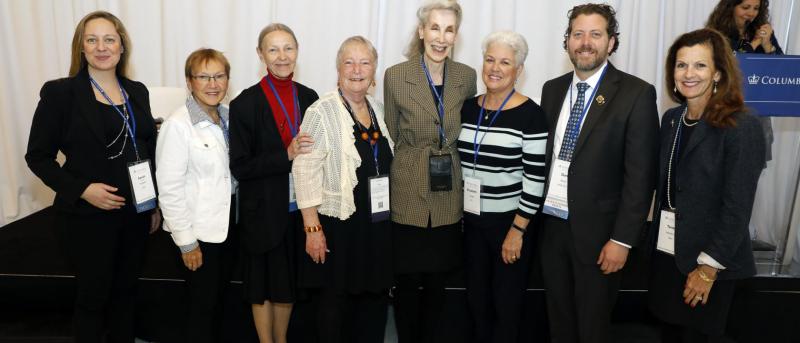 Nine Dynamic Nursing Professionals Recognized at 2019 Reunion
For over 40 years, the Alumni Associations have honored Columbia Nursing graduates with Distinguished Alumni Awards, known as the DAAs. The recipients are nurses who have made a significant impact in the field, exhibited excellence in their professional endeavors, and are exemplars of what it means to be a Columbia Nursing graduate. Awardees have provided outstanding health care service, driven innovation in research and care delivery, and provided mentorship that facilitates the growth and development of future nurses. The 2019 Distinguished Alumni Awards were presented to seven alumni at Reunion on May 3, as well as to Columbia Nursing's senior associate dean for research, Elaine Larson, PhD, in the honorary category.
This year's Reunion also included the inauguration of a special new award given at the discretion of Columbia Nursing's dean. The Anna Caroline Maxwell Award is conferred upon an alumnus/a whose achievements and record of service exemplify the ideals and traditions of the school and its founder. Suzanne Law Hawes '59 was recognized by Dean Frazier as Columbia Nursing's first Maxwell Award recipient.
2019 Distinguished Alumni Awardees
Emerging Leader Nursing Award
Donald Boyd has made immediate contributions to the nursing profession as a policy advocate and educator, particularly in his specialty of nurse anesthesia. Boyd's leadership is the hallmark of a Columbia University School of Nursing alumnus. Boyd received his bachelor of science in nursing degree from the University of Pittsburgh and a master's in nursing, as well as a PhD from Columbia University School of Nursing. He currently serves as associate director of the school's Nurse Anesthesia Program. 
Nursing Administration Award
Elizabeth Cooper is a graduate of Columbia University's Nurse Midwifery program. Upon graduation, Cooper joined the Maternal Infant Care and Family Planning Project in New York City to improve access to care in impoverished communities. This autonomous practice enabled her to improve maternal and infant care and reduce mortality and morbidity. Her determination and leadership led her to become the first midwife to practice in upstate New York, at Strong Memorial Hospital in Rochester, now the University of Rochester Medical Center.
Distinguished Career Nursing Award
Nessa Coyle is a renowned nurse clinician and nurse scientist, who has made significant and sustained contributions to nursing, specifically in palliative and hospice care. Coyle completed a diploma in nursing from St. Bartholomew's Hospital in London, a bachelor of arts from Marymount Manhattan College, a bachelor of science in nursing from Cornell University, a master of science in nursing from Columbia University, a PhD from New York University, and completed a certificate in bioethics and medical humanities from Montefiore Medical Center/Albert Einstein College of Medicine and Cardozo Law School. Since 1969, she has practiced at Memorial Sloan-Kettering Cancer Center in New York and currently serves as a consultant in palliative care, end-of-life-care, and clinical ethics.
Neighbors Humanitarian Award
Linda Kivowitz Glazner has an inspiring career as an occupational health nurse clinician, educator, administrator, public health care leader, advocate, mentor, and entrepreneur. Glazner has dedicated her life and career to the health and safety of others. She exemplifies what it means to be an advocate by creating and inspiring a caring environment for the most marginalized and needy individuals. The Neighbors Humanitarian Award is given for sustained and dedicated services to underserved populations without regard to personal gain, recognition, or compensation while promoting public recognition of nursing as a human service – all characteristics that Glazner embodies. 
Honorary Distinguished Alumni Award
Elaine Larson, PhD, is an extraordinary leader who has demonstrated her remarkable skills in nursing and epidemiology across clinical, academic, and policy settings for over five decades. Her steadfast leadership, prolific program of research and scholarship, and generous commitment to nursing education are unsurpassed. She has supported students and faculty, conducted groundbreaking research, and served on important school, university, regional, national, and international policy-setting committees. Larson is a true supporter of the goals of Columbia University School of Nursing, our alumni, and the profession.
Nursing Research Award
Judith Mercer is an internationally recognized research scholar and nurse midwife who has provided continuous contributions to midwifery since her graduation from Columbia Nursing. Mercer has educated nurse midwives, maintained midwifery practices, and served as director of midwifery at prestigious medical centers in her extraordinary career. She is known for her strong advocacy of the simple procedure of umbilical cord clamping to improve birth outcomes with infants of all gestational ages.
Nursing Research Award
Sarah Collins Rossetti, PhD is an outstanding nurse and scientist. She holds an undergraduate degree in nursing from the University of Pennsylvania and a PhD from Columbia Nursing. Her career began as a staff nurse on critical care units before and during completion of her PhD. Her work since then includes contributing to nursing informatics research to improve patient/family safety and engagement in the hospital setting. Following a post-doctoral fellowship in the Department of Biomedical Informatics at Columbia University, she was jointly appointed at Harvard Medical School and Partners Health Care. In 2018, she returned to Columbia University as an Assistant Professor in the Department of Biomedical Informatics and School of Nursing.
Distinguished Career Nursing Award
Tener Veenema is an internationally recognized expert in disaster nursing and public health emergency preparedness and has served as a senior scientist to the DHHS Office of Emergency Preparedness and Response, Department of Homeland Security, FEMA and VA Emergency Management Evaluation Center. An accomplished researcher, Veenema is an elected Fellow in the American Academy of Nursing, the National Academies of Practice, and the Royal College of Surgeons in Dublin, Ireland. She was a Robert Wood Johnson Executive Nurse Fellow and Senior Fellow in Nursing Policy and Health Leadership. Her completion of a bachelor's degree in nursing at Columbia Nursing was the turning point of her distinguished career in nursing for nearly 40 years.
View a full list of 2019 and past Distinguished Alumni Award recipients.