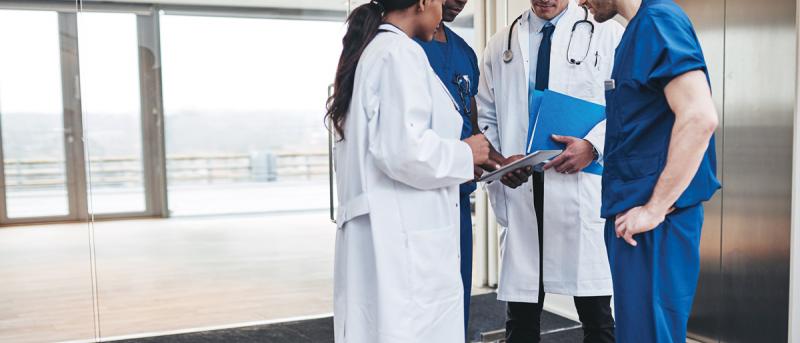 NP-Physician Patient Co-Management Enhance Quality of Care
This article originally appeared in the Fall/Winter 2018 issue of Columbia Nursing magazine.
By co-managing primary care patients, nurse practitioners (NPs) and physicians can reduce their individual workloads, and improve patient care access, quality, and healthcare outcomes, Columbia Nursing researchers report. Their findings stem from studies of successful physician-NP patient co-management, which also underscored the importance of effective clinician communication, mutual respect and trust, a shared philosophy of care, and most important, a work environment that supports NP autonomy, wrote principal investigator Allison A. Norful '17, PhD. "Hierarchies in healthcare are often counterproductive," Norful said. "Organizational policies need to support NP-physician co-management to fully grasp the benefits of this interprofessional care delivery model."
Norful and colleagues systematically reviewed 156 studies, and conducted 26 qualitative interviews with NPs and physicians to identify the components and effects of successful patient co-management. They found that NP practice autonomy, which varies among states, and clinicians' willingness to co-manage patients were essential for successful co-management, as were three core components: effective communication, mutual respect and trust, and a shared philosophy of care. "The stronger co-management is, the greater the potential for beneficial patient, clinician, and practice outcomes," said Norful, whose team compiled study results to create an NP-physician patient co-management model.
NP-physician co-management is a timely answer to the need for high quality patient care as the supply of primary care physicians dwindles, a growing number of patients--especially those with multiple comorbidities—seek primary care services, and insurers favor value-based rather than volume-based care for reimbursement. "Patients need timely and high quality care, yet care management demands cannot be left to a single discipline alone. We need an "all hands on deck" approach to meet the needs of our patients," Norful said.
She noted that NP–physician co-management could be more economical than two physicians caring for a single patient, although, she called for more studies about its cost effectiveness. She also called for more interdisciplinary education to familiarize NPs and physicians with each other's disciplines and co-management strategies.

This study was funded by the National Institute of Nursing Research and the National Center for Advancing Translational Sciences, National Institutes of Health, and appeared in in the May/June 2018 online edition of Annals of Family Medicine.