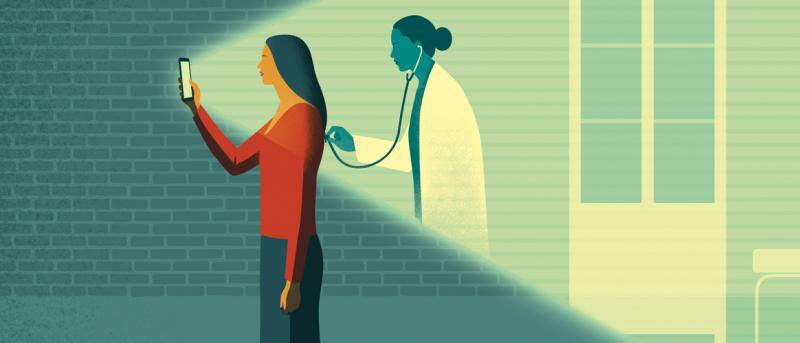 The NP Will See You Now (Virtually)
Columbia Nursing's New Telehealth Initiatives Connect Patients with Providers Face to Face in Cyberspace.
By: Kenneth Miller

This article originally appeared in the Fall 2019 issue of Columbia Nursing Magazine 
On a recent Sunday morning, Elizabeth Craig was jolted from sleep by the worst pain she'd ever experienced. It felt as though someone had plunged a knife into the left side of her lower back and was slowly probing her innards.
Unable to walk across the bedroom, the 55-year-old school administrator lay writhing on the floor; she began to vomit, but emptying her stomach brought no relief. Suspecting a kidney stone, Craig's wife drove her at high speed to a hospital near their apartment in Brooklyn, where doctors confirmed that diagnosis and administered morphine.
After five hours in the emergency room, Craig's condition had stabilized enough that she was able to return home. Because the stone had not yet passed, she was advised to see a urologist for follow-up care. But first, she would need a referral from her primary care provider—Columbia Nursing assistant professor Caroline Sullivan '13, DNP, who sees patients at the ColumbiaDoctors Primary Care Nurse Practitioner Group practice on West 51st St. When Craig called the office for an appointment, she learned that the earliest available slot was a week later. Though still in considerable discomfort, she resigned herself to wait.
Soon afterward, however, the clinic called back to offer a quicker alternative: a telehealth visit, which connects patient and provider via live video. Just two days after her ER trip, Craig sat in her living room and clicked on an app on her mobile phone. Within seconds, Sullivan was on the screen—asking about Craig's symptoms, the procedures she'd undergone, and the medications she'd been prescribed. Sullivan then discussed possible next steps for Craig's treatment and offered referrals to two Columbia urologists. The consultation took about 15 minutes, sparing Craig a long round trip to Midtown. "It was not taxing, which was what I needed at that point," she recalls. "Riding the subway, or an Uber, would have been miserable."
Craig's virtual visit was part of a series of new initiatives through which Columbia Nursing faculty members are harnessing telehealth to enhance patients' access to care. "Although New York-Presbyterian has long been a leader in this modality, using it to connect patients with specialists, we're among the first outpatient providers at the medical center to pilot it," says associate dean of clinical affairs Stephen Ferrara, DNP, RN, who oversees the Nurse Practitioner Group (NPG), the school's primary care faculty practice. "We think there's great potential to grow with this. The possibilities are really endless."
Those possibilities reflect some broad trends in U.S. health care, including the dwindling number of medical school graduates who go into primary care, the aging of the population, and the growing prevalence of chronic physical conditions and mental health disorders. Such factors are leading to provider shortages in many parts of the country, plus longer wait times (both for appointments and at physicians' offices) almost everywhere. A recent Harris Poll survey found that 23 percent of Americans have delayed seeing a doctor because it takes too long. Meanwhile, healthcare costs continue to skyrocket—in part because of unnecessary provider, urgent-care, and emergency-room visits.
Telehealth can address all these problems, by offering a safe, effective, less–time-consuming, and lower-cost alternative to many in-person visits. As a result, the proportion of hospitals using the technology has risen from 35 percent to 76 percent since 2010. And as NPs become increasingly essential to easing the nation's provider drought, telehealth can help them serve patients far more efficiently.
The Nurse Practitioner Group's telehealth pilot began in April. The protocol is simple: After a patient has had an in-person appointment at one of the practice's locations, in Midtown or Washington Heights, follow-up visits are performed by video link whenever that's deemed appropriate. The visits use an app that works much like Skype or Facetime. Developed by the Boston-based telemedicine company American Well, the software is HIPAA-compliant and is designed to obstruct eavesdropping and hacking. Sessions can be conducted on smartphones, tablets, or computers. The patient signs in by clicking on a "start visit" icon; the provider then receives an alert that the person has entered the virtual "waiting room" and begins the consultation by clicking on his or her own screen. So far, six of the practice's nine NPs have received simulation training on the technology, with an emphasis on "web-side manner" (such as how to maintain eye contact and conversation flow while taking notes for the patient's electronic health record), as well as on more technical matters. The goal is to train the remaining providers and complete the rollout by early 2020. Ultimately, Ferrara suggests, perhaps 25 percent of the group's patient visits may include a telehealth component.
Besides using it in cases like Craig's, the Nurse Practitioner Group expects to employ the app in a wide range of contexts. "For patients with hypertension, we might start them on medication and then supervise blood-pressure tests at home, where readings tend to be more accurate than in the office," Ferrara explains. "Telehealth also works well for tracking skin conditions. Because it allows us to see whether the symptoms are resolving, we can assure the patient that a prescribed treatment is working—or adjust it if necessary. We could do something similar with migraine headaches, having patients walk a straight line or perform other neurological maneuvers to help us evaluate their symptoms. For elderly patients, we'll be able to check their living environments for fall risks, or have them show us their medicine bottles—making sure they match our records and reducing the risk of harmful drug interactions."
To date, however, the group has used telehealth most often for mental-health consultations—an effort spearheaded by Sandra Alvarado '76, MS, a psychiatric nurse practitioner and certified therapist with over 40 years of advanced clinical practice. "I put out feelers to my patients as soon as the pilot was proposed and got a lot of positive responses," says Alvarado, who is based at the Washington Heights practice. "Many of them work full-time, and it can be incredibly hard to get away from the office. Several commute from the Columbia campus on 116th St. by public bus, and they would miss appointments because it took so long to get here. Or they'd be so worried about getting back to work on time that they couldn't focus during therapy sessions. Now, they're able to call in on their lunch break from their desk or any other quiet place, which makes for a much more stress-free interaction."
Patients can also consult with their providers via telehealth about medications they've been prescribed for certain mental health disorders, such as anxiety and depression. "We'll discuss whether they feel their dose is working, and if they're having any side effects," explains Caroline Sullivan. "We often talk about alternative therapies that might help with their problem, such as exercise or better sleep hygiene. I use a screening tool to check for symptoms. And by looking at patients' faces, I get information about their psychological state that wouldn't come through in an ordinary phone conversation." Telehealth has proved especially popular among patients taking controlled substances for attention deficit hyperactivity disorder (ADHD). Federal regulations allow a maximum 90-day prescription for such drugs, and the Nurse Practitioner Group requires patients to meet with their provider for refills. They can now do that remotely, instead of coming in to the clinic. 
Telehealth doesn't just connect patients with providers—it can also be used to coordinate care between different providers for the same patient. That makes it a key element of another pilot project recently launched by the Nurse Practitioner Group, in partnership with the outpatient hematology-oncology practice at Columbia University Irving Medical Center: a survivorship clinic for Medicare patients who have completed initial treatment for prostate cancer. Such clinics are mandated for all cancer survivors by the Center for Medicare and Medicaid Service's new Oncology Care Model, aimed at improving efficiency and lowering costs in case management. Yet prostate cancer survivors have unique health-care needs, which Columbia's clinic—the first in the nation to link these patients remotely with primary care NPs and specialists—is meant to address.
"The side effects of common prostate cancer therapies can include sexual dysfunction, incontinence, and bowel problems," explains assistant professor Maura Abbott, PhD, RN, a nursing director in the heme-onc practice, who developed the survivorship clinic with Stephen Ferrara. "For men prescribed hormone therapy to keep their cancer from coming back, there's also an increased risk of diabetes, hypertension, and cardiovascular disease," continues Abbott. "Patients may suffer from related mental-health issues and social stigma as well. Nurse practitioners are ideal primary care providers for these survivors, because we're trained to focus on the whole person rather than just the disease. But it's crucial that all the patient's health-care providers work together closely to ensure the best possible outcome."
That's where telehealth comes in. When a patient first enrolls in the survivorship clinic, he meets with his oncologist at NewYorkPresbyterian and with an NP from the Nurse Practitioner Group, who participates via video chat from the group's 168th St. practice location. The patient and these providers spend up to an hour developing a care plan tailored to his particular needs, based on guidelines recommended by the American Society of Clinical Oncology. From that point on, the NP serves as the patient's primary care provider. But if he has a concern best addressed by an oncologist—"a lump, a bump, or any other symptom that might be related to their cancer," says Abbott—another joint telehealth visit can be scheduled, from either the NP's office, the patient's home, or anywhere else with an internet connection.
The project's short-term goal is to sign up 40 to 50 prostate cancer survivors; eventually, men with other types of genitourinary cancer (including of the bladder and kidney) may be added as well. "For a population like this, convenience is essential to getting buy-in," Abbot notes. "These men often have low health literacy, and many received little or no primary care before their cancer diagnosis. Because of their illness, they've already spent too much time away from their work and their families. They may not have the energy to travel around the city from provider to provider, or the money for cab fare or parking fees. Using telehealth lets us bring care to these patients instead of making them go out and chase after it. We're respecting what they've been through, as well as their ongoing struggles." 
Patients, of course, aren't the only ones who can benefit from telehealth. The technology enables clinicians to work smarter, too—spending less time on preparing exam rooms for patient visits, for example, and avoiding costly no-shows. One Nurse Practitioner Group provider, Katherine Clark '14 '16, MSN, plans to use the app for another efficiency-boosting purpose: transitioning back into the workforce after maternity leave.
Furthermore, improving workflow for providers can be good for society at large, by lowering costs and other barriers to health care. "Telehealth is part of a growing movement away from the notion that health care has to happen in a practitioner's office or a hospital unit to be effective," says Ferrara. "It's one more tool that, when used in the right situation and with the right patient, helps us provide better care."
Elizabeth Craig, who has recovered fully from her kidney stone, would be happy to try that tool again under less painful circumstances—perhaps for an upcoming visit to discuss her antidepressant dosage. "I'm not someone who needs to sit in an office and chat with my provider," she says with a laugh. "So telehealth works pretty well for me."