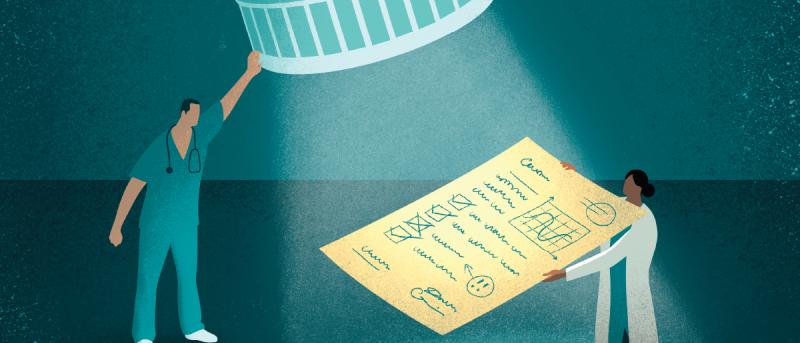 Nurse. Advocate.
A passion for health advocacy can be ignited in the education setting.
By Devin C. Powell
Health care policy has been a part of the curriculum offered at Columbia University School of Nursing for decades. But the class last winter was a special one. Donald Trump had just been elected president of the United States. He promised to upend the health care landscape by throwing out the Affordable Care Act (ACA). Needless to say, nursing students were paying particularly close attention to events taking place inside the beltway.
"Our students were more engaged than ever," said Jacqueline Merrill, PhD, professor of nursing, who has taught the policy course for five years. "They were chomping at the bit and had a million questions."
Switching gears from their pharmacology and physiology courses, the students grappled with the shake-up promised by the new administration. They split up into groups and studied how best to use the federal money President Trump planned to give to states after dismantling the ACA. Each team was assigned a state and drafted a proposal designed to appeal to the complex—and often conflicting—interests of stakeholders in that state.
The mock Kentuckians, for instance, argued for capping Medicare and Medicaid, a move popular with Republicans. They kept their state's health care market for the unemployed, a win for Democrats. In a nod to both insurance companies and businesses, they offered incentives to employers to provide private coverage for their workers.
Advocates and Activists
The purpose of the exercise—and of this class—was not to convince the next generation of nurses to switch career paths and become politicians and policymakers. The aim was rather to show them how their careers in nursing will be shaped by policy—the laws and rules enacted by governments and health care institutions—and to encourage the future nurses to get involved.
"Our goal is to empower our nursing students to be advocates and activists," said Bobbie Berkowitz, PhD, dean of Columbia University School of Nursing. "We want them to see that paying attention to policy is part of their responsibility as a nurse, because it impacts their patients and it impacts their profession."
Dean Berkowitz has a special affinity for policy; before coming to Columbia Nursing, she oversaw the creation of a plan for improving community health in Washington state as deputy secretary of the state's department of health. As dean, she has now joined with deans of other nursing schools to build bridges with government officials. In February, this alliance, called the Deans' Nursing Policy Coalition, penned a letter to members of Congress, cautioning against the repeal of the ACA without other legislation to replace it.
"We believe it is important that nursing be part of the national conversation on the repeal and replacement of the ACA," the letter said. "[N]urses will provide care to those millions of patients who will be the recipients of care resulting from any changes to the coverage
of their health care."
The Deans' Nursing Policy Coalition has also met with policymakers to sound the alarm about budget cuts. Concerned about scholarships for nursing students, they pushed back against a plan to take $403 million from training and health programs in the Health Resources and Services Administration. They also battled a proposed 24 percent reduction in funding for the National Institute of Nursing Research (NINR). As the former principal investigator of the NIH/NINR funded Center for the Advancement of Health Disparities Research, and as dean, Berkowitz knows firsthand the impact these dollars can have in building a scientific foundation for clinical practice.
Working Together
Changing the conversation requires allies, like Stephen Ferrara, DNP, assistant professor of nursing and associate dean of clinical affairs, who began his career as a family nurse practitioner more than 15 years ago. At the outset of his career, he was required by law to partner with a physician. Ferrara questioned why this was the case, when studies have shown that, within their scope of practice, nurse practitioners have patient outcomes equal to those of primary care physicians. One such study conducted by Columbia Nursing researchers, published in the Journal of the American Medical Association in 2000, compared outcomes for patients randomly assigned to nurse practitioners or physicians after an emergency room visit. The findings showed that the quality of care provided by nurse practitioners was equal to that of physicians. So why the need for mandatory collaboration?
The challenge, Ferrara discovered, started with the state legislature in Albany. Some states—mostly Western states like Oregon, New Mexico, and Montana—allow nurse practitioners to practice without statutory collaboration, as their licensure and certification permits. But other states, including New York, have passed laws requiring a nurse practitioner and physician to enter into a written collaborative agreement. Such collaborative agreements outline items such as mandatory retrospective chart reviews of nurse practitioners. Some states place further restrictions on nurse practitioners, essentially meaning that in those states—without an established written practice agreement with a physician—the nurse practitioner cannot legally evaluate or treat a patient despite how many years' experience and expertise that nurse practitioner has.
"There's a patchwork of state laws across the country that arbitrarily restrict practice," said Ferrara, who also oversees the school's faculty practice, ColumbiaDoctors Primary Care Nurse Practitioner Group, which provides primary care services in four locations across New York City. "There's really no rhyme or reason to it."
After attending a town hall about these curtailments, he decided to do something about it. For eight years Ferrara lobbied the legislature. Already a member of the Nurse Practitioner Association New York State, he became more active, taking on a leadership position. He met with local politicians and worked alongside Dean Berkowitz and the coalition of nursing deans, who were also eager to change the law. He even had help from within government. Sally Dreslin '94, who was the assistant secretary for health in the governor's office at the time, understood the issues at stake. She fought for change.
"We have a shortage of primary care practitioners in the state," said Dreslin, now executive deputy commissioner at the New York State Department of Health. "Having nurse practitioners practice more independently is good for everyone."
The law finally changed in 2014, when the New York State Legislature passed the Nurse Practitioners Modernization Act. Among other things, it allows nurse practitioners with 3,600 or more hours of clinical experience to practice without a written practice agreement with a physician.
Ferrara now leads Columbia Nursing students on a field trip to Albany every year to meet with legislators. "We find that legislators like to talk to students," said Ferrara. "They realize that these are the future providers of care in their district." The students, meanwhile, "have a thirst to become involved in a meaningful way."
Much work still remains to be done, says Ferrara. Even though the laws on New York's books have been changed, hospitals and other health care organizations still need to overhaul their policies to put these laws into practice.
"There are lots of issues that still exist at the institutional, state, and federal levels, and we all need to work together to fix them," added Ferrara.
Policy Based in Evidence
Health policy should be based on sound evidence, says Berkowitz. Gathering that data is often the role of nurse scientists like Patricia W. Stone, PhD, Centennial Professor of Health Policy, and director of the school's Center for Health Policy, which offers a policy course for PhD candidates, focused on what researchers can do to shape and influence policy.
Sixteen years ago, Stone responded to a call from Congress for more studies of patient safety issues, including infections acquired during hospital stays. Originally flagged by a 1999 report from the Institute of Medicine, this remains a difficult issue; 1.7 million people
are infected in health care facilities every year.
While gathering data about the problem, Stone discovered disparities in how different hospitals reported such infections. These discrepancies spurred her to call for a uniform standard. She also found that some intensive care units are much better at complying with prevention and control programs than others. That's important, because most infections caused by invasive devices like catheters usually start in the ICU. Staffing also matters; hospitals that rely on temporary staff tend to have higher rates of infection, as do understaffed ICUs.
"Nurses have a unique perspective to contribute to the science that informs policy," said Stone. "Nurses have a way of thinking that's holistic," she said. "We think about the disease process, but we also think about patients as connected to their families and their communities."
Working in the trenches, nurses may spot problems on the ground that policymakers aren't aware of. At a hospital in North Dakota, a nurse manager in the infection control department brought one such issue to Stone's attention. Residents of nearby nursing homes admitted into the hospital frequently had infections caused by multiple drug-resistant organisms that were acquired in those health care facilities.
That raised a series of new questions. Had infection rates been rising in nursing homes? Stone's research suggests yes. Are residents of different races and ethnicities vaccinated against infection at different rates? Yes, again. What interventions could address this problem? Early data suggest early staff training and the use of electronic records helps nursing-home personnel prevent infections. Stone is currently working with the Centers for Disease Control and Prevention to take steps to curb this problem.
The nation's more than 3.5 million registered nurses and over two hundred thousand nurse practitioners may not think of themselves as activists. Their primary obligation, after all, is to ensure the highest quality care for all patients. But they have a powerful ability to enact change. Like Sally Dreslin, many pursue careers in government, including Mary Dougherty, who earned her PhD from Columbia Nursing in 2009. As the former director of nursing education at the U.S. Department of Veterans Affairs, she developed a postgraduate program that prepared nurses to work with veteran populations. Others have an impact on the policies of health care organizations by serving on quality-control boards in their home institutions. Some find joining a professional group can also help the nurse's voice to be heard.
"Given the uncertainty clouding the political landscape today, there has never been a better time to get involved," says Dean Berkowitz.
"A lot of the challenges and problems that patients face within a hospital setting—whether it's falls or infections or ulcers or the wrong medications—often have a link to the lack of a clear policy," she said. "Nurses are the ones at the bedside who see the effects, and that may be the most compelling reason of all for them to get involved."
*This article originally appeared in the Fall 2017 issue of Columbia Nursing magazine.