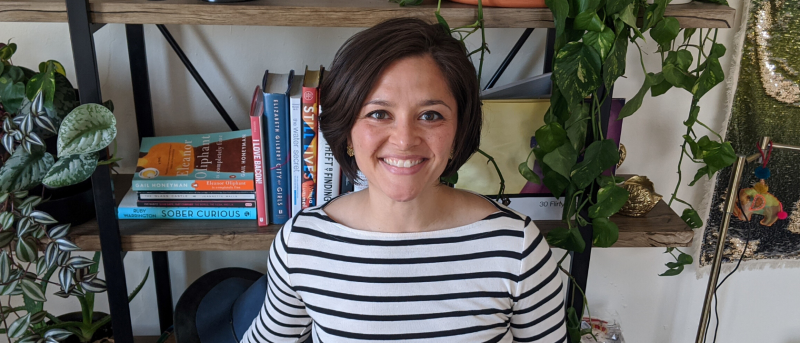 Nurse Anesthesia Student Profile: Anne Davis
Nurse Anesthesia Program '20
It takes incredible resilience, dedication, and compassion to be a nurse, especially at a time like this.
Anne Davis '20, always knew she wanted to work with people while also giving back to her community. As a Certified Registered Nurse Anesthetist, she is looking forward to playing a pivotal role in patients' respiratory management, and caring directly for those with COVID-19.
Please tell us about yourself—from what program are you graduating and where are you originally from?
I'm originally from Tampa, Florida and majored in marketing at the University of Florida. I moved to Washington, D.C. to attend George Mason University and earn my BSN. I started my career in the medical intensive care unit at Medstar Georgetown University Hospital. I now live in New York, have been an ICU nurse for seven years, and will be graduating with my masters degree from Columbia Nursing's Nurse Anesthesia Program.
Why did you decide to pursue nursing and why did you choose Columbia Nursing?
After working for several years in marketing, I realized that I loved working with people but wanted a profession that would allow me to give back to my community in a very direct way. I ended up shadowing a friend who is a nurse at the Children's Hospital in Washington, D.C. and knew immediately that this was what I wanted to do.
This part of your formal nursing education is culminating at an extraordinary time. How has the pandemic shaped your feelings about becoming a nurse?
It has reinforced the pride I have for our profession. It takes incredible resilience, dedication, and compassion to be a nurse, especially at a time like this. 
How has your Columbia Nursing education and experience prepared you—academically and clinically—to deal with the pandemic?
Certified Registered Nurse Anesthetists (CRNAs) specialize in respiratory management and maintaining hemodynamic stability during times of physiologic stress, so much of what we learn in class and practice in clinical is directly applicable to caring for the COVID-19 patient population.
What are you passionate about, and how has being a student at Columbia Nursing allowed you to follow your passion?
My decision to pursue an advanced degree stems from my desire to become a more autonomous provider. As a CRNA, I will be able to make independent decisions about my patients' plan of care, choosing how to best care for them through surgery. Our professors are second to none and provide us with a program that integrates didactic and clinical knowledge, preparing us to assess and treat patients effectively and efficiently. Because of them, I feel confident in my abilities as I enter my new profession.
What's your next step after you graduate?
I will be joining the anesthesia team as a CRNA at NYU Langone Medical Center in New York City.
Do you have a favorite memory of your time at Columbia Nursing?
This past summer we had a three-class party where we met cohorts at different stages of our program. I loved mingling with the classes ahead of and behind us. I was able to meet some of the new students entering our program and also chat with the group getting ready to graduate, which allowed me to reflect on how far we've come, while also sharing stories and advice with those who are just getting started.