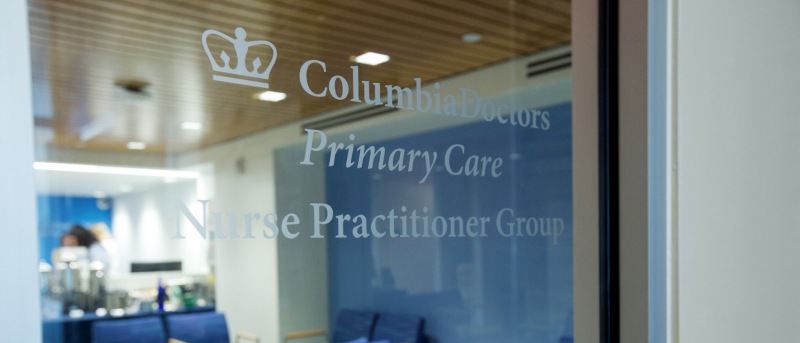 Nurse Practitioner Group on the Coronavirus Front Lines
Columbia Nursing's faculty practice, the ColumbiaDoctors Primary Care Nurse Practitioner Group, is on the front lines of health care as never before.

Working in collaboration with Columbia University Irving Medical Center (CUIMC), the Nurse Practitioner Group has established a cough and fever clinic for COVID-19 patients at its Washington Heights location to offset patient intake at nearby hospitals.

Serving as the only cough and fever clinic at ColumbiaDoctors and CUIMC, the practice is first screening potential COVID-19 patients via telehealth to confer with a nurse practitioner before making an appointment. Patients can address symptoms, learn how to prevent spread of their illness, and seek additional treatment, if need be. When patients arrive at the practice, they are evaluated, and if the provider determines that the patient requires further evaluation consistent with current guidelines, a test for COVID-19 is performed.

In addition to the cough and fever clinic, the Nurse Practitioner Group is also working in collaboration with CUIMC on a convalescent screening study to screen recovered COVID-19 patients for antibodies—proteins made by the immune system that can neutralize viruses—that could be used to treat others. Recovered patients who volunteer for the study are sent to the Nurse Practitioner Group to have their nose swabbed to ensure they are no longer contagious, and to have a blood sample drawn.

CUIMC's pathology laboratory, under the guidance of lead investigator Eldad Hod, MD, associate professor of pathology and cell biology at Columbia University Vagelos College of Physicians and Surgeons, then determines if the patient has enough antibodies to serve as a treatment or vaccine against COVID-19. A single COVID-19 survivor may be able to provide enough plasma to treat two or three other patients.

A cough trap study is also underway, which would allow patients with active symptoms consistent with COVID-19 to collect  samples themselves. This addresses the low supply of testing swabs while offering an alternative collection method which is more tolerable for the patient.

Stephen Ferrara, associate dean of clinical affairs, who oversees the ColumbiaDoctors Primary Care Nurse Practitioner Group, said, "The clinical faculty and staff have performed extraordinarily in the COVID-19 response. From diagnosing acutely ill patients, maintaining our existing patients, and partnering with other departments for a possible treatment, we remain committed to this battle on all fronts."

In addition to COVID-19 efforts, the Nurse Practitioner Group continues to provide primary care for existing patients via telehealth.

Learn more about the cough and fever clinic and the antibodies study. Learn more about the Nurse Practitioner Group.