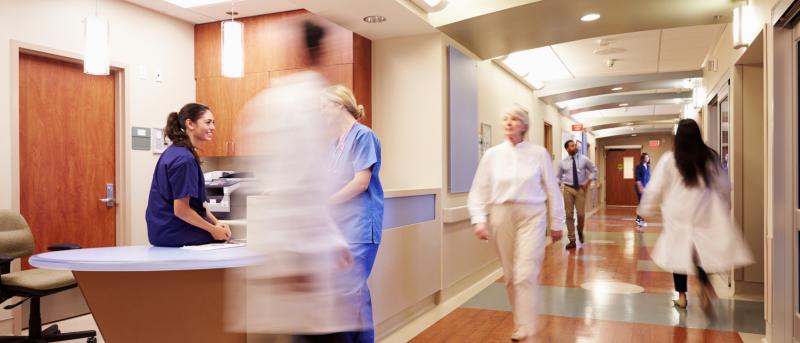 Nurse Understaffing is Linked to Patient Infection Risk
This article originally appeared in the Fall 2019 issue of Columbia Nursing Magazine.
Hospital nurse understaffing may increase patients' risk for health care-associated infections (HAIs) and reduce overall quality of care, ultimately leading to increased health-care costs, Columbia Nursing research suggests.
Patients in units with too few registered nurses (RNs) were 15 percent more likely to develop HAIs on or after the third day of exposure than were patients in units with adequate staffing for day and night shifts, lead author Jingjing Shang, PhD, RN, an associate professor, reported.
Such understaffing may produce excessive workloads for on-duty nurses and compromise their ability to conduct important protocols for identifying and preventing urinary tract infections, bloodstream infections, and pneumonia, Shang wrote. In addition to potentially decreasing nurses' well-being, understaffing may add to annual health-care costs, she added. "As they often serve as coordinators within multidisciplinary health-care teams, nurses play a critical role in preventing HAIs, which is a top priority for improving quality of care and reducing hospital costs."In a cross-sectional analysis of data from more than 100,000 patients in a large urban hospital system, Shang and colleagues found that 15 percent of patient days had inadequate RN staffing levels during daytime shifts, while 6.2 percent of patient days had RN understaffing during both day and night shifts. Units with licensed practical nurses and nurse assistants were also understaffed, which contributed to patients' increased risk of HAIs, the researchers found.
HAIs are serious but often preventable problems associated with high morbidity and mortality. Approximately 4 percent of patients have one or more HAIs during their hospital stay. To help lower health-care costs, the U.S. government has taken steps to curb the incidence of HAIs.
Wrote Shang, "Being at the forefront of infection control and prevention is a unique responsibility and opportunity for nurses, and our study shows that hospital administrators should ensure adequate nurse staffing to provide the safest patient care."
In addition to Shang, the study's other Columbia Nursing authors were: Jianfang Liu, PhD; Elaine Larson, PhD; and Patricia Stone, PhD. 
This study was funded by the National Institute of Nursing Research and appeared in the May 2019 edition of The Journal of Nursing Administration.