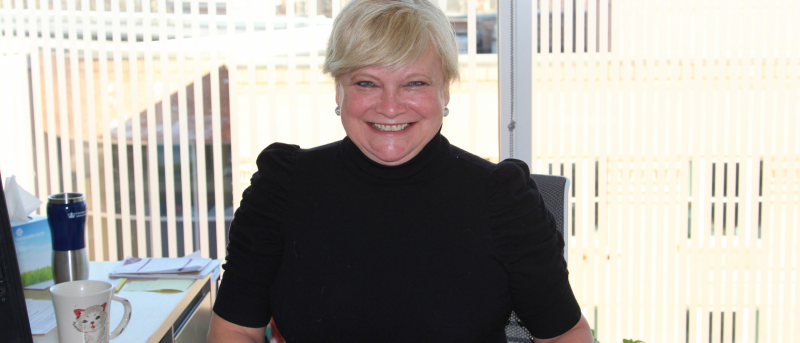 Once A Student, Now CRNA Program Director, Maribeth Massie Comes Home
Massie '98, PhD, thought she wanted to be a forest biologist; however, she soon realized a greater passion: nursing. After working as a nurse in positions across America, for the Veterans Administration and beyond, Massie decided to hone her skill further at Columbia Nursing, becoming a Certified Registered Nurse Anesthetist (CRNA). She returned to our school, not as a student, but as Assistant Program Director of the Nurse Anesthesia Program, and is now the program director. In her words, "It's like coming home." 
Q: What inspired you to pursue nursing?
Originally, I had no intention of going into nursing; it was seen at that time as a "girl's job." In fact, I wanted to be a forest biologist. But back in the early '80s, there wasn't much demand in the field. I decided, instead, to pursue the pre-med route. I interned with a physician in his practice and found out that I actually wanted to spend time with the patients. It was then that a close friend recommended nursing as a profession. There was no turning back after that.
Q: What motivated you to go back to school, particularly Columbia Nursing, and specialize in Nurse Anesthesia?
I was working as a travel Intensive Care Unit RN in Hawaii at the time, and it seemed as though all the travel nurses were going back to school to become CRNAs. My friend and I decided to do it together, and we wanted to be on the East Coast. After assessing all the nursing programs, I could not pass up the opportunity to attend Columbia. I was also the first in my family to attend an Ivy League school, a fact my father never let me forget.
Q: You were a star student here. You received the Sigma Theta Tau Outstanding Graduate Student Award. What drove you to achieve academically?
I was thrilled to be in New York City so I took advantage of everything offered me. I was a Teaching Assistant for Entry to Practice students, the Treasurer of Columbia Nursing's Student Government, and never missed a chance to sit in the front of the class.
I did well academically, because I saw the value in Columbia Nursing's education and in the CRNA profession. The knowledge I gained in the classroom and clinically was robust, stimulating, and challenging, urging me to grow and learn. Moreover, my clinical preceptors were some of the best CRNAs I have ever known.
Q: You served as the Assistant Program Director of the Master of Science in Nurse Anesthesia program at our school for over 7 years. What made you want to return to Columbia Nursing and how does it feel to be back?
Truly, it feels like coming home. To now be the Program Director of our school's Nurse Anesthesia Program is an honor. There is so much I want to accomplish: for the CRNA students, for Columbia Nursing, and for the nursing profession generally.
Q: Can you describe your teaching philosophy?
I adhere to the Socratic method of teaching, which involves nudging students with questions until they arrive at the truth themselves, rather than providing a set of answers. Not everything is clear cut, especially in nursing, where complexity needs to be embraced. Examining an issue using this method enables me, as a teacher, to help students see the gray areas, where they might have blind spots, or what assumptions they have. This, in essence, is how to foster and fine tune critical thinking while also spurring creativity and outside-of-the-box thinking. In the end, I believe in empowering students to be the best they can be on their way to becoming independent practitioners, which is the central goal of my teaching.
Q: How do you see nurse anesthetists helping drive social justice and health equity domestically and internationally given shortages in healthcare resources and personnel?
CRNAs, along with their advanced practice nurse peers in other specialties, are an important part of the solution to today's health care issues. For example, The Institute of Medicine's 2010 report, "The Future of Nursing: Leading Change, Advancing Health," offered recommendations for expanding nursing practice to improve patient safety, outcomes, and quality of care. This expansion is necessitated, in part, by a global scarcity in — and an unequal distribution of — health care providers and the realities of socioeconomics, which have geographic dimensions. Where you live and your socioeconomic status shouldn't dictate the health care you receive or determine which clinician you can see.
Nevertheless, barriers still exist that might inhibit the realization of expanded roles for nurses, such as regulatory restrictions on scope of practice, a fragmented health care system, and insurance policies that specify which clinicians are allowed to treat which conditions. In the field of anesthesia, the effect of these barriers is exacerbated by anesthesia practice models that are not in keeping with current knowledge. If these barriers were eliminated, access to care for patients would be increased at a lower cost with comparable care quality and delivery.
Ultimately, a transformation in care calls for interprofessionalism and true partnership. Teachers and practitioners must work together to effect change, training our students inside the classroom and watching as they become first-rate clinicians. We can't achieve this goal working in a silo.