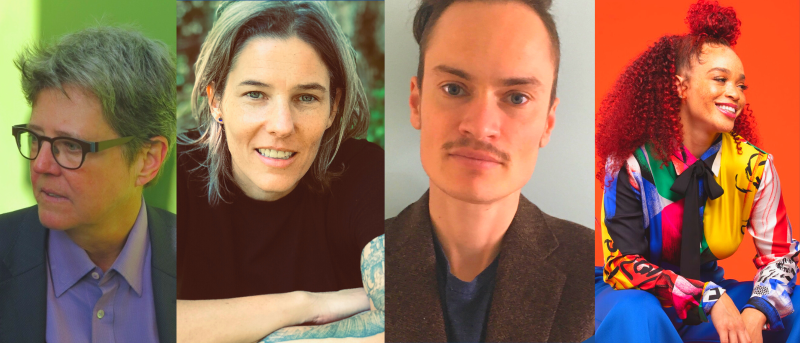 Panel Explores Links Between Abortion Rights, Trans Rights
Columbia Nursing's Center for Sexual and Gender Minority Health Research and Center for Health Policy hosted a panel on November 16, 2022, "Attack on bodily autonomy: Healthy Policy, Anti-Trans Legislation, and the Fall of Roe." 
More than 60 people attended the event, co-sponsored by the Center for Gender & Sexuality Law, Heilbrunn Department of Population & Family Health, Columbia Population Research Center, and the Women's, Gender, and Sexuality Studies Council. The event was hybrid, with the panel presenting via Zoom and an in-person audience and post-panel reception.  
Katherine Franke, a Columbia Law professor and director of the Center for Gender & Sexuality Law, served as moderator. Kate Steinle, MS '09, provided the clinical perspective; Ezra Cukor, senior staff attorney at the Transgender Legal Defense and Education Fund, offered the legal viewpoint; and Krystal Redman, executive director of SPARK Reproductive Justice, brought the perspective of grassroots organizing with Black and brown queer and trans folks.  
Among some of the takeaways: 
Need for full spectrum care: Access to abortion and gender-affirming care should each be part of the standard of care available for all people. 
The importance of coalitions: These are not siloed issues; they are connected beyond the fact that some transgender people need abortions. The Dobbs decision and the attacks on access to hormone therapies highlighted these connections and the fact that the issues go to the core of the right to make decisions about one's body and one's future.  
The value of clinician advocates: Panelists noted that clinicians can do a lot to support their clients and their colleagues in states that are restricting access to abortion and gender-affirming care.  
Professor Tonda Hughes, one of the organizers of the event and director of the Center for Sexual and Gender Minority Health Research, noted: "The panelists each made compelling arguments that policies restricting abortion rights and trans rights are inextricably linked. Once this is understood by advocates of each concern, these groups can join forces and increase the likelihood of change."