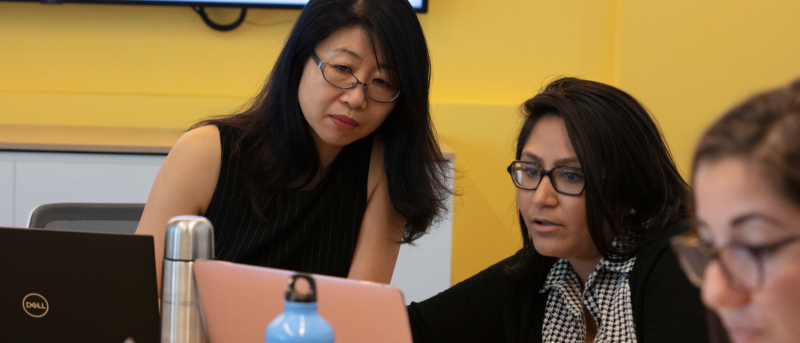 Partnership Boosts Grant Writing Success for Nursing Trainees
Pre- and post-doctoral trainees who receive one-on-one grant writing support are twice as likely to have their research projects funded, show new findings from Columbia Nursing. 
Just over 80% of trainees who received support were awarded funding, compared to just 42% of those who did not, reported Kristine Kulage, MPH, and her colleagues in Nursing Outlook. Kulage is the director of the school's Office of Scholarship and Research Development. 
Producing high-quality scholarship and research that address health disparities and inequities is a central mission of Columbia Nursing, Kulage and her colleagues noted in the study. Mentorship is critical for nurses' overall success, but trainees may also benefit from support with the administrative aspects of grant-writing, which mentors may not be able to provide.  
To address this issue, Kulage and her colleagues developed a one-on-one partnership program with four elements: regular meetings, a timeline with milestones, writing and editing support, and attention to administrative documents. The program, intended for predoctoral students and postdoctoral fellows who are either new to research or starting the process of seeking funding for their dissertation or postdissertation research, was implemented in 2011. 
In the recent study, the authors reviewed 40 grant applications submitted by pre- and postdoctoral trainees between 2011 to 2020. Seventeen of the 21 applicants who participated in the partnership program (81%) received funding, versus eight of the 19 applicants who didn't participate (42%). 
Elaine Larson, PhD, a professor emerita and the study's senior author, oversaw the genesis and launch of the partnership program. Other authors were Elizabeth Corwin, PhD, a professor and vice dean for research; Jianfang Liu, PhD, an assistant professor; Rebecca Schnall, PhD '09, a professor and associate dean; Kodiak Soled, MS, a research scientist and PhD student; and Arlene Smaldone, PhD '03, a professor, all at Columbia Nursing; and John Usseglio, MPH, an informationist at Columbia University Irving Medical Center. 
In a testimonial included in the report, Soled said the partnership "was essential to successfully writing and securing my first federal grant … on the first submission…. This rigorously systematic yet supportive opportunity was invaluable to unlocking a significant milestone and obtaining hopefully the first of many future grants in my career as an independent research scientist." 
The partnership is not a formal part of the predoctoral curriculum or the postdoctoral training program, and participation in it is voluntary. "We want to increase the diversity of program participants, better advertise its availability, and ensure that any barriers to participation are identified and addressed so all feel free to take advantage of this opportunity," Kulage says.  
Nurses seeking a well-resourced PhD program that is a good match for their needs, she adds, should see the partnership as yet another benefit of choosing Columbia Nursing.