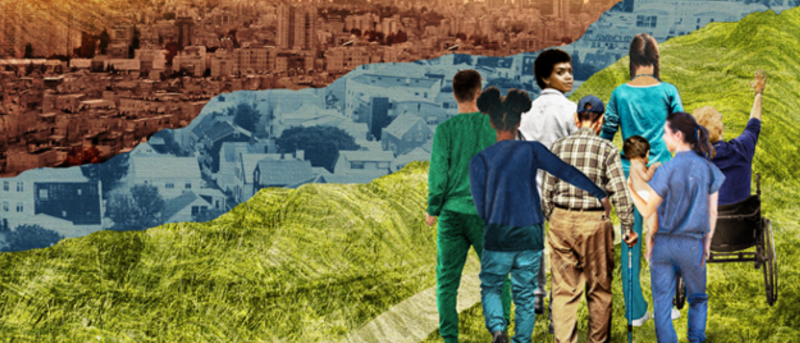 Perspectives on the National Academy of Medicine's Future of Nursing 2020-2030
Panelists describe reforms needed to help nurses lead health equity charge.
On June 2, 2021, Columbia University School of Nursing and NewYork-Presbyterian Hospital convened a panel of health care leaders to discuss "The Future of Nursing 2020-2030: Charting a Path to Achieve Health Equity," the National Academy of Medicine consensus study released on May 11, 2021. 
The first Future of Nursing report, published in 2011 and also funded by the Robert Wood Johnson Foundation (RWJF), urged nurses to take the lead in improving health care in the United States, and called on the profession to strengthen education and advanced practice, promote leadership, and increase workforce diversity in order to meet the growing demand for health care. The vision of the current report is "the achievement of health equity in the United States built on strengthened nursing capacity and expertise."
Wilhelmina Manzano, senior vice president and chief nursing executive at NewYork-Presbyterian, and Lorraine Frazier, dean, Columbia University School of Nursing, Mary O'Neil Mundinger Professor of Nursing, and senior vice president, Columbia University Irving Medical Center, introduced the Zoom panel discussion of the new report, with Pat Stone, PhD, director of The Center for Health Policy at Columbia Nursing, as moderator.
'A critical time in our nation's history'
Susan Hassmiller, PhD, the study director and senior advisor for nursing at RWJF, provided an overview of the report. The pandemic and the racial justice movement changed the original plan to release the report in December 2020, she explained. 
"We realized that the only way for this report to be relevant was to delay its release to incorporate the pandemic's lessons, the devastating toll it's taken on nurses, and the ever-growing calls for racial justice," she said. "The report is being released during a critical time in our nation's history and in nursing, when it's clear, we must dismantle structural and interpersonal racism to eliminate inequities."
She added: "Nursing needs to be at the forefront of creating a more fair and just world. And we need policy reforms to unleash our potential."
The report distills these reforms and recommendations into four evidence-based consensus recommendations:
Permanently remove nurse practice barriers
Value nurses' contributions
Prepare nurses to tackle health equity
Fully support nurses
"Fully supporting nurses also means addressing and eliminating racism in our workplaces. Nurses of color, repeatedly report experiencing discrimination and bias within their work settings," Hassmiller said. "All nurses need to create a culture of equity in their workplaces and our workplaces should reflect the patient population and our workplaces need to recruit, retain, mentor and promote nurses from underrepresented backgrounds. We need to advance nurses of color to leadership positions, where they are sorely underrepresented."
Dismantling structural racism will also require nurses—and the profession—to look within, Hassmiller added. "I was always so proud of being colorblind, myself, treating everyone the same, but I see now that actually acknowledging color and the inherit inequities is quite important," she said. "We need to acknowledge and confront structural and interpersonal racism in nursing so that we can address the systemic barriers that keep the nursing profession overwhelmingly white and female."  
Hassmiller added: "Achieving health equity is the most salient issue of our time. And this is nursing's time. I want to repeat that, achieving health equity is the most salient issue of our time, and this is nursing's time to help lead the charge."
'We must care for nurses'
Nursing curricula also must be adjusted so education on structural racism and social determinants of health are integrated throughout, rather than being addressed in a single, isolated course, as is often the case, said panelist Victoria Tiase, MSN '06, PhD, senior technical architect, Information Technology, at NewYork-Presbyterian, and a co-author of the new report. 
"It's clear that we must care for nurses if we expect them to care for others and do the work that's in this report," she added. "I think the first item is collecting systematic data to better understand the health and wellbeing of our nursing workforce." This includes workforce entry and exit, Tiase said, "and also taking a measured approach to understand things like fatigue, moral injury, and workplace violence." Studies must also look at the effect of new data and new technologies on nurses' wellbeing, she added.
Tiase also called for research on faculty teaching content related to social determinants of health, and studies looking at the impact of technology-based interventions and education on minority student populations.
"This report really synthesizes the evidence and provides the recommendations, and now is the time for the collective 'us' to really take it and run with it," she concluded.
"This is an evidence-based report, this is not advocacy," said panelist John Rowe, MD, president, International Association for Gerontology and Geriatrics, and Julius B. Richmond Professor of Health Policy and Aging, Department of Health Policy and Management, Columbia Mailman School of Public Health. 
Rowe noted that the number of nurse practitioners in the U.S. is expected to double, from 200,000 to 400,000, over the next decade. "And there are really important policy questions about how we deploy those extra 200,000 nurse practitioners and how we train them," he said. 
Nurses also need to be paid fairly for their work, Rowe said. "This is not a plea to pay nurses more, this is a plea to have activities that nurses do that are related to social determinants get compensated for so that the hospitals and the health systems and the other organizations that employ these nurses can get revenue associated with those activities, which will mean that they will in fact support those activities." 
Several states expanded nurses' scope of practice during the first surge of the pandemic, he noted, while some have already backtracked. "This becomes a political struggle between state medical societies and other groups that are concerned about their turf. And I understand that," Rowe said. "But I'm trying to keep the patient in the center of discussion, and if we do that, I think we see that there's real value going forward to expanding the scope of practice."
'We need to become disruptive'
Now is the time to act, according to panelist Catherine Alicia Georges, EdD, a panelist and professor and chairperson of the Department of Nursing at Lehman College in The Bronx. "I say we need to become disruptive."
Georges noted that the report showed accrediting bodies don't pay attention to student and faculty diversity. "Why are we sitting back and allowing this to happen? We've got to stop this," she said. 
In addition to standing up to accrediting bodies, Georges said, "for all of us in nursing education, we need to go back right now and re-look at all our admission policies." 
When she was applying to nursing school, George noted, one school asked her to send in a picture so they could decide whether or not to accept her. "That's the way admission policies were years ago. Now we don't have pictures, but we have some other things that we have set up as barriers that, as Dr. Hassmiller, said, must be broken down," she said.
Report is a call to action
The new report is "an invitation to action," said Patricia (Polly) Pittman, professor of Health Policy and Management at The George Washington University in Washington, D.C., and director of the Health Workforce Research Center at GW Public Health.
Trying to define health workforce equity "makes your brain hurt," Pittman said, because the current system wasn't developed with equity as its primary goal. "It has profits as the primary goal. And that's the elephant in the room."
She added: "I think it's important to recognize that over and beyond the role of nurses, we're stuck in some specific debates, we're stuck on this issue of not having universal healthcare, which is not addressed in the report, but as an important underlying issue for equity." The health care system is also "stuck" on payment reform, she added, while there is no national consensus on including social mission in health professions education.
"I think we are stuck to some extent in these programs that try to improve the workplace, improve maybe staffing and resources, but they're not talking about the elephant in the room either, which is the issue of re-treatment that is driven by profits, the issue of denial of care when people don't have insurance," Pittman added. "And those are issues that are causing moral injury in nurses and other health professions and some of the greatest pain points are there."
She continued: "I think the report had some really concrete and exciting ideas about how to move forward in some of these areas. For example, there are set of recommendations around fee for service, improving it, whether it's states paying for school nurses, whether it's creating new CPT codes for social determinants of health type stuff, whether it's bundled payment for programs that we know work such as the Nurse Family Partnership or Pace that are nurse-led, all of that work needs to be done. It's a long slog and that's been laid out, I think, really nicely in the report."
In education, Pittman said, the major challenge is defining cohesive, measurable concepts, for example addressing the social mission of nursing.
"I think the tremendous contribution of this report is, as Sue, said, putting equity right smack in the middle of the conversation and insisting that we do the hard work now of figuring out how we're going to get there and figuring out all the contradictions that we have in our system that we're scared to talk about a lot of times, and getting those issues on the table and acknowledging them," she concluded.
View a recording of the event: