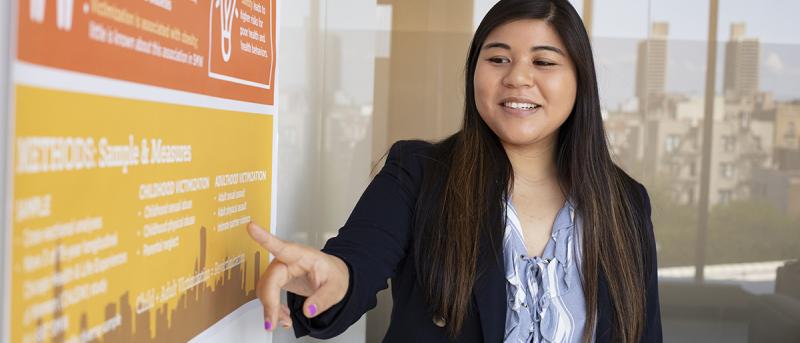 PhD Student Profile: April J. Ancheta
Envision working with faculty and mentors in your program. Reach out to them to see what your working relationship would be like and make sure they are receptive to you. You're trying to gain skills and experience from your program's experts and there needs to be a match between them and your research interest. But once you are in the program, don't forget to have fun! 
April J. Ancheta, RN
Q: Why did you choose Columbia Nursing?
A: I am interested in LGBT health, especially in adolescents, and Columbia's Program for the Study of LGBT Health has some of the top LGBT experts in the field of women's and sexual minority health, transgender health, and aging and youth and families. It also has a long history of funding from the National Institutes of Health, which is important to me since I'm looking toward a research career as a professor.
Q: Why did you choose the PhD program?
A: My research interest is in how school climates are protective for LGBT adolescents, and whether they are able to decrease the mental and physical health disparities they face. LGBT adolescents are at greater risk for obesity and disordered eating, drug and alcohol abuse, and suicidal ideation than their heterosexual counterparts. I'm interested in how big, structural policy changes can decrease these disparities. I knew I would attain this knowledge from my two faculty advisors in the program: Tonda Hughes, PhD, and Jean-Marie Bruzzese, PhD, who have complementary expertise in sexual minority health and adolescent school-based interventions.
Q: Do you receive financial aid?
A: Yes, and it definitely helps to not have to worry about how I am going to afford groceries, rent, books, transportation and all the other expenses of living in New York City, while I am focusing on my coursework. I do continue to work as a per-diem bedside nurse one day a week, however, because I enjoy it.
Q: How academically rigorous is your program?
A: The program is pretty rigorous because it is designed so that we graduate in three years. The coursework is great because we have so many experts teaching in the school. If you're interested in qualitative research, Maureen George, PhD is amazing. I can't sing her praises high enough.
Q: What is your relationship like with your professors and mentors?
A: I love my mentors and appreciate all the time they give me. They're so helpful and approachable, and they really care about my development as a PhD student. The professors are really great as well. Adriana Arcia, PhD and Professor George are great teachers. Their doors are always open.
Q: Are you involved in any extracurricular activities?
A: I believe the best way to help promote the development and well-being of the student population is to get involved in student organizations. I'm the secretary for the Doctoral Student Organization and help promote conversations between PhD and DNP students about how we can interact better to advance patient care. I'm co-chair of the Student Council's Student Life Committee. I assess what students value most so that I can help promote student life. I am also the section liaison of the student assembly for the American Public Health Association and help its sections communicate with each other. This allows me to engage with all kinds of public health professionals. I strongly believe in promoting the voices and engagement of students. Working on teams to improve and advocate for the student experience is always something I have been passionate about.
Q: Where do you hope this education will take you?
A: I see myself teaching at a research university, researching school-based health interventions to improve the sociocultural school climates for LGBT adolescents, working with educators and administrators to advance ways of giving LGBT kids a sense of belonging, decreasing discrimination and stigma, and improving every aspect of their physical and mental health.