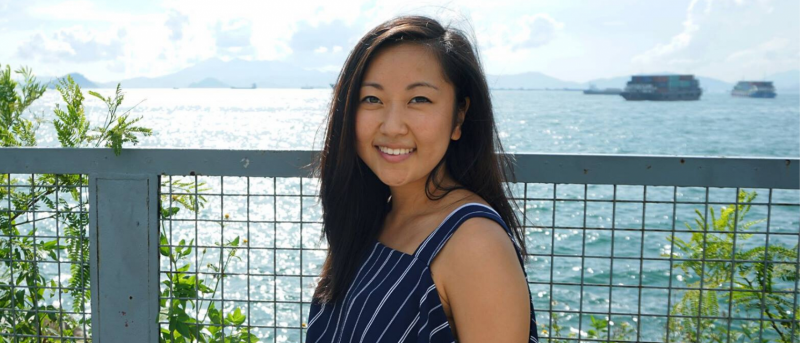 PhD Student Profile: Katherine Zheng
Doctor of Philosophy (PhD) Program '20
Depression has become a leading cause of disability, and I'd like to inform policies that will increase access to mental health care for those who are not getting the level of care that they need.
Long interested in pediatric health, Katherine Zheng '20, plans to focus her research on positive youth development in adolescents with chronic illnesses. She is especially passionate about mental health and health disparities among vulnerable youth populations. In addition to volunteering as a tutor for high school students in Cleveland, she has worked as a research assistant during her time in New York, delivering health education lessons for underserved high school students with asthma. She hopes her future research will inform policies that increase access to mental health care for those most in need.
Please tell us about yourself—from what program are you graduating and where are you originally from?
I grew up in Londonderry, New Hampshire, where I lived until I moved to Cleveland to pursue a Bachelor of Science in Nursing (BSN) at Case Western Reserve University. Since then, I have been interested in pediatric health. I worked part-time as a nursing assistant at a pediatric hospital and volunteered as a high school tutor in the Cleveland area. These experiences inspired me to explore large-scale ways to improve pediatric health. While at Case Western, I started an undergraduate research assistantship under a faculty member in pediatric public health, which led me to pursue my next step in nursing: the PhD nursing program at Columbia.
Why did you decide to pursue nursing and why did you choose Columbia Nursing?
I chose this profession because I wanted to gain a holistic perspective on patient care and our health care system. This profession is very humbling and is constantly opening new doors. When I was a clinical nursing student at Case Western, I had the opportunity to participate in one-on-one patient care and really immerse myself in my clinical rotations. Engaging so closely with patients and their families inspired me to pursue my PhD. I wanted to better understand and address the health disparities that I observed on the clinical floor. I chose Columbia Nursing's PhD program because I knew that it offered high quality training from seasoned health care providers, researchers, and educators.
This part of your formal nursing education is culminating at an extraordinary time. How has the pandemic shaped your feelings about becoming a nurse?
I can't express strongly enough how proud I am of the health care community right now. So many of my nursing colleagues and health care workers are stepping up in different capacities, whether by picking up clinical shifts, facilitating COVID-19 research, or relocating PPE. We are all eager to help where we can, especially during a time that reminds us of why we entered health care. As a nurse researcher, I've also gained insight from seeing how the federal government has addressed this pandemic. The political setbacks that exacerbated this crisis have made me more determined than ever to advocate for improved health care access through the work that I do.
How has your Columbia Nursing education and experience prepared you—academically and clinically—to deal with the pandemic?
My training at Columbia has taught me best practices for identifying and synthesizing sound medical evidence. This has enabled me to keep abreast of the latest COVID-19 research, which has helped me to understand and share information that will keep my loved ones as safe, healthy, and informed as possible.
What are you passionate about, and how has being a student at Columbia Nursing allowed you to follow that passion?
I am passionate about improving pediatric health, specifically mental health among vulnerable populations. Depression has become a leading cause of disability, and I'd like to inform policies that will increase access to mental health care for those who are not getting the level of care that they need. The work that I've done at Columbia has definitely helped me work towards this. My mentors were very supportive in helping me develop a dissertation based on my interests, and this has been fundamental in shaping my values and goals as a researcher.
What's your next step after you graduate?
I accepted a postdoctoral policy fellowship at Northwestern University's Feinberg School of Medicine, which will train me to inform our country's disability policies through research and advocacy. In the second year of this fellowship, I will assist U.S. Congressional policy makers who are addressing social and health-related issues. This opportunity will give me the training and experience I need to fulfill my goals of bridging mental health research and policy.
Do you have a favorite memory of your time at Columbia Nursing?
My cohort members liked to throw celebrations for each other. We'd get together in a conference room with cake and food after finishing PhD milestones or for our birthdays. This eventually turned into a weekly event for de-stressing and catching up with one another. Even during the pandemic we meet over Zoom. I'm incredibly lucky to have such caring, inspiring, and supportive cohort members, and my time with them is something that I will remember and cherish forever.