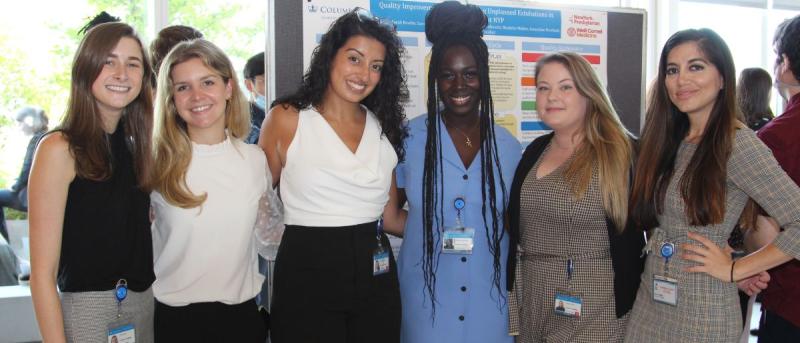 Poster Event Highlights Fast-Growing MDE/NYP QI Partnership
A quality improvement (QI) collaboration between Columbia Nursing masters direct entry (MDE) leadership students and New York-Presbyterian Hospital (NYP) that started with C. diff surveillance in November 2021 has expanded rapidly to incorporate three additional quality measures, with students participating in QI surveillance projects at all of NYP's main campuses. 
On Aug. 11, 2022, the nursing school celebrated the project with a poster presentation session, including 23 posters in all, with MDE student QI projects on prevention of central line infections (CLABSIs), indwelling catheter infections (CAUTIs), and unplanned extubations in pediatric patients, in addition to C. diff surveillance. 
"This level of engagement, on almost 50 patient care units, has developed our students as nurse leaders who use evidence-based practice to analyze data and consider the application of policies and procedures that keep patients safe," says Assistant Professor Candice Ann Smith, DNP, who organized the program with Ashley Graham-Perel, EdD, also an assistant professor at Columbia Nursing.  
As part of the program, NYP quality and patient safety experts present guest lectures on QI and data analysis to MDE students in Graham-Perel's QI Practicum Course. 
Susan Chin, PhD, program director of school affiliations, leads the collaborative partnership for NYP. "This initiative illustrates the mutual benefits derived from a program driven by the American Organization of Nurse Leaders and the American Association of Colleges in Nursing (AONL/AACN) Guiding Principles for Academic-Practice Partnerships (2012)," Chin says. "The students received enhanced exposure to the quality initiatives of a hospital system and how these processes impact direct patient care. The hospital received student support with identifying areas for improvement and providing education to the teams."