Dean Frazier shares her story, in her own words.

Play video Dean Frazier shares her story, in her own words.
The Power of Connectedness
Columbia Nursing's dean, Lorraine Frazier, shares the lessons learned from her breast cancer journey.
Lorraine Frazier, PhD, has always been driven to help others. She has dedicated her career to doing this while wearing lots of hats: as a clinician, an educator, a scientist, and a nursing leader. These days, however, the dean of Columbia Nursing is wearing an additional hat: that of breast cancer patient and survivor. 
The new role, although jarring at first, has proven richly instructive, says Frazier. It has shown her how resilient she is. And having seen how critical the presence and support of loved ones and of a strong health care team were for her own recovery, she now appreciates how important those factors are for all women with breast cancer. "I cannot tell you how important support is when you're going through something like this," she says. Moreover, and despite years as a clinical nurse, it has been her experience as a breast cancer patient—and as a mentor to other patients walking a path similar to hers—that has taught her to hear and understand people in a deeper, more compassionate way, just as so many people heard and understood her. "I have never been more aware of the goodness and connectedness in people. Now I want to be part of that caring community." 
Frazier is a private woman, but there is one thing that most people know about her, and that is that she abhors drama. It is no wonder, then, that when she describes her bout with breast cancer, it is in the most positive light—as a journey that has enriched her personally and professionally. "Before cancer, I lived life like I was on a conveyer belt, rushing from one thing to the next. Now I enjoy every moment," she says. "Today, I'm someone who understands there's no reason to rush, there's no prize at the end of life. The prize is the journey. The journey is everything." 
By sharing the story of her journey, Frazier hopes to support other women with breast cancer, encourage them to partner with their health care team, and enlighten nurses and other providers about the importance of being present for patients. "Patients' needs are not just medical," she says. "They need information, they need to connect with others, and they need to feel heard and understood. They need to be treated as human beings." 
On an academic and clinical level, Frazier always knew this. But it was receiving her diagnosis in May 2022 and undergoing four months of treatment that drove these lessons home. "Initially it feels like someone pulls the rug out from under you," she explains. "From one day to the next you don't know what to expect. You have to have biopsies and oncotype scores. You don't know who you are," she says.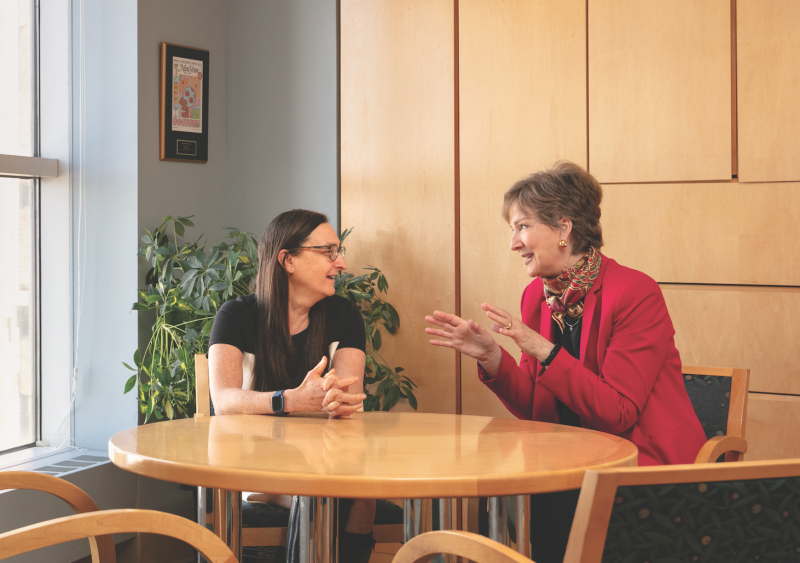 Frazier had felt the rug pulled out from under her many times before, as it happens, including in 1982, when her daughter, Molly, was born with profound developmental and intellectual disabilities, and again in January 2022, six months before her cancer diagnosis, when Molly died at age 39. "I used to think about Molly like being at the bottom of the ocean and thinking, 'It can't get deeper than this.'" 
But it did, at least for a while. 
"I'd felt a thickness in my breast that turned out to be something," she explains, with a note of lingering surprise, as every one of her annual mammograms had been clear. "I had the type of cancer that didn't show up in mammography," she says. "Ultrasound is what diagnosed it, and when it did, I thought, 'Okay, let's just deal with this.'" 
The good news, besides the cancer's early detection, was its treatability. "One thing I knew was that I wanted to decrease my risk to be in the best position to live," Frazier explains. "I wanted aggressive treatment, whatever that meant." It meant a double mastectomy and chemotherapy. "I thought, 'I can do this.'" 
Yet, when someone caringly covered her with a blanket, she balked. "I was always the one who put the blanket on somebody. When someone put a blanket on me, I said, 'Wait a minute, don't do that to me, that's not who I am,'" she recounts. "You see yourself as capable and independent until you're not. I have never been that vulnerable in my life." 
Daily exercise helped. Throughout her treatment, Frazier walked five miles a day with her husband, David. She lost 35 pounds. He lost 30. Improving her diet helped, too. "I've never been healthier," she says. 
The greatest help came from talking with other women who had gone through a similar experience. One such woman was the owner of a bra shop who revealed her own double mastectomy during Frazier's fitting for a new bra, following her mastectomy. "It was the first time that someone related to me in a way that I was thirsty for," she exclaims. 
Frazier also reached out to women she knew who were breast cancer survivors, like Dianne Morrison-Beedy, PhD. "I became her mentee and I needed it!" Frazier says. Morrison-Beedy, a professor at the Ohio State School of Nursing, checked in frequently by phone and text and helped keep Frazier's spirits lifted.  
"I would encourage breast cancer patients to reach out to survivors for help and encouragement," Frazier says. "It may result in a few phone calls, or they may find someone like Dianne who becomes a 'weekly encourager'. 
Frazier also found great comfort in talking with a dear friend, Amy, with whom she'd lost touch. When she reached out to share the news of her illness, Amy revealed that she, too, had had breast cancer. "Every woman with breast cancer needs to connect with others who've been through the journey," Frazier says. 
In addition to becoming an important part of Frazier's support system, Amy taught her how to support other women with breast cancer. One way that Frazier does this today is by sending patients the same sort of gift that Amy gave her: a teapot, a small cup, and some green tea. "I call them 'Amy packages,' she says. "Every time I sit down and make my tea, I feel Amy's love and support, and I hope these women feel mine," she says. She is also mentoring women and making herself available to speak to those who reach out to her. "We are a sisterhood of people who are so important to each other," she says. 
Women with breast cancer also need to feel connected to—and partnered with—their health care team, including the nurses caring for them, Frazier emphasizes. Conveying such connectedness can be as simple as gently touching a patient's arm as they're talking, or offering them a cup of coffee, or setting up a time at their convenience to discuss questions, fears, or concerns. "That connection is golden to a patient," Frazier says. "Being present, listening, and caring is nursing." 
A patient's ability to relate to a nurse can also foster connectedness. "It is so important for patients to find a nurse they can relate to on a personal level, which is why we need more men and people of color in the field," Frazier says. 
Importantly, she emphasizes patients' need for education. "I'm not naive when it comes to health care, and there was a lot of information for me to take in," she says. "Emerging nurses may want to work with all the technological bells and whistles, but they must understand patients' need for information. We always have to be aware of how vulnerable patients are." 
Confronting her own vulnerability heightened Frazier's awareness of how different her care would have been if she were not a highly educated clinician and nursing school dean. "What if I didn't know what I know? What if I was a widow without my husband, David, at my side? What if I was 30 years old? Or 20?" she posed. "I got wonderful support from my job, and I was able to work the whole time. But what about people who don't have that and who need health care?" 
As it happens, questions like these already informed much of Columbia Nursing's approach to education, research, and care, situated as it is in the hub of Washington Heights, which has a sizeable underserved community. "We are always aware of people who don't have resources," Frazier says. "That's why we train our nurses so they can work in areas that don't have health care providers."  
This training emphasizes a comprehensive, holistic approach to health, which entails speaking with patients about barriers they may face in their lives—including a lack of income, employment, health insurance, transportation, healthy food, and childcare—all of which can impede their ability to stay well and access health care. "There's always going to be something, whether it's cancer, heart disease, hypertension, or diabetes," Frazier notes. "If you're a mother with kids and you work and have breast cancer, how do you put healthy food on the table? Our nurses are key to connecting people to the services they need. I am constantly thinking of how we can improve that." 
Frazier chose a career in nursing to help people attain the health and health care they need, and to educate nurses to do the same. She has done that. Now, one year into her journey as a breast cancer survivor, she is helping fellow patients by listening to and empathizing with their stories, in the particular ways she knows they need—and that she still needs, too. Indeed, her connection to other survivors is helping is helping her continue to heal. 
"Every woman's fear is breast cancer. That's why I'm going public with this story," she says. "I want to urge all women to screen early and follow up," she says. "And I want everybody to see that they can get through this, work, and have their life. I came out of this stronger, more grateful, and healthier, and I want to be openly available to people so they can see that. I want to be that example."
---
Photographs by Jörg Meyer
This article originally appeared in the Fall 2023 issue of Columbia Nursing Magazine.