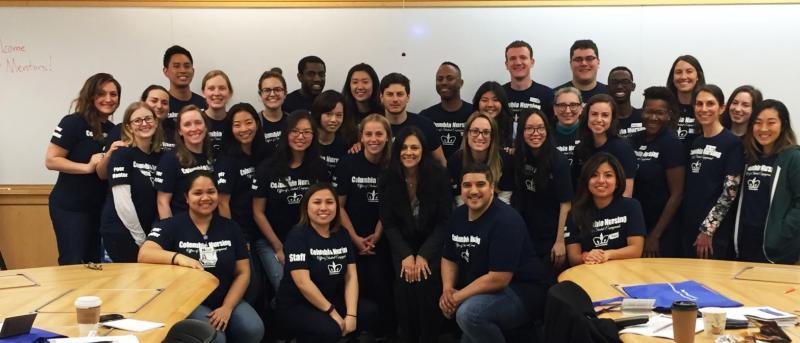 Publications, Honors, and Other News: May 2016
Publications
Dawn Dowding, PhD, Professor, was the senior author of "Embedding Robotic Surgery into Routine Practice and Impacts on Communication and Decision Making: A Review of the Experience of Surgical Teams," published in Cognition, Technology & Work.
Honors and Presentations
Donna Cill, DNP, assistant professor, was the keynote speaker at the Organization for International Development's annual luncheon.
Catherine Cohen, PhD, postdoctoral fellow, won best student poster for "Predictors of Multidrug-Resistant Organism Infection in a National Sample of Nursing Home Residents" at Western Institute of Nursing Annual Conference.
Jennifer Dohrn, DNP, assistant professor, presented "Nurses and Midwives as the Key to Universal Health Coverage: Stories from the Frontline," at the Unite for Sight, Inc. conference at Yale University.
Rita John, EdD, DNP, associate professor, presented: "Review Course for Mental Health Exam," at the National Association of Pediatric Nurse Practitioners national conference. In addition, she presented "Time Management" at the Professional Issues Forum 2016 for New York State Union of Teachers.
Jeffrey Kwong, DNP, assistant professor, presented "Role of Primary Care Clinician in HIV Care," and "Ordering Diagnostic Labs," at the University Of Buffalo Department Of Medicine Grand Rounds.
Sabrina Opiola McCauley, DNP, assistant professor, presented "Pediatric Community Acquired Clostridium Difficile: A Growing Public Health Concern Conference," at the National Association of Pediatric Nurse Practitioners national conference.
Columbia Nursing Faculty, students and staff presented their research at the annual Eastern Nursing Research Society conference.
Award Recipients
1st place for Peer Reviewed PhD student posters
End-of-Life Care Guidelines for Dementia Patients: A Systematic Review
Irene Bick, Lucette Jefferson, Bethanie Berson
2nd place for DNP School Selected Student Posters
The Efficacy of Intranasal Fentanyl versus Intravenous Morphine in the Pediatric Setting: A Systematic Review
Donte Flanagan, Clarissa Vogel, Jessica Szydlowski
1st place for PhD Papers
Reducing bias when using observational data to examine intervention effects: A comparison of three propensity score methods
Krista Schroeder with faculty co-authors Haomiao Jia and Arlene Smaldone
Papers and Posters
Paper Session A2: Parenting Challenges
Testing and Funding a Research Intervention to Support Triadic Relationships Among Mothers, Alternate Caregivers, and Children During Maternal Separations
Mary W. Byrne, Barbara Blanchard-Lewis
Paper Session A3: Nursing Education
Examining Collaborative Relationships among DNP and PhD Students: A Social Network Analysis
Jasmine Travers, Marjorie Salas, Jaqueline Merrill
Paper Session A5: Organizations/Workforce
Promoting Nurse Practitioner Autonomy in Primary Care is Beneficial for Interprofessional Teamwork
Lusine Poghosyan, Jianfang Liu
Interprofessional Teamwork in Primary Care: A Mixed-Methods Study
Lusine Poghosyan, Allison Norful, Columbia University;
Early DNP, Early PhD, Masters Posters
End-of-Life Care Guidelines for Dementia Patients: A Systematic Review
Irene Bick, Bethanie Berson, Lucette Jefferson, Arlene Smaldone
Briefs:
Columbia Nursing's Office of Student Engagement welcomes the new group of 2016-2017 peer mentors. The Peer Mentor Program connects new students with current students. Mentors assist incoming students as they transition to life at Columbia Nursing.  The new mentors recently attended a training session which included exercises on leadership, mentorship, and team-building.
Laura Ardizzone '04 '10 received the Kathleen O'Donnell, PhD, CRNA Excellence in Leadership Award from the New  York State Association of Nurse Anesthetists.
Dorothy Smith Carolina '98 was named executive director of the New Jersey Board of Nursing.
PhD student Allison Norful was named a Fellow of the New York Academy of Medicine.
Pat Riley '76 received the Distinguished Service Medal at the Centers for Disease Control. 
Janice Smolowitz '82 '05 was appointed founding dean for Montclair State University Nursing School. 
Columbia Nursing's job board lists career opportunities for nurses. Employers are welcome to post new positions for alumni and students. To submit a posting, please email nursingalumni@columbia.edu.  Please click here for UNI information.  
Attention alumni: If you are interested in mentoring students through the school's Alumni Student Connection program, please e-mail Mairead Moore at mm4513@cumc.columbia.edu.