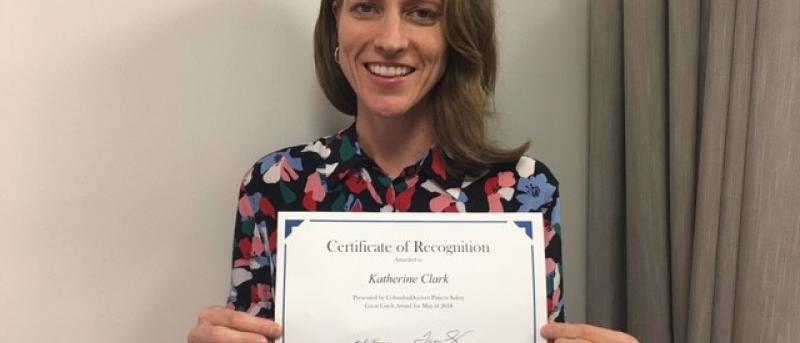 Recently Recognized for Her Dedication to Patient Safety, Katherine Clark Feels It's a Privilege to Be a Primary Care Nurse Practitioner
Katherine Clark '14 '16, MSN, RN, is an adult-gerontology primary care nurse practitioner and an instructor at the Columbia University Irving Medical Center. Before becoming a nurse, she studied in India, taught yoga, earned a master's degree in divinity, and worked on programs focused on interfaith relations and women's health.
Katherine earned her master's in nursing and adult gerontology nurse practitioner degrees at Columbia Nursing. She currently practices in the ColumbiaDoctors Primary Care Nurse Practitioner Group, where she cares for adults while focusing on health promotion, disease prevention/management, wellness, and episodic care. Her practice interests include women's health, travel health, medical ethics, palliative care, and mind-body medicine.
In May 2018, Katherine received the ColumbiaDoctors' Great Catch award, which recognizes team members for their dedication to patient safety.
What inspired you to pursue a career as a nurse practitioner? 
My path towards becoming a nurse practitioner was a winding, indirect one. I have always been interested in wellness, disease, and practices that help relieve suffering, but I spent many years approaching these interests from a spiritual and theological perspective. As an undergraduate at the University of Wisconsin, I lived in South India for a year studying the religious and healing practices of childless Hindu women. I accompanied women as they prayed at numerous temples, practiced yoga, visited astrologists, and of course, as they went to countless appointments at fertility clinics. What I learned from those women is something I am reminded of every day in my work with patients – what is going on in the body is deeply interconnected with what is happening in one's mind, heart, and spirit. Between that time in India and my decision to apply to nursing school, I studied and taught yoga for many years, earned a Master of Divinity from Union Theological Seminary, worked on interfaith relations, and organized programs related to women, faith, and reproductive health. Ultimately, I realized I wanted to contribute more directly to people's health, and becoming a nurse practitioner was the clear choice.
What part of adult gerontology primary care interests you the most?
I love that primary care is inherently holistic healthcare. For example, I am able to help patients manage hypertension best if I understand not only their exercise and dietary habits, but also how they deal with stress at work, how they are coping with a child's illness, or if they are having difficulties affording their medications. There is truly nothing about a patient's life that is irrelevant in primary care, which makes it feel like a privilege to be a primary care provider.
As a Columbia Nursing alumna, what was it like to first practice at Columbia and later take a faculty position?
I was extremely fortunate to be placed at the Nurse Practitioner Group for my final clinical rotation in the AGNP program. I worked hard, learned as much as I could, and was grateful to be offered a position as clinical faculty. I gave birth to my daughter shortly after graduating and started working alongside my mentors several months later. I could not have asked for a more meaningful way to start out my career.
You received ColumbiaDoctors' May 2018 Great Catch award for your efforts in ensuring patient safety. Can you tell us some of the actions you have taken in this area?
Ensuring patient safety is the most basic thing we can do to provide high-quality, compassionate healthcare. I do what I know my colleagues do every day as well: listen carefully to patients, admit when I don't know something, pay attention to details, and communicate when something seems off.