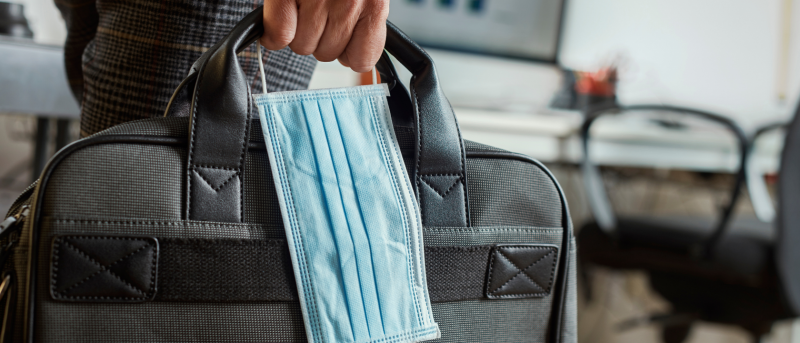 Return to Work and School Best Practices
This fall, children are headed back to school and many adults will step into the office for the first time since the pandemic began. Should these populations be wearing masks? What are the best ways to stay healthy during this transition? Columbia Nursing's Stephen Ferrara, DNP, associate professor of nursing, associate dean of Clinical Affairs, and a family nurse practitioner, answered these questions and shared best practices as offices reopen and schools commence.
Is mask wearing necessary?
Professor Ferrara said, "Wearing a quality high-filtration mask is among the most effective interventions to help drastically reduce transmission of the COVID virus. We understand that the virus is transmitted at least in part through droplets in the air. Wearing an N95-type mask or a doubled surgical/cloth mask provides better protection than ill-fitted or ineffective singular masks. In areas with poor air circulation and filtration, wearing these masks along with vaccination for all those who are able will help protect us against COVID and especially the more transmissible variants.
Professor Ferrara's tips for children going back to school:
Teach proper hygiene habits, such as hand-washing and cough-covering techniques.
Schedule your child's annual checkup to ensure they are virus-free and immunizations are up to date.
Chose the right school backpack based on size and padding. Make sure your child doesn't carry too many heavy books, which can cause back pain.
Get back into regular sleeping routines. School-aged children should be sleeping 9-11 hours per night.
Visit the eye doctor for an annual eye exam before your child returns to school.
Pack balanced lunches with fruits, grains, vegetables, and protein.  
Professor Ferrara's tip for adults returning to work:
Adhere to all new work site policies and review your employer's COVID-19 policy before your return.  
Maintain a healthy lifestyle, exercising regularly and eating a well-balanced diet.
Prepare for your first day back by sticking to a regular sleep schedule in advance.
Do regular mental wellness check-ins as your work-life balance adjusts.