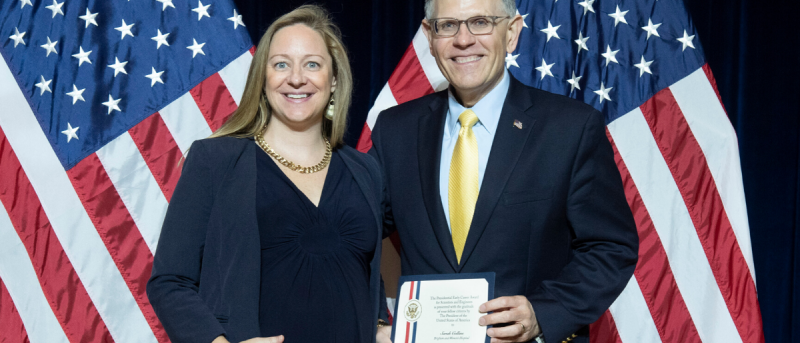 Sarah Collins Rossetti '09 Receives Presidential Early Career Award for Scientists and Engineers
Sarah Collins Rossetti '09, PhD, assistant professor of biomedical informatics and nursing, received a Presidential Early Career Award for Scientists and Engineers (PECASE), which is conferred annually. The PECASE is the highest honor bestowed by the U.S. government on outstanding scientists and engineers who are beginning their independent research careers and show exceptional promise for leadership in science and technology. Rossetti received the award on July 25th, in Washington D.C., at Daughters of the American Revolution, Constitution Hall.
"It is truly humbling to be recognized among many of my scientist peers from so many disciplines," said Rossetti. "We strive to ensure that the frontiers of scientific knowledge continue to advance and be of service to all our communities. My hope is that my work continues to help nurses, patients, all clinicians, and the health care system so that we are delivering the highest quality care to patients possible."
PECASE History
Established in 1996, the PECASE acknowledges the contributions scientists and engineers have made to the advancement of science, technology, education, and mathematics education and to community service as demonstrated through scientific leadership, public education, and community outreach. In Rossetti's case, she was nominated for the PECASE by the National Institutes of Nursing Research (NINR), a part of the National Institutes of Health.
Rossetti Nominated for Work on Multi-PI Study
The NINR nominated Rossetti for leading, as a multi-PI with Kenrick Cato '08 14', PhD, assistant professor, the study titled "Communicating Narrative Concerns Entered by RNs (CONCERN) Clinical Decision Support (CDS) system." The CONCERN study leverages Healthcare Process Models of Clinical Concern to predict when nurses are worried that a patient may be entering a risky state. This study fits well within Rossetti's existing body of research, which focuses on identifying and intervening on system-level weaknesses that increase patient risk for harm within the health care system, as well as applying and designing collaborative CDS tools.
Learn more about the PECASE.