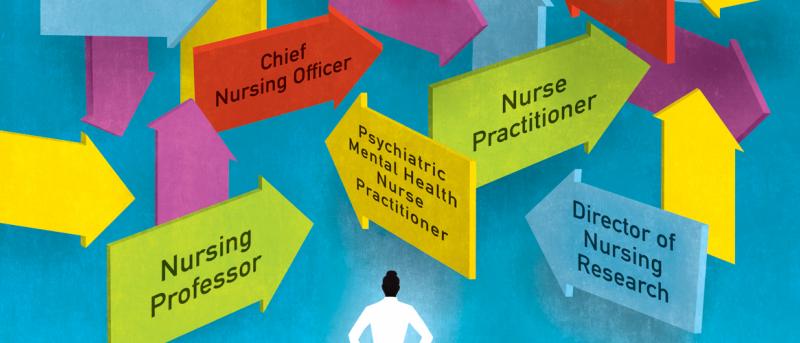 Second Acts: Discovering Nursing as a Second Career
By Changing Careers, Columbia Nursing Students Bring New Perspectives into the Classroom and to the Profession
By Sibyl Wilmont '08
This article originally appeared in the Fall/Winter 2015 issue of Columbia Nursing magazine. 
What do a former opera singer, an organic farmer, and an ex-sommelier have in common? The answer: They all made the unlikely switch to nursing and are now students at Columbia Nursing. What they also share—as do other career changers at the school—are an array of seemingly unrelated skills and experiences that add unique perspective to their new roles.
Many second-career nurses experience mixed emotions when they find themselves back in the classroom, some for the first time in decades. On the one hand, it can be intimidating being among much younger classmates, who are more at ease taking exams and writing scholarly papers. On the other hand, there is the allure of the new as well as the self-confidence gained from years of life and work experience. Below, current Columbia Nursing second-career students relate their personal and professional reasons for making such a sweeping change, and assess what impact their previous accomplishments have on their success as students and practicing nurses.
The Financial Analyst
Paul Coyne saw himself in a mirror wearing scrubs during a physical required by his employer, Goldman Sachs. That day, he decided to apply to nursing school. Amazingly, while an ETP student at Columbia, he simultaneously earned an MBA in health care management and a master's in finance, both from Northeastern University. Today, he is looking forward to capping off his education with a DNP in May 2016. It is truly a rare bird who exhibits this kind of drive; even more remarkably, just seven years earlier, Coyne had suffered a stroke a week after graduating college.
"I worked really hard to get my brain back in use," said Coyne, "so I felt there must be some greater purpose for me than sitting in a cubicle reviewing derivative transactions." Today, he is a board-certified NP and enjoys working as a manager of analytics and insights at NewYork-Presbyterian Hospital in a role that he describes as "bridging finance, clinical, and IT"—particularly relevant for the student who was "the only one asking how much everything cost."
That's his niche, purposefully created to help address the economic challenges of today's—and tomorrow's— health care system, as he explained: "To really advocate for patients, nurses need to be able to speak the same language as the people making the decisions."
The Business Strategist
"Is this worth pursuing or should we move on?" This was the question perennially posed to pharmaceutical consultant Catherine Cohen, who helped companies decide whether to develop a promising product or to cut and run. The position combined her twin interests in economics and biology, keeping her in the health care world while she decided if medical school was the next step. Cohen had never heard of advanced practice nursing until she sat in on a diabetes education class being led by an APN. Instantly inspired, her future was clear: Medical school was out and a career in nursing research was in.
Cohen, now a student in the PhD program at Columbia Nursing, loves conducting big-data analysis, particularly relating to infection prevention in long-term care. "Many scientists struggle with making their research accessible and understandable," she said, "but I have a leg up with the writing, presentation, time-management, and decision-making skills I acquired from consulting."
The Farmer
There are undeniable parallels between the at-first-blush incongruous fields of organic farming and midwifery: the nurturing, the cultivation, the seeds of life. But after six years as an organic farmer on small New England farms, growing everything from melons to flowers (her favorite), nurse midwifery student Anna Wei focuses on the practical skills she brings to her new profession.
There's the manual dexterity, honed through years of working with her hands. She connects prioritization and nursing management with efficiently delegating tasks to farm workers and the timing necessary for successfully seeding, planting, irrigating, and harvesting crops. Wei especially values the patience Mother Nature taught, coaxing her to become more in tune with the seasons, to work through natural cycles, waiting for things that take time. So, she says, she doesn't regret not becoming a midwife earlier.
"I've always been interested in women's health and birth, but farming opened my eyes to that a lot more," said Wei, who is inspired by pioneering Tennessee midwife-farmer Ina May Gaskin. She fantasizes about establishing a farm with an on-site midwifery birthing center and community-based approach to birth education and food security.
The Globetrotter
A life path that took Krystyna de Jacq from Poland to France to Kuwait to the United States sensitized her to people's culturally specific needs. Her educational and professional background is equally diverse, with degrees in economics, psychology, and nursing;teaching college-level economics and French; and working as a conference planner for UNESCO, a psychiatric RN, a research assistant in psychology, and now, as a psychiatric mental-health NP pursuing her doctorate. And she did all of this with success.
"Many people come to the U.S.," she said, "with dreams about 'becoming someone,' imagining everything is easy here, that it comes naturally. And they think that if they're not successful, something is wrong with them. I can relate to this and tell them things only someone with the same experience can."
As a psychiatric mental-health NP, de Jacq's empathy is not restricted to her patients; she wants to address the mental health needs of nurses, too, which she calls "an issue under the carpet that is extremely important, given the amount of time nurses spend with patients in the hospital and out in the community." Ultimately, her goals are to contribute to reducing—perhaps one day eliminating—the stigma associated with mental illness, and to promote better, earlier mental-illness education for new generations of nurses.
The Opera Singer
Imagine being on a grand stage, an adoring audience applauding you … and being completely unmoved. This was the situation in which professional opera singer Daniel Billings found himself when he decided it was time for a change. After 20 years with prestigious opera companies in major U.S. cities and Germany, an intense experience with a dying friend in a Chicago hospital turned him from an attention getter to attention giver. "It opened my eyes to the hospital setting and the team dynamic," Billings said. "It made me want to be part of that, to give back."
And no, he doesn't plan to do that by singing to patients. Billings is working toward an adult-gerontology primary care nurse practitioner degree with an oncology subspecialty. His immediate goal is to care for the elderly, and at some point help address the health care needs of his former musician colleagues. "I'll bring medicine to the arts instead of bringing the arts—my voice—to the bedside," he said.
The Actor/Martial Artist
During his 25 years as a professional stage, screen, and television actor, advertising voice-over artist, photographer, fight choreographer, and holder of a black belt in tae kwan do, Christopher Burns was always fascinated with other people's stories. He attributes this to his theatrical training and the need to listen carefully to what people say, "without expectations or assumptions, and to respond accordingly."
Burns plans to use this special skill as a psychiatric mental health nurse practitioner to augment his fascination with science. For him, acknowledging the gestalt is key to effective nursing, holding that there are no boundaries between illness and everyday life experiences, between the physical and the mental. Accordingly, his focus is on the growing number of people with severe mental illnesses such as schizophrenia and major depression who also live with co-morbidities such as diabetes, heart disease, and hypertension. "My goal as a practitioner is to realize that nothing can be solved from only one direction," he said. "That while we can't change others, we can offer people different courses of action—a bigger tool kit—to help them pursue as full a life as possible."
The Magazine Editor
ETP student Catherine Straut enjoyed her job as an assistant features editor at ELLE; it was fun meeting celebrities and working at a fast-paced fashion magazine. But the woman who calls medical narrative authors Atul Gawande and Siddhartha Mukherjee her heroes longed for a more emotionally and intellectually challenging career. So when she recalled the nurses who helped her recover from congenital heart surgery as a young girl and was encouraged by friends who are nurses, she decided that it was time to put her talents to work in a different career. Straut plans to pursue a master's degree in the Pediatric Primary Care Nurse Practitioner program at Columbia Nursing.
As disparate as they seem, she says, writing and nursing have something in common: an emphasis on the ability to communicate information clearly. And teamwork is important. "As a writer, you always have an editor," she said. "It's the same with your preceptor, learning to take constructive criticism for what it is—constructive."
The Veterinary Technician
As an actress, sommelier, restaurant manager, and licensed veterinary technician, Lisanne Pessini has always worked in what she calls the "people business." Building on her love of caring for animals, she became a student in Columbia Nursing's ETP program. Pessini likens tending to pets to caring for young children: Both are unable to express their needs and often come with distraught parents with their own difficulties communicating in times of stress. "The ability to gain trust and be sensitive to patients' needs as well as the needs of their families is crucial," she said.
So it was especially gratifying when a clinical instructor complimented her for making everyone in the class feel comfortable while she sensitively worked with a severely disabled young boy and his mother. She carries this memory with her as she pursues a career as a pediatric nurse practitioner in primary care. Whether it's in a restaurant or the hospital, she said, "If you can make someone feel like they're heard and that they're important, you can solve 98 percent of the problems they're having."