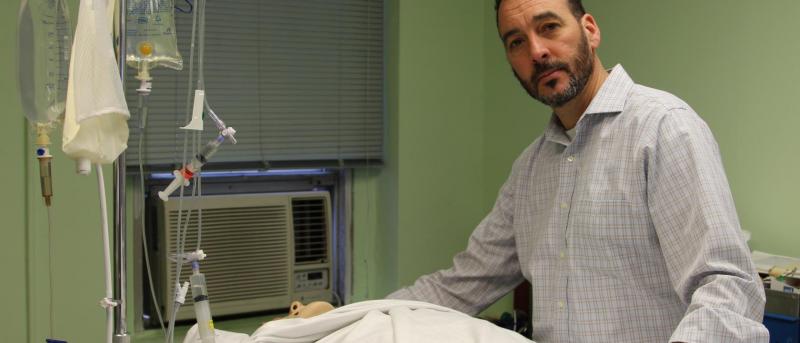 Standardized Patients: Actors Bring a Needed Layer of Reality to Simulated Learning
Imagine you are a health care practitioner about to break the news to a patient's adult son that there is nothing else you can do for his father. You explain all the steps taken in his care, and that some difficult decisions need to be made. The son, refusing to recognize how sick his father is, becomes irate. What's your next move as a clinician?
This is the exact situation Todd Licea found himself in recently. Only the exchange wasn't real, and he played the role of irate adult son, not clinician, for a student-simulated learning scenario. The 51-year-old has acted as a Standardized Patient (SP) since the 1990s, which means he is trained to act as a real patient or patient's family member in order to simulate a set of symptoms or problems in the health care setting.
"Being the adult child of a sick parent and being confronted with all of these difficult decisions, like do not resuscitate, isn't easy for the child or for the health care provider breaking the news," Licea said. "Being able to practice these situations first, in a simulated environment, can help prepare students." 
While most simulated learning includes the use of manikins, or robotic patient simulators, Kellie Bryant, DNP, executive director of simulation at Columbia University School of Nursing, explains that bringing in experienced SPs like Licea adds a whole new level of learning for students.
"When you are a nurse practitioner you sometimes have to break bad news to a patient or a patient's family," Bryant said. "SPs play a crucial role in allowing students to deal with that difficult conversation in the safe environment of the simulation center versus having their first time be a real encounter with a real patient."
It is exactly for this reason that Bryant says she will incorporate SP simulation into Columbia Nursing's new state-of-the-art simulation center when it opens this fall.
"They can be used for evaluation purposes, they can be used for learning purposes," Bryant said. "And while they can be used to deliver bad news or to practice communications, the majority of cases have SP's playing the role of the actual patient. This involves memorizing medical histories and being examined by students."
The Association of Standardized Patient Educators (ASPE) trains actors to play the role of a patient, with particular focus on how to best deliver feedback to students. However Bryant says most simulation centers offer their own training, tailor-made to the requirements of its students. At Columbia Nursing, each SP will receive a specialized training and simulation run-through prior to any interaction with students.
"That training is important," Bryant said. "It enables us to help the SP define the role, and to guide what kind of feedback we want for our students."
Licea first received his training from a simulation director at the University of Washington more than 20 years ago. While he began the work to supplement his income in-between acting gigs, he says he continues it as part-time work because of how much he loves the teaching component.  
"When you are acting, generally your audience is not participating other than listening," Licea said. "Being an SP goes a little deeper. It is a give and take with the student, and you need the ability to adjust your behavior based on what is going on."
According to Bryant, SPs can also be used in collaboration with robotic manikins to create a sort of hybrid learning simulation.
"We can use the manikin as the patient, and then we can put an SP at the bedside to play the family member, because sometimes that is the hard part—especially with pediatrics," Bryant said. "You may have taken care of a child, but you may not also have had the parent at the bedside who is worried about that child during the examination. You almost have two patients!"
Whether portraying the role of patient, family member, colleague or friend, Licea says at the end of the day it comes down to acting for an audience of one.
"What's great is running into a student a couple of years later who recognizes me and says, 'you were my SP a couple of years ago,'" Licea said. "The feedback I usually get is, 'what you told me was so helpful!'"
Though the practice of SPs is widely used in medicine, it is beginning to catch on in other fields as well ranging from police academies, law schools and more, according to Bryant. And with five years of experience incorporating SPs into simulation environments under her belt, she knows it will be a success at Columbia Nursing.  
"It started out on a pilot basis, but students absolutely love it," Bryant said. "In fact, sometimes students love the SPs more than the manikins because it facilitates genuine interaction, and they love the feedback that SPs give them."
As for Licea, he says he can't wait to work with Columbia Nursing students in their brand new home.
"Absolutely, I can't wait," Lucia said. "The brand new simulation center sounds fantastic." 
Topics