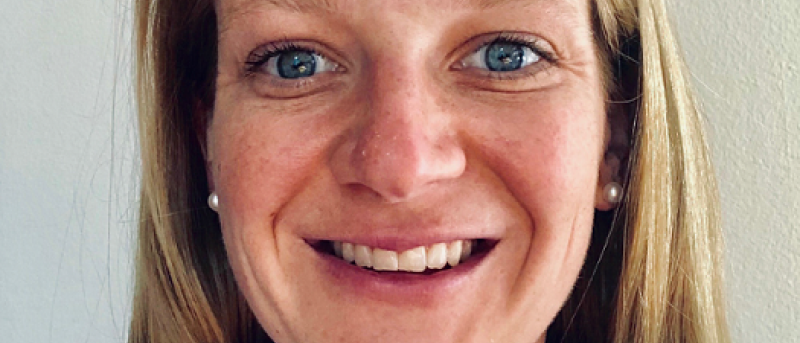 Student Profile: Cordelia Cowan
A former Classics major from a liberal arts college in Maine, Cordelia Cowan '16 '18 worked as a medical assistant in Boston, Mass., before moving to New York, N.Y., to attend Columbia Nursing, first as an Entry to Practice student and then as an Adult-Gerontology Primary Care Nurse Practitioner student. "I subspecialized in oncology, and every day I get to use the skills I learned at Columbia Nursing as I care for cancer patients," she says. Cowan is expecting to graduate this year from Columbia Nursing's Doctor of Nursing Practice program and currently works at an outpatient oncology clinic for patients with myeloid malignancies.
Why did you decide to pursue nursing and why did you choose Columbia Nursing?
I chose nursing because the profession celebrates humanity and compassion, combined with science. Nursing requires both empathy and intellect, and, as frontline providers, our patient interactions are inherently high impact. Columbia Nursing understands the complexities of the profession and offers a dynamic curriculum, allowing for individualization and broad exposure. The school also maintains an excellent reputation and has a strong alumni network.
What did you gain from your education at Columbia Nursing?
My experience at Columbia Nursing was defined by the smart and caring people I worked with both in the classroom and at clinical sites. My preceptors and professors have become my mentors, and my classmates are now colleagues across a variety of specialties. Every day, I draw on the skills I learned from, and resources I built at, Columbia Nursing.
What are you passionate about, and how has being a student at Columbia Nursing allowed you to follow that passion?
I'm passionate about providing thoughtful, thorough care to cancer patients. Columbia Nursing nurtured this interest by coordinating over a year's worth of clinical placements for me in oncology settings. As a result, upon graduation from my nurse practitioner program, I immediately began working as an oncology nurse practitioner in Manhattan at Mount Sinai Hospital's Derald H. Ruttenberg Treatment Center for cancer patients. I saw patients with leukemia and myeloproliferative disorders, collaborating with a team of three nurses, another nurse practitioner, and five physicians. We'd see patients with varying levels of acuity, and were in constant communication with the infusion, inpatient, research, and social work teams to ensure holistic, individualized treatment for every patient.
What's the next step in your career?
I would love to develop a more formal mentorship program for oncology nurse practitioners at my current hospital. I think that nurse practitioners are poised to have a high impact in the field of oncology. It's such an exciting field right now, with so many life-changing treatments under development—but, they're only helpful if we can support patients through the schedules and side effects the new treatments might entail. As nurse practitioners, we are trained to consider patients' psychosocial, physiologic, and functional needs with equal weight, making us key members of an oncology care team. However, the classic image of a nurse practitioner is primary-care based. We need nurse practitioners to be aware of what a career in a specialty field looks like and have mentorship programs in place to guide them. Strong mentorship from Columbia Nursing faculty was transformational for me when I began in oncology, and I want to share that experience with others entering the field.
Do you have a favorite memory of your time at Columbia Nursing?
My most memorable experience was serving as a teaching assistant for Mary Moran, MS, instructor, in her skills laboratory, where first-semester students learn the basics of nursing, such as wound dressing and more. I loved seeing new students master nursing skills, such as measuring blood pressure manually, only a year after I'd learned the skills myself. It was exciting to realize how much I'd learned and even more exciting to witness new students realize that they were on their way to becoming capable nurses themselves!