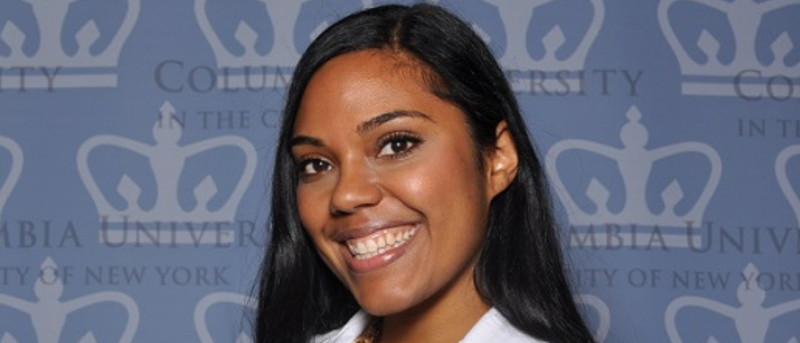 Student Profile: Franchesca Ali
Born in Honolulu, Hawaii, Franchesca Ali '16 '18 grew up in southern New Jersey near Fort Dix military base before attending Temple University in Philadelphia, Pa. for her undergraduate studies. Following that, she taught chemistry for two years in Baltimore's public school system and then worked in clinical research. It was Ali's time as a clinical research coordinator in cardiac surgery at the University of Maryland, Baltimore that she discovered her interest in nursing. "I fell in love with nursing, as I worked closely with the nursing staff and patients; moreover, my experiences as a teacher and medical researcher prepared me for nursing and would make me a well-rounded clinician," she says. Ali currently works as a full-time Family Nurse Practitioner at an outpatient clinic in Bronx, N.Y., providing primary care services to children and adults. She is expecting to graduate from Columbia Nursing's Doctor of Nursing Practice program.         
Why did you decide to pursue nursing and why did you choose Columbia Nursing?
As a clinical research coordinator at the University of Maryland, Baltimore, I fell in love with the career of nursing, as I worked closely with the nursing staff and patients. I chose Columbia Nursing because it was highly ranked in providing clinical nursing education and in the percentage of students passing the national certifying exam. Furthermore, the school provided me with the best opportunity to pursue my nursing career as a second-degree student and career changer.
What did you gain from your education at Columbia Nursing?
Not only did I receive a world-class education, I gained a family and lifelong friends. It's true: You get to know your classmates and the staff on such an intimate level, immersing yourself in an intense, yet rewarding experience. From all the self-made study groups, to the late nights in the library working on assignments, you become really close. You lean on each other, learn from each other, and teach one another. It is amazing that the very people I started my first year with at Columbia Nursing are now my fellow colleagues. I have friends that are a phone call away in fields of oncology, women's health, pediatrics, psychiatry, and neurology. 
What are you passionate about, and how has being a student at Columbia Nursing allowed you to follow that passion?
I am passionate about taking care of underserved communities that do not have access to high-quality care. It puts a smile on my face when I am able to take care of an entire family, and they are satisfied with their visit. It is great to have relationships with my patients and be a part of their community—which I am—at Ramón Vélez Health Center, a community health center in the Bronx where I've been working for a year. The center is classified as a Federally Qualified Health Center, which means it provides primary care services on a sliding fee scale in underserved areas, and is operated by a governing board that includes patients. I love that my patients can walk down the street to see me, and feel confident that I will not only address their health care needs, but go above and beyond for them. Many live in homeless shelters and have chronic conditions, such as diabetes, hypertension, HIV, and hepatitis C.
What's the next step in your career?
I want to continue to practice primary care in New York City, and I plan to continue helping underserved communities by working in a family practice environment, providing chronic disease, pediatric, and gynecological care, and infectious disease management and treatment. I want to use my doctorate to eventually serve in a leadership position, where I can be a voice and advocate on a state and national level for people who do not have a voice in their care. 
Do you have a favorite memory of your time at Columbia Nursing?
My favorite memories include the yearly summer barbecue and the holiday party the Office of Student Affairs would host for us at the end of each long semester; we definitely earned it every time. My classmates and I would say cheers to conquering another milestone.