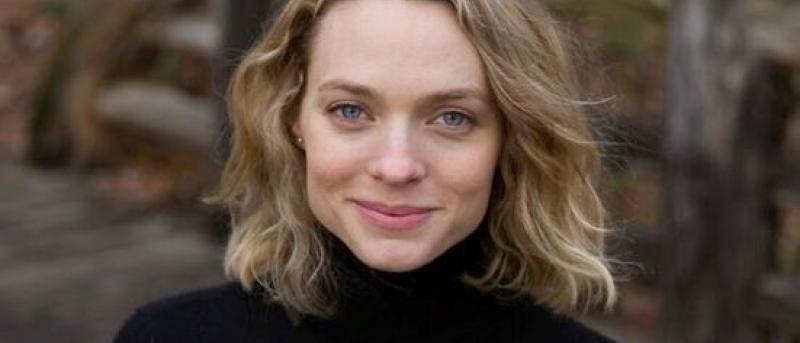 Student Profile: Madeleine Hamer
Madeleine Hamer was bit by the acting bug before finding her passion in nursing. Expecting to graduate this year from the Masters Direct Entry program, Hamer received her B.A. in Theatre from the University of South Carolina, her home state, before moving to Los Angles, Calif., to pursue acting. Following that, she came to New York City, where she interned at a cystic fibrosis center, becoming close friends with a nurse practitioner there. "Watching her with patients and colleagues, I realized all the things a nurse can do—from basic clinical skills to putting together and executing patient-centered care plans." Hamer, who used to manage a yoga studio, credits her education at Columbia Nursing with broadening her global perspective and emphasizing the importance of evidence-based practice. She currently serves as a Chair of the Student Life Committee of Columbia Nursing's student council.      
Why did you decide to pursue nursing and why did you choose Columbia Nursing?
With my background in acting and theatre, I've always had an interest in people and appreciation for their stories. While in Los Angeles, my passion for holistic medicine and nutrition grew, and, when I moved to New York City, I knew I wanted to work in the healing arts. Columbia Nursing was my top choice because of its focus on evidence-based practice and its global initiatives program.
What did you gain from your education at Columbia Nursing?
Being part of a cohort from many walks of life, and working through clinicals in a variety of settings, exposed me to aspects of the health care system that I was not remotely aware of before starting school. Gaining this perspective has opened my eyes to a plethora of needs here at home and abroad. I feel so privileged and lucky to be a nurse. With the education I've received, I'm able to build meaningful relationships with patients, and, in the next breath, effectively communicate complex ideas to other members of the care team.
What are you passionate about, and how has being a student at Columbia Nursing allowed you to follow that passion?
I am passionate about women's issues, improving spaces of care, and effective teamwork. As a Columbia Nursing student, I took an interprofessional education course—"Relationships of Care and Spaces of Care"—which placed me in a classroom with passionate students from other schools on the Columbia University Irving Medical School campus. We discussed and reflected on thoughtful ways to improve health care delivery through working harmoniously with colleagues and patients, as well as designing spaces of care more conducive to healing the patient and family.
What's the next step in your career?
I will continue on at Columbia Nursing as a Doctor of Nursing Practice student within the Family Nurse Practitioner Program with a sub-specialty in Women's Health. Outside of school, I hope to work in an outpatient women's clinic. Ultimately, as a Family Nurse Practitioner, I plan on building research initiatives centered around holistic, non-pharmacological practices and care delivery systems that complement standard medical care.
Do you have a favorite memory of your time at Columbia Nursing?
My favorite memory is of my time in Panchgani, India during integration. The camaraderie with my peers and the rich cultural experience have changed my life and the way I will deliver care, forever. I can still remember it: being in a hospital setting in a grove of 44 acres of jungle on a mountain top, where patients are able to step outside of their room into the sunshine after treatments; where family members are required—and happy—to be part of care delivery; and the fresh, carefully prepared food, including milk from cows on the premises, being fed to patients daily. This is a way of practicing and providing care that I've witnessed to be very powerful. Beyond treating illnesses, it offers patients the ability to heal on the deepest levels possible.