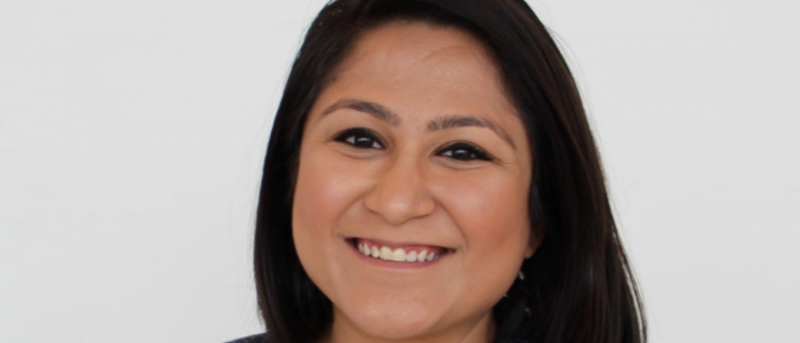 Student Profile: Shazia Mitha
Interest in scientific research propelled Shazia Mitha '16 '18 from her home in Tampa, Florida, and from the University of South Florida, where she earned her bachelor's degree in biomedical science, to Columbia Nursing's Adult Gerontology Acute Care Nurse Practitioner Program. "One of the best practices in nursing today is using research to improve patient care and the quality of life for people around the world," says Mitha, who is now a doctoral student, Class of 2021, at Columbia Nursing. The former peer mentor, peer leader, and student senator is also a Robert Wood Johnson Future of Nursing Scholar for 2018–2021.

Shazia is a Leader in Nursing Scholar.
Why did you decide to pursue nursing and why did you choose Columbia Nursing?
Florence Nightingale once said, "Unless we are making progress in our nursing every year, every month, every week...we are going back." This is how I envision my nursing career. I applied to Columbia Nursing because of its strong investment in research.
What did you gain from your education at Columbia Nursing?
I gained a world-class education, including skills as a nurse practitioner that I use to help people. The environment at Columbia Nursing is rigorous, with fast-paced programs that are challenging. At the same time, it is personalized. I felt like I was with family because I knew everyone­­–classmates, teachers, administrators and deans--by their first name. It really makes a difference when you feel at home.
What are you passionate about, and how has being a student at Columbia Nursing allowed you to follow that passion?
My passions have always been research and inquiry, especially in adult health and comorbidities such as heart disease and cancer. Columbia Nursing's academic environment and its astounding faculty amazed me. Learning from world-class researchers, teachers and mentors in a renowned and supportive academic center turned my dreams of being a research clinician into reality.
After graduation you'll be going into the PhD program. Tell us about your decision to go from the clinical program to research and how that impacts your future career plans.
Pursuing a PhD in nursing wasn't a spontaneous decision. I have thought about advancement in education since I learned my first English words in 1999, when I moved to Chicago from Pakistan. Seeing my parents struggle throughout their lives made me want to give back. The PhD will allow me to advance and share my knowledge, so that I can help improve people's health and lives. One topic that I hope to explore is the effect of oncologic treatments such as chemotherapy and radiation therapy on cardiomyopathies and atrial fibrillation. In my experience as an oncology research nurse, and in my clinical experience with cardiac patients, including my grandfather, I have found interesting patterns of dominance that I would like to study further.
Do you have a favorite memory of your time at Columbia Nursing?
My most memorable experience is new student orientation. My orientation ended with a boat cruise and is where I met some of my closest colleagues and friends. We still reflect on that day when we sat next to each other and became soul mates for life. I have been volunteering as a peer mentor during orientation and visiting day so I can share this experience with new students.