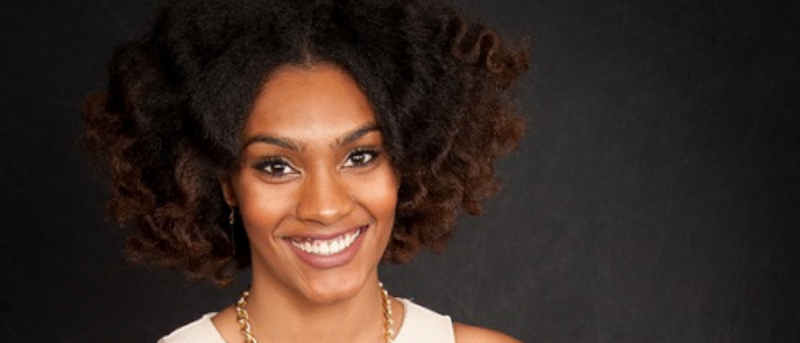 Student Profile: Sierra Davis
Chicagoan Sierra Davis, who is looking forward to graduating this year from the Masters Direct Entry program, had her interest sparked in health care as an undergraduate, majoring in Public Health at Vanderbilt University. She returned to Chicago, Il. to work as a research assistant at Northwestern University Feinberg School of Medicine and also volunteered as a doula with Chicago Volunteer Doulas. Doulas are women trained to provide advice, as well as physical and emotional support, to mothers before, during, and after childbirth. "I decided to pursue nursing because I admired the way that nurses care for their patients and always advocate for their best interests," says Davis. Once she graduates, Davis will be specializing in midwifery as a Doctor of Nursing Practice (DNP) student at Columbia Nursing. 
Why did you decide to pursue nursing and why did you choose Columbia Nursing?
I am interested in women's health and midwifery, and I specifically like how nurse midwifes treat pregnancy as normal process. I know that the midwifery model of care aligns with my personal beliefs about women's health, and I want my patients to be partners in determining their care.  I chose Columbia Nursing because I wanted a top notch education and a diverse clinical experience. I knew that New York City would offer that diversity because of its many great hospitals, which would provide me opportunities to see a wide variety of patient cases, perhaps even rare disease cases. Moreover, the city has people from all over the world. By caring for different people from different cultures, you learn how they experience the health care system and illness, thereby enabling you to better serve them in the future. The option to continue seamlessly into a DNP midwifery program at Columbia Nursing was also very important to me.
What did you gain from your education at Columbia Nursing?
I've gained so much from my education here. Some of the highlights have been my amazing clinical experiences. I've had the chance to learn at hospitals all over Manhattan, each with a unique and diverse patient population. I've learned how to better communicate with my patients, even when there is a language barrier, and I've been able to master nursing skills at the bedside. I am so thankful for the excellent clinical instructors that I've had in every rotation. I feel fortunate that every instructor enjoyed teaching and working one on one with us. Also, I am grateful to have been involved in Columbia Black Student Nurses, helping create a safe space for students of color.
What are you passionate about, and how has being a student at Columbia Nursing allowed you to follow that passion?
I am passionate about women's health, midwifery, and global health, and I've been able to explore each of these passions at Columbia Nursing. I especially enjoyed my obstetrics rotation, where I was able to interact with new moms and their babies, providing breastfeeding education and more; I even observed three births. By far the best experience has been my global integration placement in The Gambia in West Africa. Not only did I get to deepen my understanding of and practice global health, but I was able to learn from providers who are at the forefront of maternal and infant mortality crises.
What's the next step in your career?
I will be continuing on to the DNP program and specializing in midwifery. I look forward to diving deeper into women's health and engaging in clinical work in one of New York's five boroughs.
Do you have a favorite memory of your time at Columbia Nursing?
My favorite memory was witnessing my first birth as a nursing student. I saw a few births in my previous volunteer work, but my student colleague had never seen one. Together, we were able to assist the doctors and nurses and comfort the mother during labor. Once the baby was delivered, I looked over at my friend and she was crying—I couldn't help but shed a few tears, too. It was such a beautiful moment to share with the mother and with my friend, and it just solidified my love of midwifery and women's health. It made me realize that I chose the right school, and that I am in the right place and on the right path.