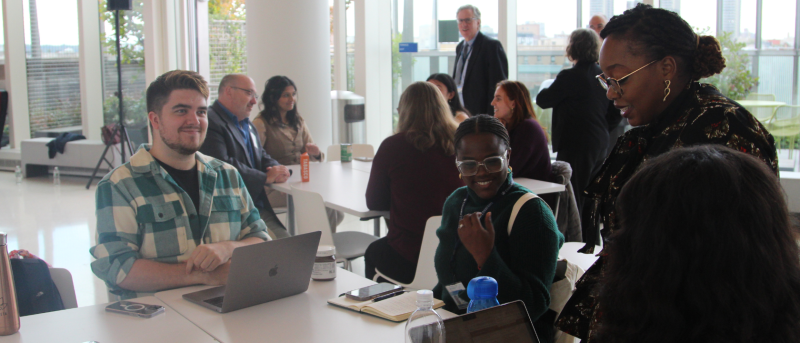 Students Learn Legislative Process, and How to Influence It
Columbia Nursing students and their Mailman School of Public Health peers gathered October 18, 2023, to learn about how to advocate for patients and the profession from three Columbia University experts. 
The event, "Advocacy Training: Turning Research & Practice into Policy and Law," was sponsored by the Center for Health Policy along with Mailman, and included opportunities to practice lobbying and, for some attendees, the chance to be lobbied as a member of Congress. 
Tips for successful lobbying 
Ross Frommer, JD, vice president and associate dean in the Office of Government and Community Affairs at Columbia University Irving Medical Center, opened the discussion by describing the steps in the U.S. legislative process. "Where can you as an advocate intervene? The answer is anywhere and everywhere."  
He offered several tips for successful lobbying, which he noted has been defined as "gentle pressure relentlessly applied," including: 
Win them over on the merits 
Be specific when possible 
Know the process and calendar, official and unofficial 
Have a rough idea of what the legislation you support will cost 
Make friends not enemies, especially with those in power 
Accept partial friends, litmus tests are not productive 
Make use of press and social media, always get pictures 
Be careful with protests 
Pay attention to elections/political landscape 
As clinicians, be willing to give free advice 
There are many other careers involving advocacy in addition to being a lobbyist, noted Frommer, citing a slide created by his fellow presenter Heather Krasna, PhD, associate dean of career and professional development at Mailman, including advocacy director, community organizer, legislative analyst, or policy analyst with a policy advocacy slant. Other ways to advocate, according to Krasna, include: 
Joining a group
Volunteering, leadership, joining professional associations 
Joining a board of directors 
Organizing a lobby day, media event, or action group 
Using your expertise to testify, write letters
Legislation to expand access to, quality of care 
Stephen Ferrara, DNP, associate dean, clinical affairs, discussed the Improving Care and Access to Nurses (I CAN) Act, recently re-introduced to the 118th Congress as HR 2713/S 2418.  
The bill would amend the Social Security Act to revise Medicare and Medicaid regulations that restrict advanced practice nurses from providing care within their full scope of practice. For example, Ferrara noted, NPs are not permitted to prescribe diabetic shoes, a simple intervention for preventing foot injuries in patients who are at risk of serious complications including amputation and death. "This is what's at stake, when we're talking about a little diabetic shoe," he said. 
Ferrara is president of the American Academy of Nurse Practitioners, which supports the ICAN Act.  
Krasna introduced the lobbying exercise that concluded the event. Four attendees volunteered to play the role of a U.S. Senator, while the remaining attendees broke into three groups and were assigned to lobby each senator for—or against—the I CAN Act. 
Frommer provided additional resources with more detail on the lobbying process: