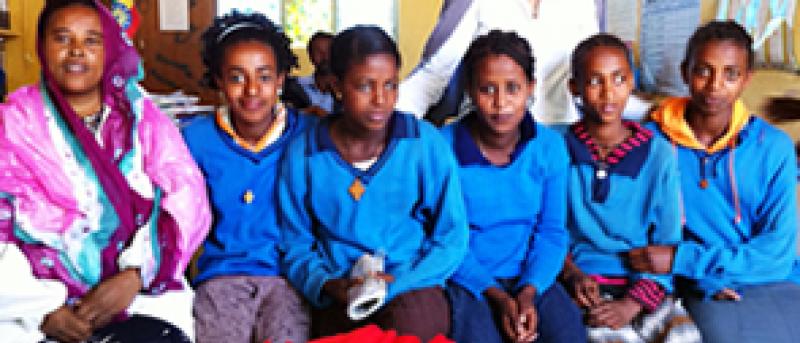 Subverting Stigma: Giving Ethiopian Girls Tools to Stay in School During Menstruation
In Ethiopia, menstrual supplies are practically nonexistent. Rather than risk the embarrassment of bleeding through their clothes, many girls stay home from school during their cycle each month, causing them to fall behind in their studies and often drop out of school altogether.
And the problem isn't limited to Ethiopia: UNICEF estimates that one in 10 school-age African girls either skip school during menstruation or drop out entirely because of lack of supplies.
But Mary Moran, a clinical instructor at CUSON, found a solution to keep Ethiopian girls in school and restore their confidence:  Her organization Girls2Women developed a program which teaches local Ethiopian leaders and students how to make sanitary pads out of colorful and durable Ethiopian cotton. The pads can be hung to dry in the sun after washing and reused. 
Moran, a native of Ireland, has always felt a strong connection with Ethiopia. She met her Ethiopian husband in the 1980s while working at an Ethiopian refugee camp in Sudan. They both worked to help Ethiopians during the widespread famine: He as a translator and she as a public health officer for the International Rescue Committee.
Three decades later, Moran felt another pull towards the Northeast African nation.
"I wanted to give back to Ethiopia, a country I have always loved," said Moran.
In 2009, Moran travelled to Ethiopia, to meet with Dr. Gebreab Barnabas, who was then the Director of the Regional Health Bureau of Tigray, the area surrounding Mekelle, a city in the north of the country.
She asked Dr. Barnabas what he thought was his country's greatest need and what she could do to help.  He responded that keeping girls in school was one of his country's largest challenges, and their limited access to menstrual supplies was a major factor.
Moran immediately sprang into action. She knew she had to come up with a culturally sensitive—and affordable—solution, since disposable sanitary pads were prohibitively expensive for many girls and women, even in Mekelle, where there is slightly more disposal income than in the countryside.
So she travelled back in time, via the Internet, and researched what women throughout the world used decades—even centuries—ago before the advent of disposable sanitary products. She took her findings to her classes and asked CU nursing students to help her come up with a design for reusable sanitary pads using local Ethiopian cottons in sewing sessions held after classes.
Many of her students expressed interest, but some did not know how to sew.  That was no problem for Moran, her mother and grandmother were accomplished seamstresses.  So Moran taught those students the same skill that she used as a struggling nursing student in England, when sewing her own clothes. The students created and tested a number of options and decided on a winning square design featuring nine square inches of double-layered, colored cotton material.
Since then, Moran has trained local women in more than half of the public schools in Mekelle how to make, wash, and maintain the pads. More than 1,000 cloth pads have been made, and the trainings have spread to schools and community centers throughout the region. Girls2Women supplies the thread, needles, and templates sourced at a discount from Mekelle's MAA Garment Factory. Two teachers from each participating school attend vocational training programs offered by Mums for Mums, a local NGO, and learn to use sewing machines.  Once their training is complete, Girls2Women provides sewing machines to the schools, to make and sell their garments.
As a result, thousands of girls have continued their studies and will now graduate.  They will have a wider range of economic and social opportunities ultimately benefiting entire communities.
"Being able to address a global need like this made me realize how much potential nurses have to help others overseas," said Mary Tang, '14, an ETP student who has participated in several sewing sessions. Tang's illustrations were used in an educational pamphlet Moran distributed to Ethiopian educators and students that also included instructions on how to make the pads and facts about reproductive health.
Although Moran has helped make a difference in outwitting the stigma of menstruation, she continues to charge forward with the project. She regularly holds sewing circles, where students meet to make the pads. Recently, she and her students sold them outside of a CUMC production of The Vagina Monologues to raise money for the project. Moran will be travelling to Ethiopia for two weeks in March, holding workshops in Mekelle, Addis Adaba and Bahir Dar. During this trip, she will conduct focus groups to begin accessing the project's impact.
Heidi Swan, '15, who serves as the de facto organizer for the Girls2Women sewing circles already thinks the project has had a wide impact, and it makes sense that nursing students have embraced it wholeheartedly.
"This project is about seeing a problem and coming up with a creative solution which is what nursing is all about," said Swan. Swan, who previously volunteered in Bolivia and Guatemala and holds a Masters in Public Health, was immediately attracted to the project when she saw Moran present it to her class last summer.
"This project felt like a natural fit for me because it was about empowering girls, and it's sustaining since the girls and women have taken ownership of it," she said. "To help people help themselves is really why I came to nursing in the first place."
And Moran has seen firsthand the effects of allowing these girls and young women to help themselves:
 "Making their own pads has given these girls a greater sense of independence," said Moran. "I've returned to several of the schools where we trained students and talked with them, and I've seen their transformation from shy and timid girls to being feisty and confident. They talk about menstruation in mixed company and they see it as a normal and natural process of growing up," she said. "By giving them the skills to manage their menstrual cycles, we're improving their school attendance, and providing the next generation of women with more opportunities."