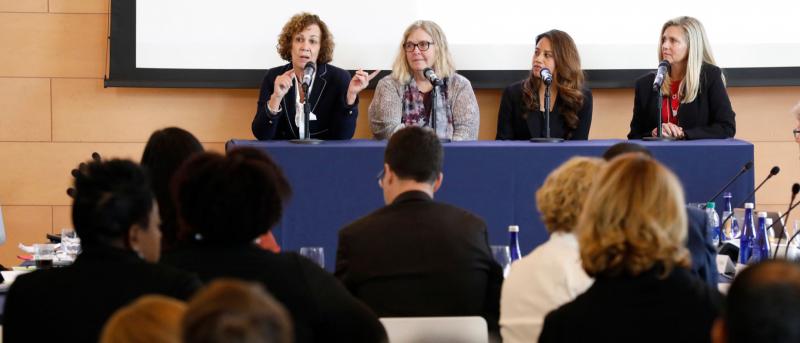 Sustaining Simulation Education Requires Evidence of Effectiveness
Simulation education has evolved significantly over the years and has become essential to preparing nurses for clinical practice, but sustaining its evolution will require greater evidence of its effectiveness, according to a summary of Columbia University School of Nursing's 2018 inaugural "Innovations in Simulation Summit," which appears in the October 2019 issue of Clinical Simulation in Nursing. Lead author Kellie Bryant, DNP, executive director of simulation and assistant professor at Columbia University School of Nursing, and co-authors, praised the progress of simulation, while underscoring the need for research to continue advancing the field. "It is time to move the field forward by designing research that provides evidence that use of simulation is an effective teaching modality to improve long-term retention of knowledge, transfer of learning to the clinical setting, and improved patient outcomes," the authors wrote. The paper's co-authors are: Michelle L. Aebersold, PhD, University of Michigan School of Nursing, Pamela R. Jeffries, PhD, George Washington University School of Nursing, and Suzan Kardong-Edgren, PhD, Center for Medical Simulation in Boston and Texas Health in Ft. Worth.
Simulation Education
Once limited to the use of manikins, simulation education has expanded beyond task training to include experiential learning such as debriefing, which teaches students to think critically about scenarios and how they can improve them. "This deliberate practice of reflection and critical thinking is what sets simulation apart from simple task training," the authors wrote. "It is during debriefing immediately after the scenario that knowledge truly increases."
Simulation also encourages reflection by replacing the traditional "see one, do one, teach one" learning model with a "see one, practice, practice, practice, do one, and then teach" approach, the authors said. "Bringing simulation into the curriculum, delivering content experientially, encouraging deliberate practice, and helping students understand and reflect on their experience—this is a great evolution in nursing education.
This evolution increasingly entails the use of virtual realities, including gaming, to enhance debriefing by offering nursing students feedback during instead of after their experience, and allowing them to chart their progress in mastering skills as they move from one level to the next, the authors reported.
Recommendations
Given the many ways in which simulation has evolved, the authors pointed out that most nursing schools now substitute it for direct clinical hours. Still, they called for new models of simulation education that better transfer skills to real world clinical settings and prepare nurses for practice. For example, they said, scenarios should be more realistic. Instead of involving just one or several students working with a single simulated patient, they should reflect the clinical reality of today's complex health care environment in which nurses typically care for multiple patients simultaneously.
Scenarios should also teach nontechnical skills, such as advocating for patients who need social services, or expressing empathy toward patients and families, the authors said. Families should also have access to simulation education, to help them practice caring for loved ones at home or in outpatient settings, where so much health care is beginning to occur, they added.
The efficacy of simulation does not depend solely on its subject matter, however. Indeed, simulation is only as good as those who teach it, the authors stressed, noting that only 60 percent of nursing faculty are formally prepared to conduct simulations or debriefings. Moreover, guidelines are needed to assure consistency in the way simulation is taught, conducted, and assessed. "The explosive adoption of simulation in the health care environment has led to inconsistent implementation of this valuable learning modality," they wrote.
Thus, they urged simulation organizations to create a shared agenda that harnesses and disseminates the best trends in simulation research. "A robust and iterative research plan is important to validate the benefits of simulation and to identify its weaknesses," they concluded. "These findings are essential in order to shape the future of simulation education and to link it to improved patient safety outcomes."
Read the full paper: Innovations in Simulation: Nursing Leaders' Exchange of Best Practices.