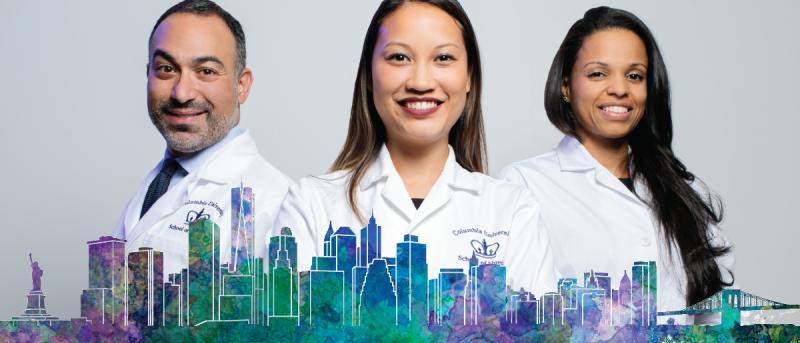 Transforming Primary Care:
Columbia Nursing's NP-Run Faculty Practice Provides Access to New York City Residents
*This article originally appeared in the Fall-Winter 2016 issue of Columbia Nursing magazine.
by Andrea Kott, MPH
Evelyn* was ill. Halfway through her workday in Midtown Manhattan and far from her regular primary care practitioner, she walked over to Columbia Nursing's primary care faculty practice near Rockefeller Center. One clinician was available: Sabrina Brem, DNP. "I was so physically sick I needed to see someone," recounts Evelyn, who was concerned when Brem didn't automatically prescribe an antibiotic. Brem diagnosed a virus. Then she did the unexpected: She asked Evelyn about her overall health, including her emotional wellbeing."She didn't rush me out," Evelyn recalls. "She listened." That day, Brem became Evelyn's new primary care provider.
Many Americans are choosing nurse practitioners (NPs) as their primary care provider. Columbia Nursing was at the forefront of this trend more than two decades ago, when the need for affordable, accessible community healthcare led to its piloting of a satellite clinic for NewYork- Presbyterian Hospital. The clinic's success encouraged the school to pilot its first faculty practice. Today, amid rising healthcare costs, a shortage of primary care physicians, and increasing longevity among the elderly and chronically ill, the need for accessible healthcare is growing. The school has responded by establishing three faculty practices: one in Midtown; one in Washington Heights, on 168th Street and Audubon Avenue; and a third in Morningside Heights. With the recent opening of the Washington Heights faculty practice—its most expansive—in September, the school also traded the moniker Columbia Advanced Practice Nurse Associates (CAPNA) for ColumbiaDoctors Primary Care Nurse Practitioner Group, staking its claim as a vital source of patient-centered care.
Compassion and Expertise
Evelyn's health profile was complex. She had a virus. She also had an eating disorder, was in the throes of perimenopause and was weathering the stress of caring for her critically ill husband.
Brem was warm and empathic. She addressed the binging and purging that had kept Evelyn, who'd once topped 200 pounds, on a seesaw of weight gain and loss. She also administered a simple blood test to confirm the 47–year-old's perimenopause. "She asks probing questions and she explains things," Evelyn says. "I'm not embarrassed to tell her about my eating disorder. I'm not mortified to ask her questions because I know she won't judge me. She's gotten to know me as a whole person. I feel safe and comfortable."
In addition to her sensitivity, Brem's diagnostic acuity and knowledge of the medical literature impressed Evelyn, whose husband suffers from a rare muscular disorder. "She teaches, so she's up on the latest medical information," Evelyn says. "She knew exactly what my husband had."
An Educational Pillar: Putting Patients First
Evelyn would soon learn that NPs who specialize in primary care provide a full range of clinical services including performing annual physicals, screenings, consultations and follow-up exams, administering vaccinations, treating illnesses, prescribing medications, and helping to manage chronic diseases such as diabetes and asthma. Studies indicate that patients choose NPs as their primary care provider not only for their vast medical knowledge and expertise as diagnosticians, but also for their emphasis on promoting health and wellness and the amount of time they spend with patients.
According to Stephen Ferrara, DNP, Associate Dean of Clinical Affairs, who oversees the school's faculty practice, primary care is an NP's specialty. Curricula for NPs— who have a rigorous scientific background and are board certified—are patient-centered. They underscore the importance of preventing disease, educating and involving patients in strategies to improve their health, counseling, and coordinating and advocating for community resources. "NP education is focused on combining the scientific underpinnings of physiology and disease processes with a holistic, person-centered approach to care," Ferrara says.
Columbia Nursing takes this holistic, person-centered approach as it prepares NPs to become primary care practitioners. In fact, caring for patients in a primary care setting is a critical piece of its curricula, along with teaching and research. Masters Direct Entry, masters and doctoral students all rotate through the faculty practices, where they shadow working NPs and perform clinical tasks under supervision. "We educate students from the classroom all the way to the clinical setting," says Ferrara, who practices several days a week. "Not many nursing schools have their own practices. This is one of the three pillars of education, research and practice that separates Columbia Nursing from other schools."
The NPs at the school's three practice locations are all Columbia Nursing faculty, like Caroline Sullivan, DNP, Assistant Professor, who clinically leads the Midtown practice on West 51st Street. Being an educator keeps her abreast of the latest medical research, which informs not only the treatment she provides to her patients but also the mentoring she gives to her students. "Belonging to a faculty practice and teaching allows us to bridge the gap between the clinical and the academic," Sullivan says, referring to her NP colleagues. "It's good for us both as providers and as teachers, because it gives us real-world clinical experiences to bring into the classroom, which is exactly what our students need."
The Washington Heights Facility Offers Integrated, Inclusive Care
On 168th Street and Audubon Avenue, around the corner from the new building site which will be Columbia Nursing's future home in spring 2017, is a 3,300-square foot, state-of-the-art facility whose double-glass doors open into a welcome lounge painted in the school's soft blue and green. A gently lit corridor wends past seven examination rooms, three mental health consultation rooms, a phlebotomy room and a large multi-purpose room where clinicians can meet or present public health-education programs on nutrition and on diabetes, high blood pressure, obesity, sexually transmitted infections and other chronic conditions prevalent in this medically and otherwise underserved neighborhood.
The facility is an important addition to Washington Heights, which has a large population of underserved and uninsured residents, some of whom struggle with depression and other forms of mental illness. Thus, outreach is an important feature here. With funding from the Health Research Services Administration, the practice is hiring a registered nurse care coordinator and a psychologist to advance team based care delivery by NPs and other behavioral health professionals. This particular grant aims to improve access to evidence-based and culturally appropriate mental health and substance abuse services for LGBT adults, with an emphasis on the older LGBT community. Meanwhile, the practice's routine clinical care includes the regular screening of all patients for mood disorders and substance use, which is in line with evidence-based recommendations for providing comprehensive primary care services, Ferrara explains. "We want our patients' mental and physical health addressed at the same location without any silos."
To achieve such seamlessness, the practice's adult, family, and psychiatric NPs work in concert to provide integrated physical and psychosocial care that includes everything from annual check-ups and guideline-driven screenings to LGBT health, preventive health education, travel medicine and women's health. The Washington Heights location has a full-time psychiatric mental health nurse practitioner, Sandra Alvarado. "We want to see everyone for well and preventive exams, and when people get sick, we'll be here," Ferrara says, proudly surveying the new site. "This is the future of primary care and we're expanding."
Comprehensive Care: A One-Stop Shop
In today's competitive healthcare arena, convenience counts. The proliferation of walk-in clinics and urgent-care centers is testament to the demand that is driving the market. Ferrara recognizes this demand, which explains why the faculty practices place a premium on accommodating patients. "We're not a walk-in but we know we need to be available," he says, underscoring the practices' distinction from urgent-care clinics. "We give same-day appointments but we're not urgent care. I like to think we're the opposite of urgent care, because we allow more time than an urgent-care clinic that sees patients every 15 or 20 minutes. We want long-term relationships with our patients."
"Long-term" describes the relationships that Sullivan has with most of the patients she's seen during her eight years at the school's Midtown practice. "We have patients who have been coming since the day we opened," she says. "They won't go anywhere else."
Among the many features patients like, Sullivan says, is the on-site location of diagnostic services, such as lab work and radiology. "People like having it all under one roof," she says. "It's a one-stop shop."
As a clinician, Sullivan finds deep satisfaction in listening to patients' concerns, addressing their questions and educating them on improving their health. She sees every 30–minute physical as an opportunity to teach patients about colonoscopy, mammography, obesity and stress management. "We get people who haven't had a check-up in 15 years," she says. "They're obese; they have hypertension, high cholesterol, diabetes; they're stressed; and we don't know if they're going to come back." Therefore, she maximizes every patient encounter, which means scoping out signs of psychological problems. Nodding toward a stack of questionnaires that she uses to screen for depression and anxiety, she adds, "I cannot not be concerned about people's mental health."
An NP's primary care education includes learning when to refer patients to specialists. As part of ColumbiaDoctors and in affiliation with NewYork-Presbyterian Hospital, the Nurse Practitioner Group provides patients with access to a world-class network of specialists from Columbia University Medical Center. "It's a benefit for us and the patients to be within this network," Sullivan says. "This is primary care at its best."
The Changing Face of Primary Care
Columbia Nursing's three faculty practices represent the changing face of primary care in the United States. Today, 83 percent of the country's 220,000 NPs are certified in some type of primary care such as pediatrics, gerontology or women's health, according to the American Association of Nurse Practitioners. And the numbers are growing, largely because fewer medical students and residents are entering the field. In fact, primary care medicine residency programs in the U.S. declined by three percent between 1995 and 2006, while training programs for primary care NPs increased by 61 percent.
Changes in healthcare financing are contributing to this trend. The days when physicians received financial incentives for seeing as many patients as possible are ending, Ferrara says. Soon, Medicare will reimburse providers according to patient outcomes.
NPs' education and training have always geared them toward spending more time with their patients. "We're nurses first, and nursing is about caring for people, providing information, and patient advocacy," Ferrara says. "There are reasons why we chose this path."
Likewise, there are reasons why Evelyn has made the Nurse Practitioner Group her new medical home. "I was amazed that Sabrina spent so much time with me," she said, harkening back to her first visit. "I could feel that she genuinely cared about my well-being. I fell in love with her. I fell in love with the whole place." 
*Not her real name.
Learn more about the benefits of nurse practitioners in primary care.