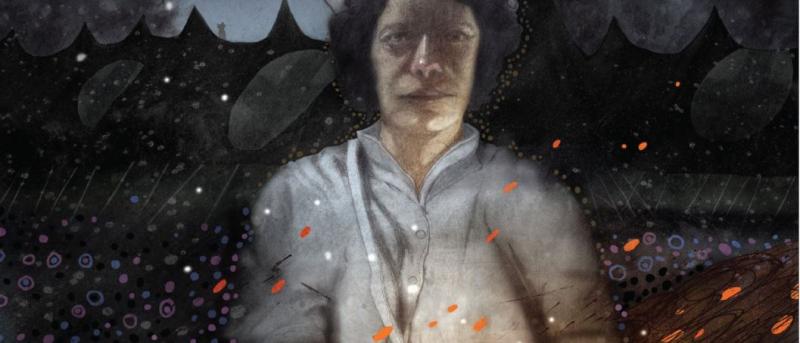 At War: A Heritage of Service
by Kenneth Miller
The profession of nursing was born during the Crimean War of the 1850s, when Florence Nightingale and her staff of women volunteers transformed a military hospital in Istanbul from a filthy, chaotic death house into an immaculate temple of healing. Yet it took a decades-long struggle, through successive wars, for nursing to gain acceptance as a critical part of the military health care team and to be able to serve in military field hospitals. Columbia University School of Nursing was in the vanguard of those efforts, and its contributions to the care of America's troops did not end when the guns fell silent.
The school became involved in the military in 1898, when the Spanish-American War erupted in Cuba. The U.S. surgeon general resisted calls to send nurses into action, arguing that they would be "out of place" among men at arms. But as outbreaks of tropical disease began decimating military camps, pressure from newly organized nurses' groups increased. The school's founding director, Anna C. Maxwell, helped spearhead the lobbying campaign. After weeks of delay, Army officials agreed to hire 1,200 nurses from 200 diploma programs. For the first time, units of nurses— under their own command—would be allowed to work in military field hospitals.
The New York City chapter of the Red Cross tapped Maxwell to lead its recruitment drive. After inspiring some 200 graduate nurses to enlist, she accompanied a contingent to Camp Thomas in Chickamauga Park, Georgia. They arrived on the day the five-month war ended, but the sick and wounded continued to pour in. The medical tents were full of "what had been strong, splendid men," she wrote, "hollow-eyed, emaciated, muttering in the delirium of fever, sores in which dead flies were encrusted filling their mouths." During Maxwell's one-month stay, she and her team attended to 900 soldiers. Under their expert care, all but 67 survived.
Buoyed  by  such  successes,  Maxwell  and  her  allies  soon  per- suaded Congress to create the U.S. Army Nurse Corps. When World War I broke out, however, at least a dozen Columbia Nursing alumnae beat the Army to the combat zone. Two were Canadian nationals who'd become directors of nursing at British military hospitals; others were working in Europe when the Germans invaded, and stayed on to care for casualties. Several faculty members (including Helen Young 1912, who later succeeded Maxwell as dean) took leaves of absence to volunteer at French hospitals.
By the time America entered the war in 1917, U.S. medical centers had begun collaborating with the Army Medical Department and the Red Cross to establish quickly deployable base-hospital units, each with enough supplies and personnel to field a 1,000-bed hospital. The first such unit, known as Base Hospital No. 2, was organized at Presbyterian Hospital by chief surgeon George E. Brewer, MD, and Maxwell. Its 25 physicians and 35 nurses shipped out that May, landing in the Normandy fishing village of Étretat. Because Max- well, at 64, was considered too old for overseas service, the nurses' unit was led by her assistant, Janet B. Christie 1898.
For the next 18 months, in wards cobbled out of a villa, several hotels, and a casino, Base Hospital No. 2 treated train-loads of Allied soldiers and German POWs. Unlike the casualties of the Spanish- American War, most of whom were felled by malaria or yellow fever, these young men bore the full brunt of modern, industrialized warfare—their bodies shattered by explosive shells and machine-gun bullets; their lungs, eyes, and skin seared by chlorine and mustard gas. The unit also sent mobile surgical teams to casualty clearing stations on the French and Belgian fronts, perilously close to the fighting. "In the theatre, amputation after amputation, many double; abdominal wounds with cavity full of free fluid and rapidly spreading peritonitis," wrote Louise Marsh, 1908, who served in western Belgium. "We are provided with gas masks in case we get ''gassed,' with metal hel- mets in case we get shelled and trenches ready to get into."
The clearing stations were sometimes deliberately targeted by German planes. "Night before last we were trying to operate on a patient when Fritz came over," nurse Jennie Rignel 1913 wrote from a French outpost, "and three times in the next hour we fell flat on our abdomens … while our operating theatre was shaken with the vibrations of eight huge bombs dropping uncomfortably close." Still, she added, "the satisfaction of knowing that we are doing our bit is compensation for any trying circumstances."
Altogether, about 200 alumnae served overseas in World War I; one perished, another was wounded, and more than 20 earned medals, including Britain's Royal Red Cross and France's Croix de Guerre. Their heroism (and further lobbying by Maxwell and others) helped win military nurses "relative rank"—the right to officers' titles, though not the concomitant pay or benefits.
During World War II, Columbia Nursing served the Allied cause in myriad ways. On the home front, the school prepared record numbers of nurses to compensate for wartime shortages; faculty and students raised money for war relief, ran blood drives, and organized civil defense patrols. Base Hospital No. 2 was reborn as the Second General Hospital of the U.S. Army, with approximately 50 physicians and 100 nurses. The unit reported for basic training at Fort Meade, Maryland, in January 1942, and sailed for England six months later. Meanwhile, 200 graduates and faculty members joined other overseas units. Six of those volunteers, all from the Class of 1940, survived the sinking of their ships by Nazi submarines; four wound up spending time in German or Japanese prison camps.
The Second General Hospital began its deployment in a cold, damp bivouac in the ancient cathedral town of Lichfield. "Women were not expected," wrote the nurses' leader, Marjorie Peto 1926, "and no provision for their accommodation had been made." One night, Luftwaffe bombers pounded nearby Birmingham, sending flames into the sky and giving the spectators their first taste of danger. After several weeks, half the group were dispatched for a rotation at a hospital in Northern Ireland; the rest were relocated to 500-bed Churchill Hospital in Oxford, which would be the unit's home for the next two years.
Life in Oxford, which suffered few air raids, was relatively placid. But in June 1944, the Second General Hospital was ordered to decamp again. This time, 17 of the nurses were assigned to form the core of a new hospital in England. The others shipped out to France, landing on Utah Beach in Normandy shortly after D-day. "One could see instantaneously that the war was not very far away," Peto recalled. On the first morning, camped in a field, the nurses witnessed a massive American assault on nearby St. Lo. "They could see the bombs drop, and feel the earth respond."
While the Second General built its new home, a 1,000-bed field hospital in the Lison train station, the nurses bivouacked in a muddy apple orchard. They were soaked by rain and swarmed by fleas and mosquitoes; they used their helmets as sinks and trenches as latrines. "Walks in the country were not safe because the countryside was full of land mines," Peto wrote. When the new facility was completed, the group plunged back into action. "I was assigned to a ward with 60 post-operatives, seriously wounded," recalled Louisa Morris Kent 1936. "There were five ward men … and three nurses; we ran all night … We gave penicillin, sulfa, plasma, blood, oxygen, etc., on and on, over and over … This went on for seven nights."
In November, when the hospital was turned over to another unit, Peto and 60 of her nurses were sent to newly liberated Paris to help evacuate thousands of patients to Britain. Others were dispatched to the Battle of the Bulge, or to organize the 1,500-bed hospital in Nancy that became the Second General's next base of operations. Most of the unit's nurses had reassembled there by early 1945, when Allied forces began to push into Germany; now, the patients included skeletal men, women, and children rescued from Hitler's concentration camps. "From a professional standpoint, the nurses were doing the most satisfactory work of their enlistment," Peto wrote. "The wounded were in need of expert handling and tender nursing care and the nurses of the 2nd General were happiest when the demand on their skill was the greatest; morale was way up. This was what they had enlisted for."
In October 1945, a month after the war ended, the unit headed home to the U.S. Back in Manhattan, the nurses were honored with a gala dinner at the Waldorf-Astoria Hotel. Later, dozens of med- als were handed out by the U.S. and other governments to nursing alumni, including several to Lieutenant Beatrice Chambers 1935, who had spent 42 months in Japanese POW camps; to pass the time, she'd treated fellow internees—as well as guards and Filipino civilians—at a makeshift clinic. Lieutenant Colonel Peto received the Bronze Star for meritorious service, for her "outstanding skill and sound judgment" in supervising the care of 22,000 sick and injured soldiers.
Since 1945, there have been no more deployments. Yet the school's ties to America's armed services persist in other ways. Some graduates go on to serve in the military, where their nursing education, skills, and values remain in high demand. "The school teaches nurses to be leaders, while fostering a desire to give back and serve a greater good," explains Rear Admiral Tina Alvarado, who earned her BS in 1981, joined the Navy just in time for Operation Desert Storm, and now over- sees all Navy Reserve Medical forces, including four expeditionary medical facilities. "And working at a large urban hospital—where the pace is intense, trauma injuries are common, and patients come from a wide range of cultural and socioeconomic backgrounds—helped prepare me for the rigors of military nursing as well as the humanitarian missions that are often in austere environments across a wide cultural divide."
Other students make caring for veterans their mission. That calling will receive renewed encouragement starting later this year, when the Jonas Center for Nursing and Veterans Healthcare, a national organization that seeks to improve veterans' health by supporting doctoral-level nursing candidates committed to their care, takes up residence in the school's new glass-and-steel headquarters at 168th Street and Audubon Avenue. The move comes in conjunction with an $11.1 million, 10-year grant—the largest in the school's history.
Meanwhile, Columbia Nursing continues its long tradition of welcoming veterans as students, recognizing their experience and maturity as valuable assets. Kenrick Cato joined the National Guard after graduating from Swarthmore, enlisted full time after 9/11, and served five years as an infantry captain—including a tour of duty in northern Iraq— before enrolling at Columbia Nursing. He emerged in 2014 with a PhD in clinical informatics, and is now an assistant professor at the school. "There are lots of overlaps between military service and nursing," Cato observes. "Both often involve life-and- death situations. Both require structure and discipline. But most of all, both involve doing work that's extraordinarily meaningful. To me, that's the biggest satisfaction."
*This story originally appeared in the Spring 2017 issue of Columbia Nursing magazine.