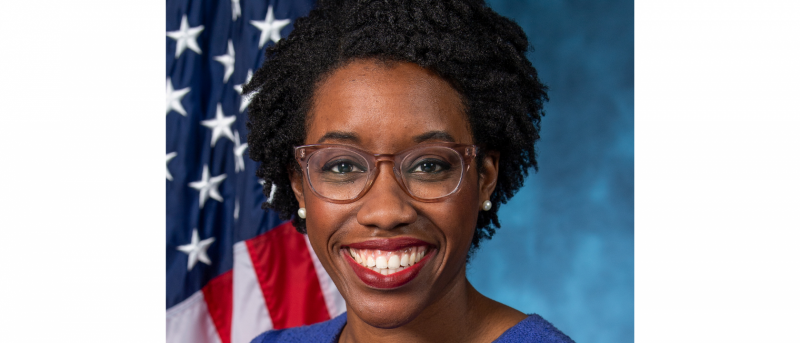 Why Nurses Should Be Guiding, Making Health Policy: Rep. Underwood Offers View from the Hill
Rep. Lauren Underwood, MSN/MPH, RN, one of three nurses now serving in the U.S. House of Representatives, spoke on February 16, 2021, with nursing students, educators, and nursing professionals via Zoom about how they can advocate for a better health care system for all.
Her advice: You don't have to get elected to Congress, and you don't need another master's degree. But you must take action now, and you can start by acting locally.
"Each of you has one member of congress and two senators, which means you have three people you need to be in touch with all the time," the congresswoman said at the virtual event, co-sponsored by Columbia University School of Nursing and the University of Illinois Chicago (UIC) College of Nursing. Request meetings with your legislators, she advised, and if they're not available, meet with a staff member. "The key is to offer yourself as a resource, as an expert."
Terri Weaver, PhD, RN, dean of the College of Nursing at UIC, and Lorraine Frazier, PhD, RN, dean of Columbia University School of Nursing, introduced the discussion. "The past year has called the world's attention to the impact nurses have on patient care, and Representative Underwood reminds us of the powerful influence nurses also have beyond the health care setting," Weaver said.
"I know I speak for both of us when I say we couldn't be prouder of the collaboration between our schools that has made today possible," Frazier added.
Patricia Stone, PhD, RN, Centennial Professor of Health Policy and director of the Center for Health Policy at Columbia Nursing, and Charles Yingling, DNP, associate dean for Practice and Partnerships at UIC College of Nursing, moderated the conversation.
"Representative Underwood has become known for her commitments to affordable, accessible and comprehensive health care, as well as for her dedication to health equity," Stone said.
Yingling noted Underwood's dedication to policymaking around issues of health and wellness, pointing out that she is a co-founder and co-chair of the Black Maternal Health Caucus, and also a member of the LGBTQ+ Equality Caucus and the Gun Violence Prevention Task Force. Her formal appointments are to the House Committees on Veterans' Affairs and Appropriations.
The congresswoman responded to questions submitted by meeting attendees on her journeys in nursing and politics, the Black Maternal Caucus and the Momnibus Act of 2021, and how to engage student nurses in health policy.
Combining nursing and policy
Underwood has been a nurse since 2008. In 2018, after finishing up her job in the Obama administration, she was elected to represent Illinois' 14th Congressional District, at 32 the youngest Black woman ever elected to Congress. She won reelection in 2020.
The congresswoman got her start in politics at age 16, when she was appointed to her county's Fair Housing Commission for a one-year term as part of a program aiming to get high school students involved in local government. While she loved the work, "I just thought it was going to be a hobby," she told students at the session, "Nurses Belong on the Hill: A Conversation with U.S. Representative Lauren Underwood."
But a class on politics and policy in nursing and health care at the University of Michigan, where she was studying for her nursing degree, sparked her interest in politics as a full-fledged career.
"I have been so blessed to be mentored by open-minded, progressive thinking, expansive-lens nurses, who understand that we have to be part of policy-making," Underwood said.  "Helping student nurses even from the very first clinical foundations course understand where policy making fits in I think is so important, and to make that accessible to them."
Most health care policy making happens locally, for example in county health departments, the congresswoman noted, and these organizations are hungry for the knowledge that nurses can provide. "There is such a rich opportunity, such a need for our expertise, that it's not even political."
Introducing Momnibus 2021
Underwood also discussed the Momnibus Act of 2021, a package of 12 bills aiming to address long-standing disparities in pregnancy and birth outcomes that she introduced February 8 with the Black Maternal Health Caucus co-chair Congresswoman Alma Adams and Senator Cory Booker.  
"We have to take action to stop this disparity from persisting," Underwood said. "The United States leads the world in maternal mortality. Black women are three to four times more likely to die [during childbirth] nationwide, regardless of income, education, prenatal care, insurance status, whatever. In Illinois, Black women are six times more likely to die, and it's been like this for decades. This is an opportunity to save lives, and we're really excited about the bill."
The legislation calls for investing in social determinants of health such as housing, transportation, and nutrition; funding for community groups that support maternal health and promote equity; supporting community initiatives to reduce the impact of climate change on maternal and child health; and federal funding for the study of COVID-19 and pregnancy and "to advance respectful maternity care in future public health emergencies."  
The Momnibus also includes the Perinatal Workforce Act, which "seeks to expand the number of nurse midwives, and certified midwives, and doulas, and obstetricians, and making sure that there really is provider choice for every birthing person in this country, no matter if you're rural or urban, no matter if you speak English or not, no matter your race or ethnicity, whether you're in a tribe or not," Underwood explained. "We know that birthing people should have choices and feel supported throughout their delivery and postpartum period."
Component bills also call for improved data collection and quality measurement for clearer understanding of the causes of maternal health disparities and how to address them, investment in telehealth and other digital technologies to improve health care access in underserved communities, research on maternal and postpartum health risks for veterans, improved care and support for incarcerated mothers, and more attention to mental health and substance use issues in pregnancy. (Here is a full description of the legislation and all 12 bills included in the Momnibus.)
The new legislation is an expanded version of a nine-bill package introduced in March 2020, just before the pandemic. Vice President Kamala Harris was lead sponsor of the Senate version of the bill when she was still a California senator.
The bills that make up the Momnibus are not meant to be duplicative of other legislative efforts underway to improve maternal health, Underwood noted. "Medicaid is the key to solving so much of this maternal health crisis in this country."
A bill to expand postpartum Medicaid coverage from 60 days to one year recently passed unanimously in the House of Representatives, she added.
Nurses as agents of change
Underwood's other areas of interest include working with the VA to improve gender-specific care, and suicide prevention and mental health. "This is an area where I believe we have got to be creative," she said, noting that a "robust treasure trove" of evidence-based suicide prevention interventions, such as Counseling on Access to Lethal Means (CALM), are available. "We cannot run away from the role of guns, particularly in this population," she said. "We will be relentless to save lives."
Nurses are in a unique position when it comes to promoting health equity, and are also uniquely qualified to do so, according to Underwood. "Do not think that you are not credentialed properly to do this work. Do not let that be an excuse," she said.
"We are agents of change, and the great opportunity that we have as nurses is that there are so many of us, and we are working in such diverse clinical settings that we interact with our communities in such a meaningful way every day," she added. "And so each interaction that you have, every time that you can make a small change to orient your clinical practice or your health system or your department or your clinic to equity and justice, every small step that you can make will pay off. Do not delay doing the work because you think that you are not qualified."
Watch a recording of the event: