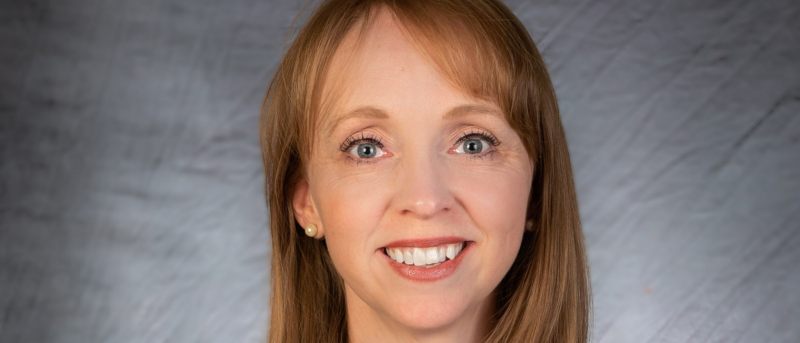 "In A World Where You Can Be Anything, Be Kind": A Philosophy Panton Applies To Teaching and Patient Care
Jaime Panton, DNP, has been a nurse for nearly 20 years, a career path which started when she was a student worker in a neonatology department. As a nurse and Pediatric Nurse Practitioner (PNP), she cared not only for the children who were in her charge—many acutely ill—but for the holistic wellbeing of their families, who had to keep their cool, composure, and hope. Some families were faced with unimaginable hardships: poverty, homelessness, and a child who was not getting any better. Panton's fortitude, her belief in service to the vulnerable, and her unwavering dedication to helping military children, form the legacy she passes on to students as Director of Columbia Nursing's Pediatric Nurse Practitioner Program.
Can you describe your upbringing and what motivated you to become a nurse? Were there any "aha" moments where you knew nursing was your calling?
In college, I was a student worker in the neonatology department at a large academic health center. I remember often finding reasons to go inside of the neonatal intensive care unit (NICU). I was in awe of what the nurses and nurse practitioners were doing to care for the smallest and most fragile babies. I knew, then, that I wanted to be a part of that.
My first RN position was in the NICU. From there, I realized I wanted to care for children of all ages and in a variety of settings. I frequently tell students and nurses that becoming a PNP was the best career decision I ever made. I am humbled that parents and caregivers allow me to care for their children.
Can you walk me through three highlights of your career leading up to your appointment here?
I have been a nurse now for 17 years, a PNP for 12 years, and, in 2014, completed my Doctor of Nursing Practice (DNP). I am most proud of this accomplishment: I managed to complete my DNP while working as a PNP part-time; coordinating a PNP program; and being a mother to children ages three, four, and seven, all while my husband was deployed in Afghanistan for nine months.
Obtaining my DNP opened doors for me professionally in many ways. In 2016, I was selected to be a mentor in the Sigma Theta Tau Maternal-Child Health Nursing Leadership Academy. I worked alongside one of my former graduates and mentored her through an 18-month long project where she improved reading and literacy skills in children five-years-old and younger in an underserved area. To watch this person grow and flourish—and to witness the impact she had on her patient population—was very rewarding.
Lastly, one of my long-term goals was to eventually return to school to complete a pediatric acute care NP program. It was ten years in the making, but, in December 2017, I completed a post-graduate certificate in pediatric acute care and am now a dually certified PNP.
You spent a large part of your life in Louisiana. What was it like for you and your family to move from that environment to a bustling, diverse metropolis the size of New York?
I was born and raised in Louisiana, and, as fate would have it, I married a New Yorker. While this move has been quite an adjustment, it has been a great transition for our family. We are an interracial family, and we wanted our children to see that there is a great, big world out there and to build relationships with people from all cultural and religious backgrounds.
What made you want to join Columbia University's faculty and what makes the school special for you?
Several years ago, I had the privilege of meeting Arlene Smaldone '03, PhD, at a Pediatric Nursing Certification Board committee meeting. My husband and I had already developed the tentative plan of moving to New York City after he retired from the Air Force. When I met Arlene and found out she was from New York, we became instant friends.
A couple of years later, my family and I were visiting the city and Arlene invited me to visit Columbia University School of Nursing. She introduced me to Rita Marie John '05, DNP, and I was able to sit in on a seminar taught by a pediatric radiologist. The students were so eager to learn, the faculty so willing to teach.
I remember going back home and thinking someday I would pursue the opportunity to teach at Columbia Nursing. When the opportunity presented itself things fell into place quickly for me to come on board as the PNP program director. The faculty here are the most welcoming and helpful group of people. I am especially grateful to work alongside with Clare McKegney '08, DNP, and Deanna Schneider '10, DNP, as we teach PNP students. Their enthusiasm and experience bring such a richness to the program. 
As the Director of the Pediatric Nurse Practitioner Program at Columbia Nursing, what are your goals for the program, and what's a major point you make to your students about the differences in providing care for children versus adults?
The PNP faculty are striving to provide a top-notch education for students and to utilize the resources available here at Columbia Nursing. From a personal standpoint, my primary goal is to foster graduates that I would trust to care for my own children.
In pediatrics, caring for children also means caring for families. The family unit is a dynamic and evolving one. Some families have the ability and resources they need to raise their children in a safe, healthy environment. Other families live in poverty, scarcity, never quite having enough food, shelter, and resources. It is my hope that every graduate will have had the opportunity to make their mark here and impact the lives of families throughout the city, especially within underserved communities. 
During your career, what were some memorable challenges and rewards you experienced in treating children?
Caring for children for 17 years has been incredibly rewarding. When I worked in primary care, the highest compliment I received was when a child or parent told me they wanted to come back to the clinic so I could take care of them. Another rewarding experience was working at Morgan Stanley Children's Hospital as an inpatient PNP on the pediatric progressive care unit (PCU), a NP and hospitalist run unit. The NPs provide care 24 hours a day to acutely ill and often medically complex patients. To be a part of this new unit has been an amazing experience. 
Working with acutely ill children throughout my career also brings challenges. Being in the exam room when a family is told their child has cancer is one of the most difficult things I've ever faced. Taking care of two school-aged boys whose father was killed in the line of duty overseas was an experience I'll never forget. Collecting baby clothes to give to a single dad who literally had nothing for his four-month-old son was heartbreaking. Thankfully, children are resilient. I've learned so much from these kids and their families over the years.
You've given presentations and just last year published a paper on the topic of caring for military children. Did your husband's military career inspire this interest and what do you hope to accomplish by bringing attention to this topic?
When starting my first manuscript, one of the best pieces of advice I received was to write what I know. Being the wife of an Air Force officer and mother of three, led me to write about caring for military children. Our own family survived two lengthy deployments while my husband was in the Middle East. I saw personally that, while the physical needs of the family may be met, the emotional and psychological needs may not be. I wanted providers across the country to be aware that military children are part of a vulnerable population. Military children encounter more significant life changes than their civilian counterparts and have unique stressors that other children may never face. It is my hope to raise awareness that these children live in communities everywhere and have unique healthcare needs that NPs are in a prime position to manage. 
Is there anything else you'd like to add?
My favorite quote is: "In a world where you can be anything, be kind." I use this as my philosophy when educating students, treating patients, dealing with difficult situations, and working with teams. I make it a point to connect with people in whatever setting I am in, whether in the classroom, conference room, or hospital. I want the legacy I leave to be one that inspires others to treat people even better than they want to be treated.