Gregory L. Alexander, PhD, RN, FAAN, FACMI, FIAHSI
Helen Young CUPHSONAA Professor of Nursing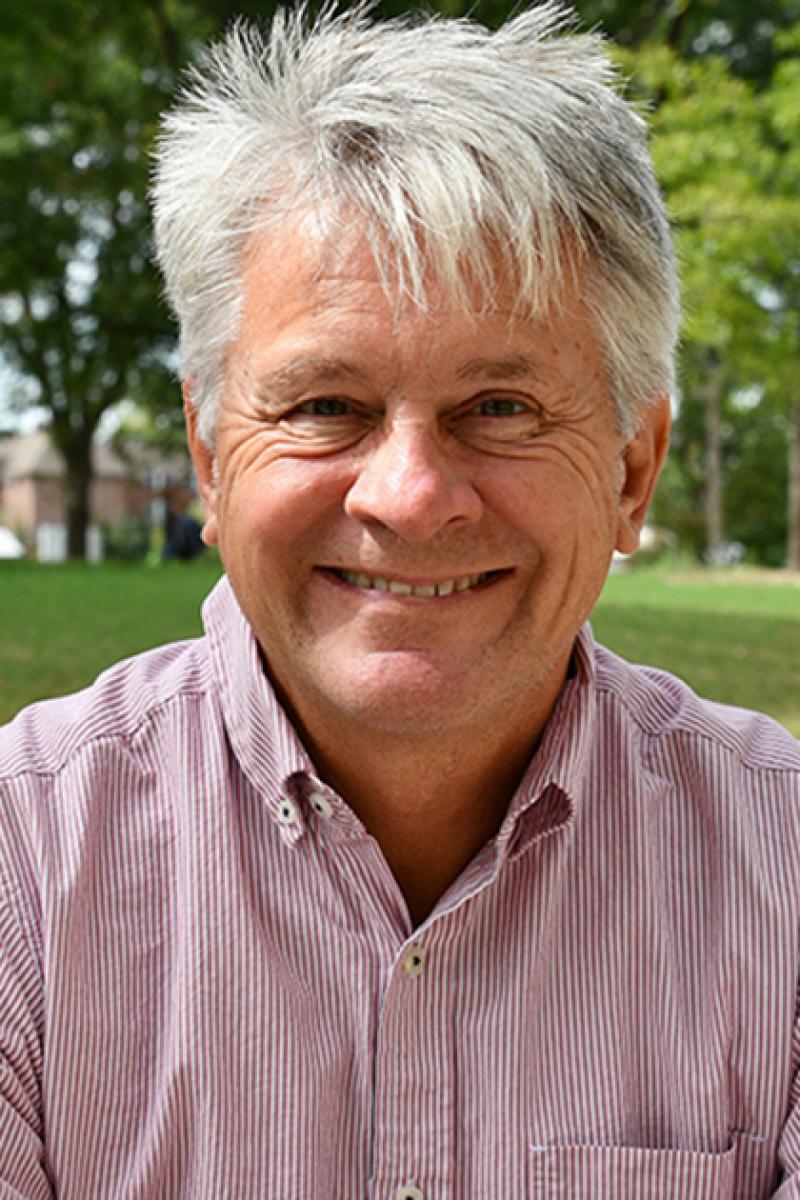 Overview
Dr. Alexander is an internationally recognized nursing informaticist and clinical expert with more than 30 years of research and clinical practice leadership. His program of research is focused on technologies used to support patient care delivery, with an emphasis on care of older adults in the community. He has led several federally funded studies that benchmark national trends in information technology adoption and the impact on quality measures in nursing homes. As a result, he has accumulated nearly 10 years of trend data showing how digital maturity has advanced in the long-term post-acute care space. His most current study funded by the National Institute of Aging is exploring the impacts of digital maturity and nurse practitioner care environments in nursing homes on quality of care for residents with Alzheimer's Disease and Related Dementia's. Dr. Alexander was a member of the National Academies of Science Engineering and Medicine's consensus committee on Quality of Care in Nursing which released its report in 2022 titled The National Imperative to Improve Nursing Home Quality: Honoring Our Commitment to Residents, Families, and Staff. Dr. Alexander is a Fulbright U.S. Scholar and Ambassador. During his 2017 Fulbright,  he worked with an Australian research team to investigate digital maturity as it related to resident care, clinical support, and quality measures in a sample of nursing homes in New South Wales.
Dr. Alexander's book, An Introduction to Clinical Health Information Technology for Long Term/Post-Acute Care (LTPAC) Settings, shows how research identifies and promotes evidence toward new models of care, including technology implementation trends and safety and quality impacts for long-term and post-acute settings.

Academic Appointments
Helen Young CUPHSONAA Professor of Nursing
Credentials & Experience
Committees, Societies, Councils
Memberships and Positions
Friends of the National Library of Medicine
2022, 2023 Member, Workshop Planning Committee, Tribute to Dr. Virginia Saba and an Update on Standardized Nursing Terminologies
American Academy of Nursing
2022 Chair, Nursing Policy Dialogue: Quality of Care in Nursing Homes
2011 - current   Member, Expert Panel on Aging
Member, Expert Panel on Informatics and Policy
American Medical Informatics Association
2023-current NIWG Award Committee
2022-current Public Policy Committee
2022 Saba Signature Award Committee
2021-2022 Past-Chair, Nursing Informatics Working Group
2021-2022 Scientific Planning Committee Clinical Informatics Conference
2021-2022 Chair-Leadership Development
2018-2020 Chair, Nursing Informatics Working Group
2017-2018 Chair-Elect, Nursing Informatics Working Group
2012-2015 Policy Committee
Midwest Nursing Research Society
2022-2023 Peer Reviewer Seed Grant Applications
2012-2014 Conference Planning Committee
Policy and Advisory Board Memberships
2023-current:  Appointed Member Data Safety Monitoring Board

,

Tailoring Interventions to Improve Preventive Health Service Use RFA (RFA-AG-20-045) National Institutes of Health, National Institute of Aging
2022-current:  Appointed Member, National Quality Forum Measures Application Panel Long-Term Post-AcuteCare Workgroup
2022-current:  Moving Forward Coalition Steering Committee Member and Co-Chair HIT Committee, John Hartford Foundation, LeadingAge, Institute for Healthcare Improvement 
2020-current:  Australian Aged Care Industry Information Technology Council (ACIITC) Project Expert Advisory Committee
2020-2022:  Appointed Member, Quality of Care in Nursing Homes Consensus Panel, National Academy of Sciences, Medicine, Engineering
2019-2021:  Appointed Member, Agency for Healthcare Research and Quality National Advisory Council
2016-2017:  Appointed Board member, National Advisory Council, Missouri Center for Patient Safety
2015-2018:  Appointed Member, National Quality Forum, Measures Application Panel Hospital Workgroup
Honors & Awards
2023 APEX Award for Publication Excellence in Editorial and 

Advocacy Writing

2023 Midwest Nursing Research Society Distinguished 

Contribution Award

2022 American Medical Informatics Association Harriet Werley 

Award for Best Paper

2021 2020 Best Paper in Medical Informatics - Editorial Board 

International Medical Informatics Yearbook

2021 International Researcher Hall of Fame - Sigma Theta Tau 

International

2021 Certificate of Recognition for Commercial Success for 

launching "New Path Health Solutions" software to market, 

President University of Missouri, Dr. Mun Choi

2021 Senior Investigator Award – Midwest Nursing Research S

ociety (MNRS) Health Systems Policy Research Interest 

Group

2020 Inducted, Member Alpha Zeta Chapter - Sigma Theta Tau 

National Nursing Honor Society

2020 Fellow, Inducted - International Academy of Health Sciences, Informatics
2020 Fulbright Alumni Ambassador - Fulbright US Scholars 

Alumni

2020 HIMSS-ANI Nursing Leadership Award - Health 

Information Management Systems Society and Alliance for 

Nursing Informatics

2018 Second Place Award Winner, (Informatics Category) – 

American Journal of Nursing Book of the Year Awards

2018 Fellow, Inducted - American College of Medical Informatics
2017 Fulbright Scholar Award - Fulbright Commission, Australia
2011 Fellow, Inducted - American Academy of Nursing

Research
Alexander's program of research is at the intersectionality of informatics and quality of care. Primary interests include trends in digital maturity, quality measurement, and policy interests for care of older adults in long term care. 
Selected Publications
Powell K.R., Farmer M., Liu J., Alexander G.L. (in press). A Survey of Technology Abandonment in U.S. Nursing Homes. Journal of the American Medical Directors Association.
Poghosyan L, Courtwright C, Flandrick K, Pollifrone M, Schlak A, O'Reilly-Jacob M, Brooks Carthon JM, Hittle Gigli K, Porat-Dahlerbruch J, Alexander G.L., Brom H, Maier C, Timmons E, Ferrara S, Martsolf GR. (2023). Advancement of Research on Nurse Practitioners: Setting a Research Agenda. Nursing Outlook, 71(5), 102029.
Powell K., Popescu M., Lee S., Mehr D., and Alexander G.L. (2023). Examining the Use of Text Messages Among Multidisciplinary Care Teams to Reduce Avoidable Hospitalization of Nursing Home Residents with Dementia: Protocol for a Secondary Analysis. JMIR: Research Protocols. 12(1), e50231
Hakimjavadi R., Karunananthan S., Alexander G.L., Fung C., Gazarin M., Houghton D., Hsu A.T., LaPlante J., Levi C., Tanuseputro P., and Liddy C. (2023). What is the level of information technology maturity in Ontario's long-term care homes? A survey protocol. BMJ Open, 13:e064745. doi:10.1136/ bmjopen-2022-064745
Alexander G.L. and McMullen T. (2023). Probing into Federal Policies and National Academy Recommendations to Adopt Health Information Technology in All U.S. Nursing Homes. Journal of the American Geriatrics Society, 71(2), 349-356.
McBride S., Alexander G.L., Baernholdt M., Vugrin M., and Epstein B. (2023). Scoping Review: Positive and Negative Impact of Technology on Clinicians. Nursing Outlook. 71(2), 1-13. 
Alexander G.L. and McMullen T. (2023). Probing into Federal Policies and National Academy Recommendations to Adopt Health Information Technology in All U.S. Nursing Homes. Public Policy and Aging Report, 33(S1), S28-S34. 
Alexander G.L., Kueakomoldej, S., Congdon, C., and Poghosyan, L. (2023). A Qualitative Study Exploring Nursing Home Care Environments Where Nurse Practitioners Work. Geriatric Nursing, 50, 44-51.
Mueller C., Alexander G.L., Ersek M., Ferrell B., Rantz M., and Travers J. (2023). Calling all Nurses—Now is the time to take action on improving the quality of care in nursing homes. Nursing Outlook, 71(1), 101897
Powell KR, Winkler AE, Liu J, Alexander GL. (2022). A mixed-methods analysis of telehealth implementation in nursing homes amidst the COVID-19 pandemic. Journal of the American Geriatric Society, 70(12), p. 3493-3502. doi: 10.1111/jgs.18020. Epub 2022 Aug 30. PMID: 36054440; PMCID: PMC9537913.
Alexander G.L., Liu, J., Powell, K.R., and Stone, P. (2022). Examining Structural Disparities in U.S. Nursing Homes: A National Survey of Health Information Technology Maturity. Journal of Medical Internet (JMIR)-Aging, 5(3), e37482. doi: 10.2196/37482. PMID: 35998030; PMCID: PMC9449826.
Cohen, C. C., Powell, K., Dick, A. W., Stone, P. W., & Alexander, G. L. (2022). The Association Between Nursing Home Information Technology Maturity and Urinary Tract Infection Among Long-Term Residents. Journal of Applied Gerontology, 41(7), 1695–1701. https://doi.org/10.1177/07334648221082024 
Hibbert, P. D., Molloy, C. J., Wiles, L. K., Cameron, I. D., Gray, L. C., Reed, R. L., Kitson, A., Georgiou, A., Gordon, S. J., Westbrook, J., Arnolda, G., Mitchell, R. J., Rapport, F., Estabrooks, C., Alexander, G. L., Vincent, C., Edwards, A., Carson-Stevens, A., Wagner, C., Mccormack, B., … Braithwaite, J. (2022). Designing clinical indicators for common residential aged care conditions and processes of care: the CareTrack Aged development and validation study. International Journal for Quality in Health Care, 34(2), mzac033. https://doi.org/10.1093/intqhc/mzac033
Alexander G.L., Deroche C.B., Powell K.R., Mosa A.S.M., Popejoy L., Koopman R.J., and Liu J. (2022). Development and Pilot Analysis of the Nursing Home Health Information Technology Maturity Survey and Staging Model. Research in Gerontological Nursing 15(2), 93-99. https://doi.org/10.3928/19404921-20220218-04 
Cohen C., Powell K.R., Dick A., Stone P.W., Alexander G.L. (2022). Examining Nursing Home Information Technology Maturity and Antibiotic Use among Long-Term Care Residents. Journal of the American Medical Directors Association, 23(6), 1019-1024.e2.  Published online first February 13, 2022. 
Alexander G.L., Galambos C., Rantz M.J., Shumate S., Popejoy L., Vogelsmeier A., and Crecelius C. (2022). Value Propositions for Information Technology to Improve Hospital Readmissions in Nursing Homes, Journal of Gerontological Nursing, 48(1), 15-20.
Popejoy, L., Vogelsmeier, A., Kist, S., Miller, S., Canada, K., Galambos, C., Alexander, G., Crecelius, C., Rantz, MJ (2022). A Call to Address RN, Social Work, and APRNs in Nursing Homes: Solutions from MOQI. Journal of Nursing Care Quality, 37(1), 21-27.
Quigley D.D., Estrada L.V., Alexander G.L., Dick A., and Stone P. (2021). Literature Review on Differences in Care Provided in Urban and Rural Nursing Homes. Journal of Gerontological Nursing, 47(12), 48-56. 
Rantz, M., Petroski, G. F., Popejoy, L. L., Vogelsmeier, A. A., Canada, K. E., Galambos, C., Alexander, G. L., & Crecelius, C. (2021). Longitudinal Impact of APRNs on Nursing Home Quality Measures in the Missouri Quality Initiative. The Journal of Nutrition, Health & Aging, 25(9), 1124–1130. https://doi.org/10.1007/s12603-021-1684-5
Powell, K. R., & Alexander, G. L. (2021). Consequences of Rapid Telehealth Expansion in Nursing Homes: Promise and Pitfalls. Applied Clinical Informatics, 12(4), 933–943. https://doi.org/10.1055/s-0041-1735974
Sherwin, L. B., Deroche, C. B., Yevu-Johnson, J., Matteson-Kome, M., Bechtold, M., Jahnke, I., & Alexander, G. L. (2021). Usability Evaluation of a Smartphone Medication Reminder Application in Patients Treated with Short-term Antibiotic. Computers, Informatics, Nursing : CIN, 39(10), 547–553. https://doi.org/10.1097/CIN.0000000000000747
Rantz, M., Vogelsmeier, A., Popejoy, L., Canada, K., Galambos, C., Crecelius, C., & Alexander, G. L. (2021). Financial and Work-flow Benefits of Reducing Avoidable Hospitalizations of Nursing Home Residents. The Journal of Nutrition, Health & Aging, 25(8), 971–978. https://doi-org.ezproxy.cul.columbia.edu/10.1007/s12603-021-1650-2.
Vogelsmeier A., Popejoy L., Canada K., Galambos C., Petroski G., Crecelius C., Alexander G.L., & Rantz M. (2021). Results of the Missouri Quality Initiative: Six-Year Trends of Reducing Unnecessary Hospitalizations. Journal of Nutrition, Health, and Aging, 25(1), 5-12.
Powell, K., Popescu, M., and Alexander, G.L. (2021). Examining Social Networks in Text Messages About Nursing Home Resident Health Status. Journal of Gerontological Nursing, 47(7), 16-22. 
Alexander GL, Madsen RW, Miller EL, Jones C, Newton M, and Wise K. (2021). A National Report of Nursing Home Information Technology, Staffing, and Health Deficiencies in United States Nursing Homes. Journal of Patient Safety, 17(6), e483-e489. Online First May 30, 2017 - DOI: 10.1097/PTS.0000000000000390
Galambos C., Vogelsmeier A., Popejoy L., Crecelius C., Canada K., Alexander G.L., Rollin L., & Rantz M., (2021) Enhancing Physician Relationships, Communication, and Engagement to Reduce Nursing Home Resident's Hospitalizations. Journal of Nursing Care Quality, 36 (2), p.99-104.
Alexander G.L., Powell K.R., and Deroche C.B. (2020). An Evaluation of Telehealth Expansion in U.S. Nursing Homes, Journal of the American Medical Informatics Association, ocaa253, https://doi.org/10.1093/jamia/ocaa253  
Powell K. & Alexander G.L. (2020). Qualitative Validation of the Nursing Home IT Maturity Staging Model. Journal of Gerontological Nursing, 46(7):47-54 
Powell K.R., Deroche C.B., Carnahan E.J., and Alexander G.L. (2020). Exploring Resident Care Information Technology Use and Nursing Home Quality. Journal of Gerontological Nursing, 46(4), 15-20. 
Powell K., DeRoche C.B., and Alexander G.L. (2020).  Health Data Sharing in U.S. Nursing Homes: A Mixed Methods Study. Journal of the American Medical Directors Association. 2020 Mar 27. pii: S1525-8610(20)30197-3. doi: 10.1016/j.jamda.2020.02.009. [Epub ahead of print].
Alexander G.L., Georgiou A., Doughy K., Hornblow A., Livingstone A., Dougherty M., Jacobs S., and Fisk M. (2020). Advancing Health Information Technology Roadmaps in Long Term Care. International Journal of Medical Informatics. 136:104088. doi: 10.1016/j.ijmedinf.2020.104088.  2020 Jan 24. [Epub ahead of print]
Alexander G.L., DeRoche, C.B., Powell, K., Mosa, A.S., Popejoy, L., and Koopman, R. (2020). Forecasting Content and Stage in a Nursing Home Information Technology Maturity Instrument Using a Delphi Method. Journal of Medical Systems, 44(4):74. doi: 10.1007/s10916-020-1544-6.
Al Alawi, R. and Alexander, G.L. (2020). A systematic review of program evaluation in baccalaureate nursing programs. Journal of Professional Nursing. 2019 Dec 30. https://doi.org/10.1016/j.profnurs.2019.12.003. [Epub ahead of print].
Alexander G.L., Georgiou A., Siette J., Madsen R., Livingstone A., Westbrook J. (2020). Exploring IT Sophistication in New South Wales Residential Aged Care Facilities. Australian Health Review, 44(2), 288-296.

For a complete list of publications, please visit PubMed.gov (link is external and opens in a new window)