Dean's Leadership Society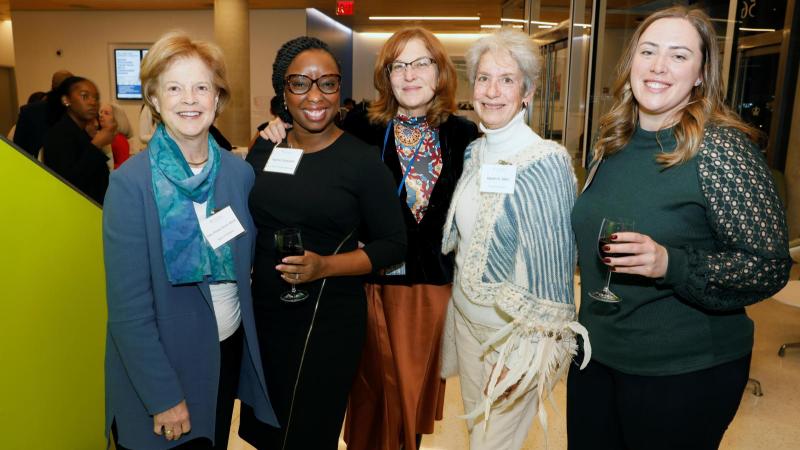 The Dean's Leadership Society was established to recognize our most generous Annual Fund donors. Columbia University School of Nursing gratefully acknowledges these individuals and the impact of their gift for the next generation of Columbia nurse leaders.
Dean's Leadership Society Benefits
We recognize that Annual Fund gifts starting at the $500 level* represent a substantial investment. Dean's Leadership Society donors receive the following benefits to acknowledge their generosity and loyalty:
Exclusive invitations to graduation and other events with students, the dean, faculty and other donors
Recognition on donor honor rolls; lobby electronic screen; and website
A personal staff liaison who is your connection to the Columbia University community
*In fiscal 2023, we are delighted to introduce membership to the Dean's Leadership Society at the $250 level for recent alumni 10 years out.
Dean's Leadership Society Members
Grania Beauregard Allport, BS'78
Anonymous
Anonymous
Anonymous
Sally Eckert Arbolino, MS'85
Laura L. Ardizzone, DNP'10
Joan Hagan Arnold, BS'69
Dawn D. Aubel, MS'98
Jeannemarie Gelin Baker, MS'90
Suzanne Bakken
William Baldwin
Dorien Sgarlat Barnett, BS'70
Nancy B. Barton, BS'83
Diane Rankin Behrens, BS'64
Maher Patricia Benham, DNP'22
Bobbie Berkowitz
Tiye Meryt Bhutia, MS'13
Daniel D. Billings, DNP'18
Susan Miller Birley, BS'89
Joan Courter Blisnuk, BS'57
Andrew G. Bodnar
Felesia Bowen, PhD'10
Donald R. Boyd, PhD'17
Adele Anne Bradford, BS'05
Marilyn Feldman Brady, BS'78
Andrea Belanus Brassard, DNS'02
Brenda Barrowclough Brodie, BS'65
Margaret Jacobson Brown, BS'50
Kevin Patrick Bowne, MS'92
Mary Duncan Brust, BS'81
Amanda J. Burr, BS'70
Frances Cartwright-Alcarese, MS'93
Martha Ann Cassidy, BS'11
Cynthia Grant Chandler, BS'60
Abigail Bantham Chodoff, MS'73
Jeannie P. Cimiotti, PhD'04
Suzanne Festersen Clark, BS'60
Martha Roberts Colen, BS'74
Dorothy Davies Colfer, BS'69
Mary Kelly Collini, BS'64
Diana P. Congdon, BS'69
Susan Green Cooksey, BS'68
Helen Searls DeGroot, MS'54
Karen Desjardins, DNP'05
Francisco Diaz, MS'05
Una M. Broe Doddy, BS'82
Angela Clarke Duff, BS'70
Patricia C. Dykes, PhD'04
Abigail Elbaum
John F. Fallon, BS'78
Donald Farrell
Mollie Ann Finkel, MS'12
Marjorie Harrison Fleming, BS'69
Janet Bokelkamp Frankovsky, BS'59
Lorraine Frazier
Ellen Gottesman Garber, BS'76
Susan Chervenak Garruto, BS'64
Elizabeth Susan Gary, MS'15
Debra Greer
Mary Masterson Germain, BS'64
Lois Mueller Glazier, BS'60
Joan Gorrell, BS'61
David Greenwald
Susan L. Grossman, BS'78
Marilyn Johnsen Hamel, BS'51
Caitlin M. Hanley, DNP'23
Latisha M. Hanson, DNP'15
Barbara Baker Happer, BS'64
Ellyn Harris-Hesli, BS'72
Margaret Ross Hastings, BS'54
Suzanne Law Hawes, BS'59
Margaret Moore Hazlett, BS'68
Karen K. Hein
Christa Simpson Heinsler, BS'76
Linda Lyon Holton, BS'61
Kevin Daugherty Hook, BS'98
Denise Houghton, BS'78
Kathryn Lee Howard, MS'92
Mary Sue Marburger Hunia, BS'70
Janice Jones Izlar, MS'06
Susan I. Jaehne, BS'68
Lynn Gray Jehle, BS'95
Lola M. Johnson, BS'89
Cessna Glen Kaye, BS'82
Rosalind Riordan Kendellen, MS'74
Michael Thomas King
Lisa J. Kleist, BS'73
Harold L. Kundel
Patricia Smith Langley, BS'61
Robert Leiter
George N. Lindsay and Nancy Metz
Margaret Lindsey, BS'75
Deena Penchansky Lisak, BS'64
Judith J. Loach, MS'84
Susana G. Lopatka, BS'62
Deborah Keeler Lott, BS'68
Maria Magliacano, MS'06
Wilhelmina M. Manzano
Jane E. Martin, BS'65
Nancy Kluge McClain, BS'58
Thomas E. McGovern Jr.
Marlene McHugh, DNP'08
Laura L. McKenna, MS'95
Angela T. Merritt, MS'18
Helen E. Miller, MS'63
Ruth Lent Moran, BS'47
Mary B. Moran, MS'08
Elizabeth Cook Morgan, BS'68
Liliane E. Morin, BS'79
Ann B. Muhlhauser
Mary O'Neil Mundinger
Lynn Duncan Nelson, BS'69
Susan A. Norwell, BS'64
Elizabeth Ong, MS'11
Wendy Halsey Otto, BS'69
Borden W. Painter Jr.
Linda Goldstein Parkins, BS'68
Marguerite Lorey Peoples, BS'57
Elizabeth Popoff, BS'59
Jennifer Lee Ramsey, BS'03
Janet Lynn Cook Ready, BS'81
Phoebe Curtis Reynolds, BS'56
Martha Cohn Romney, MS'81
Susan Ross, BS'68
Roxana I. M. Sasse, DNP'11
Lynne P. Seidel, BS'64
Gretchen Camp Seirmarco, MS'69
Linda Shannon, BS'82
Anna Draper haw, BS'66
Shoshana Shendelman
Rose Crane Smith, BS'53
Barbara Robinson Sporck-Stegmaier, BS'46
Kathryn E. Stallings, MS'19
Sally Shipley Stone, BS'69
Karin Sandal Stuart, BS'64
Vivian A. Taylor
Jasmine Travers, PhD'16
Rita Perrine Trayner, BS'55
Michele T. Visconti, BS'79
Constance Greenfield Weissman, MS'56
Deborah Camp Wheeling, BS'75
Sally-Ann McCarthy Whelan, BS'61
Holly Grim White, BS'73
Mallory Chardell Woods, DNP'19
Megan Christian Wright, BS'82
Eliza Poestkoke Wright, BS'53
Stephanie Kuhn Wright, BS'65
May Yong, MS'14
Julie Yoko Yoshimachi, DNP'20
Yalin Zhao, BS'16