Dean's Leadership Society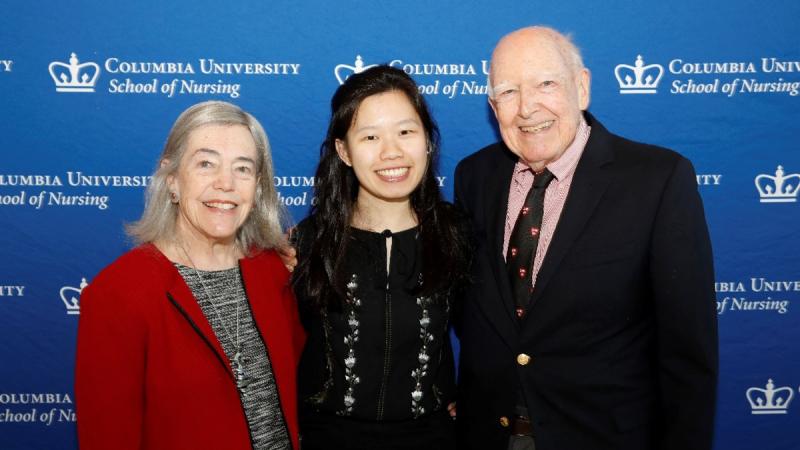 The Dean's Leadership Society was established to recognize our most generous Annual Fund donors. Columbia University School of Nursing gratefully acknowledges these individuals and the impact of their gift for the next generation of Columbia nurses.
Dean's Leadership Society Benefits
We recognize that Annual Fund gifts starting at the $500 level* represent a substantial investment. Dean's Leadership Society donors receive the following benefits to acknowledge their generosity and loyalty:
Exclusive invitations to graduation and other events with students, the dean, faculty and other donors
Recognition on donor honor rolls; lobby electronic screen; website; and alumni reunion program
A personal staff liaison who is your connection to the Columbia University community
*In fiscal 2020, we are delighted to introduce membership to the Annual Dean's Leadership Society at the $250 level for recent alumni 15 years out.
Dean's Leadership Society Members
Ellen Soley Adkins, BS '81
Grania Beauregard Allport, BS '78
Anonymous
Sally Eckert Arbolino, MS '85
Joan Hagan Arnold, BS '69
Ellen Davidson Baer, BS '62
Jeannemarie Gelin Baker, MS '90
Suzanne Bakken
William Baldwin
Andrew and Avery Barth
Nancy Barton, BS '83
Lea Ormezzano Battiato, BS '54
Diane Rankin Behrens, BS '64
Diane Skowronski Bellafronto, BS '70
Bobbie Berkowitz
Tiye Bhutia, MS '13
Daniel Billings, MS '17
Susan Miller Birley, BS '89
Doris Taylor Bowles, BS '64
Donald Boyd, PhD '17
Adele Bradford, BS '05
Marilyn Feldman Brady, BS '78
Andrea Belanus Brassard, PhD '02
Brenda Barrowclough Brodie, BS '65
Kevin Browne, MS '92
Mary Noyes Brust, BS '81
Monica Buff Burrell, MS '12
Posie Carpenter, MS '88
Martha Cassidy, BS '11
Ellyce Engle Charles, BS '74
Edith Baldwin Cleaves, BS '58
Elizabeth Cohn, PhD '09
Dorothy Davies Colfer, BS '69
Mary Ann Kelly Collini, BS '64
Susan Green Cooksey, BS '68
Darlene Curley
Elizabeth Jones Davis, BS '61
Patricia Healy De Sear, BS '68
Karen Desjardins, DNP '05
Francisco Diaz, MS '05
Dorothy Simpson Dorion, BS '57
Stephen Duff
Jerry Speyer and Katherine Farley
Marjorie Harrison Fleming, BS '69
Kathryn Farnham Follows, BS '66
Janet Bokelkamp Frankovsky, BS '59
Lorraine Frazier
Ellen Gottesman Garber, BS '76
Susan Chervenak Garruto, BS '64
Mary Masterson Germain, BS '64
Lois Mueller Glazier, BS '60
Clare Warren Gordon, BS '63
Susanne Greenblatt, BS '81
Susan Grossman, BS '78
Marilyn Johnsen Hamel, BS '51
Latisha Hanson, MS '12
Ellyn Harris-Hesli, BS '72
Margaret Ross Hastings, BS '54
Margaret Moore Hazlett, BS '68
Karen K. Hein
Mary Turner Henderson, BS '64
Joan Herndon Hinz, BS '53
Kevin Daugherty Hook, BS '98
Denise DeMarzo Houghton, BS '78
Kathryn Howard, MS '92
Mary Sue Marburger Hunia, BS '70
Lynn Gray Jehle, BS '95
Sandra McLaughlin Johanson, BS '64
Rosalind Riordan Kendellen, MS '74
Suh Yun Kim
Lisa Kleist, BS '73
Harold Kundel
Patricia Smith Langley, BS '61
Ylene Ramey Larsen, BS '67
Jonathan and Jeannie Lavine
Robert Leiter
Zheng Lian
Kristin Van Derverr Liddle, BS '63
George Lindsay and Nancy Metz
Deborah Keeler Lott, BS '68
Maria Magliacano, MS '06
Wilhelmina Manzano
Nancy Kluge McClain, BS '58
Thomas McGovern
Laura McKenna, MS '95
Helen Miller, MS '63
Bernard Moon
Mary Moran, MS '08
Betsy Cook Morgan, BS '68
Ann Muhlhauser
Lynn Summo Nelson, BS '69
Xin Nie
Kathleen McCooe Nilles, BS '89
Susan A. Norwell, BS '64
Wendy Halsey Otto, BS '69
Dolly Peress, BS '59
Kerry Puglia, MS '15
Nancy Reichman
Phoebe Reynolds, BS '56
Marita Conroy Ritterhoff, MS '45
Marty Cohn Romney, MS '81
Roxana Sasse, DNP '11
James Schwab
Barbara Patton Sciarra, DPLM '55
Lawrence Scinto
Lynne Pfarrer Seidel, BS '64
Nell Kincaid Semel, BS '59
Christina Alvarado Shanahan, BS '81
Linda Shannon, BS '82
Anna Draper Shaw, BS '66
Rose Crane Smith, BS '53
Sara Mackelvey Smith, BS '65
Barbara Robinson Sporck-Stegmaier, BS '46
Mary Stenson Stenson, MS '85
Patricia Stone
Sally Shipley Stone, BS '69
Jean Fisher Stonesifer, BS '50
Karin Sandal Stuart, BS '64
Elizabeth Owen Swaim, BS '58
Phebe Marrin Thorne, BS '64
Rita Perrine Trayner, BS '55
Vera Venturino, DPLM '56
Michele Visconti, BS '79
Karen Weiss-Corson, BS '66
Constance Greenfield Weissman, MS '56
Sally-Ann Whelan, BS '61
Holly Grim White, BS '73
Marilyn Lenzner Williams, BS '68
Stanley Herman Wishner
Elize Poestkoke Wright, BS '53
Megan Christian Wright, BS '82
Stephanie Kuhn Wright, BS '65
May Yong, MS '14
Chunhui Zhong