Diversity and Cultural Affairs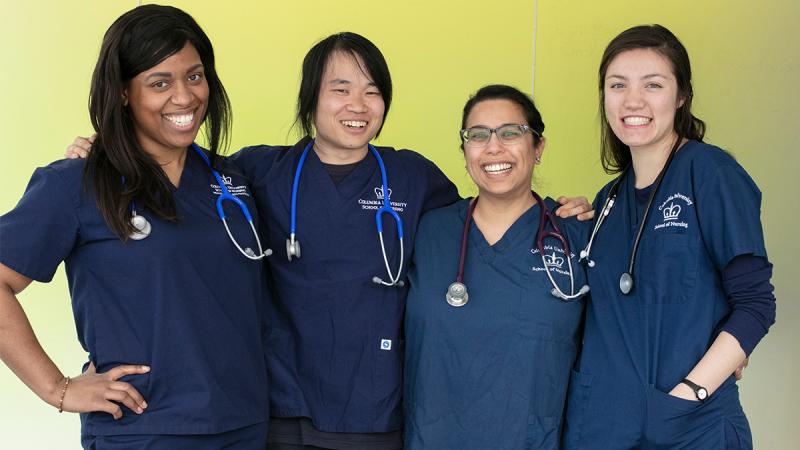 Columbia University School of Nursing provides an intellectual environment that promotes social justice. The school is committed to diversity in our students, faculty, and staff, because such differences inspire transformation, innovation, and leadership in nursing education, practice, research, and health policy. Columbia Nursing's culture of inclusion embraces diverse local, regional, and global communities with the goal of improving the health of all people.
The Office of Diversity and Cultural Affairs (ODCA) serves as an internal support system to foster a culture and environment that values and respects diversity in our students, faculty, and staff. ODCA engages in activities, and provides resources, to increase diversity in the recruitment, retention, and mentoring of students, faculty, and staff. ODCA facilitates outreach and engagement in advancing community connections on behalf of the school. It provides a platform for open discussion of critical issues and is committed to advancing the school's social justice and health equity mission.
Student Recruitment and Retention Initiatives
Summer Health Professions Education Program (SHPEP) is a CUIMC initiative sponsored under the umbrella of the Robert Wood Johnson Foundation. SHPEP is a free, six-week academic enrichment program for rising sophomore and junior students in college who are under-represented in the health professions. The program provides a deeper understanding of basic sciences and quantitative topics, development of study skills and group learning techniques, provides clinical shadowing experiences, admissions, and financial aid planning workshops, health policy seminars, and provides opportunities for students to explore the health professions including nursing, medicine, dentistry, physical therapy, occupational therapy, public health, and nutrition.
The Geriatric Career Development Program is an after school program primarily for 10th through 12th graders under the auspices of the New Jewish Home. Columbia Nursing partners with this program in providing college preparation, mentoring, workforce training experiences, and health career guidance. The program also prepares its participants to receive health care certifications (Certified Nursing Assistant, EKG Technician, Medical Coders and Billers, and Patient Care Technician).
Community Health Promotion Activities
Twice a year Columbia Nursing participates in the Harlem Multi-Cultural Festivals by providing blood pressure and diabetes screenings and/or opioid information and nutrition sessions.
The annual Super Saturday STEM Expo is a free, family event, featuring 100+ hands-on Science, Technology, Engineering, and Math (STEM) exhibits in the 50,000 square foot Harlem Armory. Columbia Nursing prepares an interactive table on a health topic (such as healthy heart, infection prevention, human anatomy, etc.) for public school students (Grades Pre-K – 12). This is a partnership between Manhattan's Community School District 5, Harlem Children's Zone and other educational and non-profit organizations.
Columbia Nursing is planning several events for the ReImagine End of Life festival, a week-long, borough-wide festival of events with the aim of amplifying issues related to death and dying. Event sponsors encompass arts/entertainment, healthcare/social services, spirituality, religion, and innovation/design. The goal of the festival is to highlight progressive, family centered, environmentally innovative, and spiritually rich ways of approaching all aspects of death and dying.
Social Justice and Health Equity Program Series
ODCA provides a series of educational forums to inform, engage, and develop a deeper understanding of the social/structural determinants of health, and personal growth challenges that impact one's ability to see others through a human, social justice lens.
Diversity Committee
The Diversity Committee's goal is to support an intellectual learning environment that promotes social justice, innovative research, practice, and policy aimed at eliminating health inequalities. Subcommittees include:
This Subcommittee researches and implements programs and collaborations that increase community engagement. Particular programming targets under-represented groups in nursing. These efforts involve long-term pipeline programs and short-term implementable initiatives. Current outreach agreements include the Geriatric Career Development Program at The New Jewish Home, The Robert Wood Johnson Summer Health Professions Education Program, The District 5 STEM Exhibition, The Multi-Cultural Festival Group of Harlem, and outreach to local community organizations and schools.
This subcommittee reviews, assesses, and make recommendations that include but not limited to curricular content, research, practice, and policy aimed at supporting a learning environment that reflects cultural awareness and sensitivity toward health disparities within the United States and the world. The subcommittee seeks to provide support and resources for faculty in the classroom setting.
This subcommittee acknowledges and values the contributions of all members of the Columbia Nursing community. This subcommittee focuses on ongoing climate assessments and seeks ways to enhance and promote a sense of belonging and inclusion for faculty, staff, or students.