Pediatric Primary Care Nurse Practitioner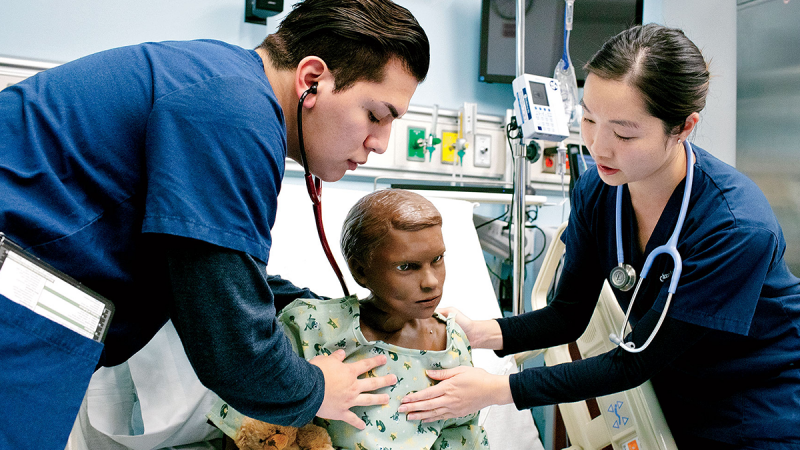 The DNP Pediatric Primary Care Nurse Practitioner (PNP) Program prepares nurses to practice as pediatric nurse practitioners in the delivery of primary health care to infants, children, and adolescents.
The core curriculum provides students with an in-depth understanding of advanced nursing practice and enables them to apply this understanding to a variety of settings, such as community health centers, chronic care facilities, outpatient facilities, private practice offices, schools, and homes. PNPs prepared at this Doctoral degree level exercise sophisticated clinical judgment based on advanced theoretical and scientific knowledge, serve as models in collaborative practice with other health care professionals, and lead in the advancement of contemporary professional nursing by contributing to practice, research, and theory building.
Clinical sites are available in the tri-state area. Clinical sites vary in setting and students can be assigned location at hospitals, outpatient clinics, home care, or schools. View the list of clinical sites.
Upon completion of the DNP degree, graduates are eligible for licensure as Pediatric Nurse Practitioners in New York State. Graduates are also eligible to take the primary care pediatric nurse practitioner certification exam offered by the Pediatric Nursing Certification Board (PNCB). Students interested in seeking licensure outside of NY State should consult the board of nursing of the state in which they wish to be licensed.
Curriculum
Students will complete approximately 2 years of coursework to complete degree requirements. Courses will include lecture, clinical, simulation, and final intensive practicum.
The curriculum is provided to specify the academic requirements of the program. Please be advised that this program plan is a sample, and individual plans of study may vary and are reviewed and approved by the program director. Progression in the program is contingent upon meeting academic policies.
Request a Sample Academic Program Plan
Post BSN Doctor of Nursing Practice
Courses
Course ID
Course Name
Credits
Description
NURS8685N
Advanced Clinical Assessment
3
Utilizing a systems approach and a background in basic physical assessment, advanced physical assessment skills are studied. The identification and interpretation of abnormalities in the physical exam are emphasized in depth. The approach to the development of the differential diagnosis is introduced. The goal of this course is to provide the critical thinking necessary for the beginning advanced practice nursing student to analyze history and physical exam data.
NURS8661N
Advanced Pediatric and Neonatal Pharmacology
3
This course provides an opportunity for the scientific inquiry into the use of pharmacologic agents in the advanced nursing care of infants, including fetal and neonatal life, early childhood, and adolescence. Pharmacokinetics, pharmacodynamics, drug use in pregnancy and lactation, pharmacologic agents used in disease prevention and treatment, drug monitoring, and drug safety in the home are explored. The use of herbal and natural remedies while treating disease will be discussed. Proper prescribing and record keeping in accordance with New York and Federal laws are addressed.
NURS6613N
Advanced Pediatric Clinical Assessment Simulation
1
This course is designed to help the student develop pediatric specific history and physical assessment skills within a simulation setting. Each week, the student will have an opportunity to do hands on training regarding the subject covered in pediatric physical assessment and diagnosis using case-based simulation exercises and learning of physical assessment techniques. The weekly lab classes are designed to refine the skills of the PNP student.
NURS8102N
Advanced Pharmacology
3
The goals of this course are to provide students with a knowledge and understanding of the actions of drugs in order to enable them to use therapeutic agents in a rational and responsible manner in patients. Initially, basic principles of pharmacology will be reviewed (from N5375 course), including absorption, distribution, metabolism, and excretion of drugs by the body. Drug-receptor interactions will also be presented and illustrated with appropriate examples. The focus of these lectures will be case-based whenever possible to demonstrate the therapeutic application of these pharmacologic principles and how this translates into efficacy and potential toxicity.
NURS7001N
Advanced Physiology and Pathophysiology Across the Lifespan I
3
Part one of two. In this course we will examine the normal physiological function of organ systems, the mechanisms for the maintenance of health, and the pathophysiological alterations in body function that lead to disease. Each class will focus on a specific physiologic process or organ system. We will pay particular focus to diseases that commonly occur across the lifespan, examining common etiologies, pathogenic mechanisms, clinical manifestations, and common treatments of each.
NURS7002N
Advanced Physiology and Pathophysiology Across the Lifespan II
3
Part two of two. In this course we will examine the normal physiological function of organ systems, the mechanisms for the maintenance of health, and the pathophysiological alterations in body function that lead to disease. Each class will focus on a specific physiologic process or organ system. We will pay particular focus to diseases that commonly occur across the lifespan, examining common etiologies, pathogenic mechanisms, clinical manifestations, and common treatments of each.
NURS6624N
Clinical Seminar in Pediatric Primary Care Nursing I
1
Seminar in Pediatric Primary Care Nursing I is designed to provide PNP students an academic environment in which to share their practicum experience and present case studies in an organized format for discussion with their peers and faculty. Students are expected to facilitate a class dialogue and offer appropriate references.
NURS9730N
DNP Intensive Practicum
5 – 6
The DNP intensive practicum focuses on the delivery of fully accountable, evidenced based care for patients across clinical sites. The DNP student will demonstrate an integration of comprehensive assessment, advanced differential diagnosis, therapeutic intervention, evaluation of care for patients and synthesis of evidence-based practice with patients with a variety of conditions. In this context, the DNP student will organize and develop a professional portfolio. 
NURS9735N
DNP Portfolio Advisement
3
The DNP residency and portfolio is designed to demonstrate that the DNP graduate possesses the advanced knowledge of clinical management to provide high quality care. The components of the residency are scholarly activities across settings combined with documented outcomes achieved in multiple sites of care. The DNP resident, in varied settings, assumes an expanded scope of practice for a panel of patients with the principles of continuity based care as paramount. Gaps in clinical experience opportunities are identified at regularly scheduled meetings with the advisor and arrangements are made to enhance the practicum as indicated.
NURS6623N
DNP Seminar in Pediatric Primary Care I
1
This course will introduce the DNP student to clinical decision making and evidence-based practice for the provision of primary care to individuals across the lifespan. Utilizing the case narrative format and DNP Competencies in Comprehensive care as a framework, the student will analyze clinical decisions, appraise and apply evidence for best practice. Case studies derived from complimentary practicum, that reflect the critical thinking skills needed to diagnosis and manage acute and chronic illness will be presented and critiqued.
NURS6627N
DNP Seminar in Pediatric Primary Care II
1
This seminar course is designed to further develop the role of the DNP student in the provision of care to pediatric patients in various clinical settings. Using the DNP Competencies in Comprehensive Care as the framework, students will analyze clinical decision-making and utilize evidence for best clinical practices. Through case presentations, the student will discuss multiple expressions of chronic physical and mental illness commonly seen in community settings. The focus will be placed on populations seen routinely in the community who are at risk for various complications that may lead to impairment and disability.
NURS7005N
Health and Social Policy in the Context of Practice
3
This core course examines contextual contributors to health status and the current social, legal, and political determinants of healthcare systems, emphasizing the U.S. system. Issues are explored to understand their impact on current and future delivery of health care, in particular on advanced practice nursing. The class focuses on how to bring the professional values of nursing to bear in policy debate and how nurses partner in the policy process to improve health outcomes of populations and quality of the healthcare delivery system.
NURS9481N
Health Policy and Advocacy
2
The purpose of this course is to critically analyze healthcare policy in the US. Included is a focus on the advanced practice nurse role in shaping and influencing policy through advocacy and leadership to improve patient outcomes.
NURS7003N
Health Promotion and Disease Prevention
3
This course is designed to provide the student with a systematic approach to the delivery of health promotion and disease prevention in primary health care to individuals, families, communities, and aggregate populations.
NURS9290N
Incorporating Genetics and Genomics in Advanced Practice Nursing
3
This course is intended to provide a strong foundation in the concepts of genetics and clinical applicability of genomic concepts commonly seen in advance practice nurses' clinical practice. Both classical Mendelian and molecular genetics will be examined, in order to provide a knowledge base that will enable the advanced practice nurse to integrate genetic and genomic knowledge into clinical practice. Using a case discussion approach, clinical issues of genetics testing, genetic exceptionalism, individualized risk assessments and predictions are explored throughout their life span.
NURS9412N
Informatics for Practice
3
This course is designed to provide the student with the knowledge and skills regarding the uses of information technology to support evidence-based practice. The course will provide an overview of informatics topics of most relevance to evidence-based practice including: computer systems and system development; standardized clinical terminology; informatics standards; electronic health records; retrieval and critical analysis of digital data, information, and knowledge; clinical decision making; decision support; decision analysis; shared decision making; and computer aided instruction.
NURS6930N
Interpersonal Violence and Abuse: Prevention, Assessment, and Intervention for Health Care Professionals
1
Aimed at increasing student awareness of the prevalence, context, dynamics, and potential outcomes of interpersonal violence (IPV), the goal of this course is to provide advanced practice nurses with the information needed for prevention, identification, assessment appropriate intervention, and resource referral for clients and families who are at risk for, have a history with, or are currently experiencing IPV. Course content will explore the dynamics, causes and consequences of IPV, specifically: domestic violence, child abuse, elder abuse, and sexual assault.
NURS7000N
Introduction to Evidence-Based Practice
3
This course is designed for graduate nurses to provide them with the skills to understand and utilize research evidence in decisions about clinical practice. The course is designed to help graduate nurses articulate relevant practice-based questions, search the literature to identify relevant evidence, evaluate the quality of research on which the evidence is based, and discuss the application of the evidence in clinical practice to improve quality of care.
NURS6940N
Management and Advanced Practice Nursing
1
This course focuses on advanced practice issues not usually familiar to the average nurse. It explores the dimensions of independent advanced practice nursing (APN) in our challenging and constantly changing health care environment. Legal issues, regulation, reimbursement, practice management concerns, and development of a comprehensive view of the APN's role in the current health care environment are stressed.
NURS6122N
Pathophysiology of the Child
3
This course is required for students in Pediatric Primary Care and the Pediatric Specialty Care programs. The pathogenesis of common conditions affecting children is presented and serves as a basis for clinical management. Relevant pharmacology is presented for each of the disease entities.
NURS6638N
Pediatric Emergencies
1
This course focuses on the assessment and management of urgent and emergent care for the pediatric client. Assessment, pathophysiology, differential diagnosis, and management of the pediatric client will be discussed. Strategies for management of these clients will require a synthesis of knowledge from the bio-pyscho-social, behavioral, and nursing sciences. Emphasis will be placed on integrating and educating the family regarding the acute care needs of the child. The student will understand the need to maintain continuity of care with the primary care provider.
NURS6614N
Pediatric Nurse Practitioner Clinical Practicum
1
This is the first clinical experience with pediatric patients for the PNP student. The student will be responsible for developing objectives and sharing them with the preceptor. The skills needed to obtain a good history and physical will be honed and further developed. When possible, the student will proactively seek opportunities to practice clinical skills of vision screening, hearing screening and venous access. The student will develop their skills in developmental and mental health screening.
NURS6612N
Pediatric Physical Assessment and Differential Diagnosis
3
Pediatric Physical Assessment and Differential Diagnosis is designed to increase the knowledge of specific physical assessment techniques to be used with pediatric patients. Using a case based approach, the student will recognize physical, psychological, and developmental problems, and begin to develop differential diagnoses. Emphasis will be placed on developmental assessment, screening tools, documentation of key history points and physical exam findings. The student will identify patterns of key history and physical points in different presentation of pediatric patients.
NURS6622N
Pediatric Primary Care Nursing I: Clinical
2
Pediatric Primary Care Nursing Clinical I is designed to develop skills in history taking, developmental evaluations and physical assessment for the pediatric client and to prepare the student to provide primary care to children. It focuses upon the promotion of health and the prevention of illness to promote optimal physical, intellectual and emotional growth and development. The clinical experience involves performing complete assessments on newborns, preschoolers, school-aged children and early adolescents and well childcare in a pediatric setting.
NURS6620N
Pediatric Primary Care Nursing I: Didactic
3
Pediatric Primary Care Nursing I is designed to prepare the student to provide primary care to infants, toddlers, and preschoolers so that children may meet their optimal physical, intellectual, and emotional growth and development. The content focuses on health promotion, illness prevention, and the treatment of episodic problems from infancy through preschool.
NURS6632N
Pediatric Primary Care Nursing II: Clinical
4
The student will gain knowledge and skill in assessing and evaluating the health status of children and adolescents to determine and maintain an optimum level of health.
NURS6630N
Pediatric Primary Care Nursing II: Didactic
2
Pediatric Primary Care Nursing II focuses on the delivery of primary health care to school-age children and adolescents. This includes health promotion, the prevention of illness, and the management of common episodic problems. Using the school for clinical experience, the student will assess the status, teach individuals and groups of children, and will work with teachers and parents. Students will utilize knowledge of growth and development to develop age appropriate teaching plans, and assess children and families to assume an active role as health consumers. Current courses in pediatric pathophysiology and child development contribute to the student's knowledge base. Students continue to provide primary care to their caseload of well children in their pediatric primary care sites.
NURS8670N
Pediatric Primary Care Nursing III: Didactic
2
This required course in the PNP program introduces the advanced student to the provision of health care to children with common episodic illnesses. Lectures and seminars provide the student with the knowledge base to recognize and manage common health problems in the pediatric population.
NURS8673N
Pediatric Primary Care Nursing IIIA: Clinical
4
This practicum focuses on the delivery of episodic illness care to children and adolescents in the ambulatory settings and on planning and managing the care of hospitalized children. The Pediatric Clinic is the main clinical setting. Here the student will learn how to assess children with common episodic illnesses, to develop and discuss differential diagnosis, to manage the care of children with minor illnesses, and to work with other health professionals collaboratively. When the illness requires hospitalization, the student will design and implement a plan of care, including discharge plans and teaching. Students utilize their knowledge of common child and adolescent illnesses and the information presented in M6630 and M8670 to assess and develop plans of care for all children and adolescents.
NURS9405N
Practice Leadership and Quality
3
This course is designed to provide the student with the knowledge and skills necessary to serve as a member and lead interdisciplinary groups in organizational assessment to identify systems issues and facilitate organization-wide changes in practice delivery utilizing quality improvement strategies. Course content focusses on understanding systems concepts and thinking to achieve results in complex health care delivery systems. Frameworks, approaches, and tools that foster critical thinking are examined as mechanisms to formulate vital questions, gather and assess relevant information, develop well-reasoned conclusions, test conclusions against relevant standards, compare conclusions with alternative systems of thought, and communicate effectively throughout the process.
NURS9672N
Principles of Epidemiology and Environmental Health
3
This course addresses the application of epidemiology and environmental approaches to inform the clinical practice of health care of individuals. An understanding of health sciences based on groups of people, including environmental health, occupational health, and some aspects of genetics, can orient the practitioner with an individual patient. These external influences are modified through social, cultural, and behavioral factors. Addressing these factors should help to anticipate and improve patient outcomes.
NURS9150N
Scholarly Writing and Dissemination I
1
This course is the first of two designed to introduce students to scholarly writing and dissemination for clinicians. The course provides students with practical information, exercises, and resources for successful clinical manuscript preparation and clinical conference poster and oral presentation. The course introduces students to fundamental skills for scholarly writing including familiarity with professional journals and conferences, utilization of electronic resources for literature searches and citation management, writing process and organizational skills, identification of predatory journal and conference enterprises, and academic integrity and the continuum of plagiarism. The course culminates in an annotated bibliography on a topic of the student's choosing that allows for the synthesis and application of the skills and resources developed over the course. In conjunction with part two of the course, students are prepared for a lifelong approach to integrating scholarship into clinical practice.
NURS9151N
Scholarly Writing and Dissemination II
1
NURS9910N
Translation and Synthesis of Evidence for Optimal Outcomes
3
This course is designed to provide the tools for the doctorally prepared nurse to evaluate, translate and integrate published research results into clinical practice. During the course, students will learn how to conceptualize clinical practice problems and transform them into answerable clinical research questions, how to search for the best clinical evidence, and how to assess clinical evidence using basic epidemiological, biostatistical and scientific principles. The course will culminate in a systematic review or meta-analysis of a body of research relevant to advanced practice nursing.