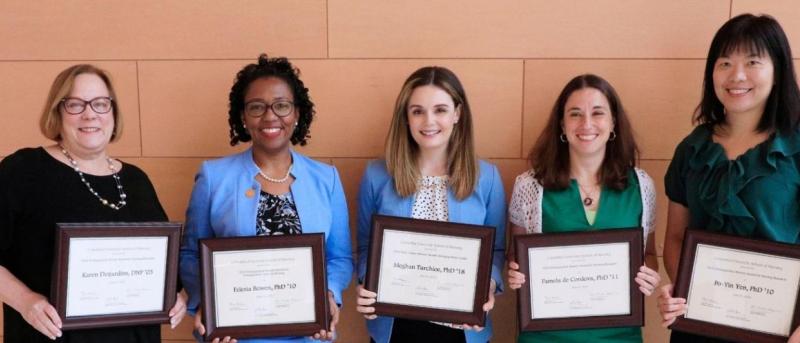 Awards Celebrate Distinguished Alumni, Rising Star
At the first in-person reunion since the pandemic began, held May 6, 2022, Columbia Nursing honored five alumni for their contributions to the nursing profession. 
Four alumni received Distinguished Alumni Awards (DAA), given in honor of demonstrated excellence in nursing practice, nursing research, health policy, nursing education, or nursing administration; exemplary service to humanity; or a distinguished career in nursing.  One alum received an Early Career Alumni Award (ECAA), which recognizes a nurse alumnus who has exhibited excellence as an emerging nurse leader.
The 2022 DAA honorees are: 
Felesia Bowen, PhD '10, Award for Distinguished Career in Nursing 
Pamela de Cordova, PhD '11, Award for Nursing Research 
Karen Desjardins, DNP '05, Award for Nursing Education 
Po-Yin Yen, PhD '10, Award for Nursing Research
The 2022 ECAA honoree is:
Meghan Reading Turchioe, PhD '18, Early Career Alumni Award