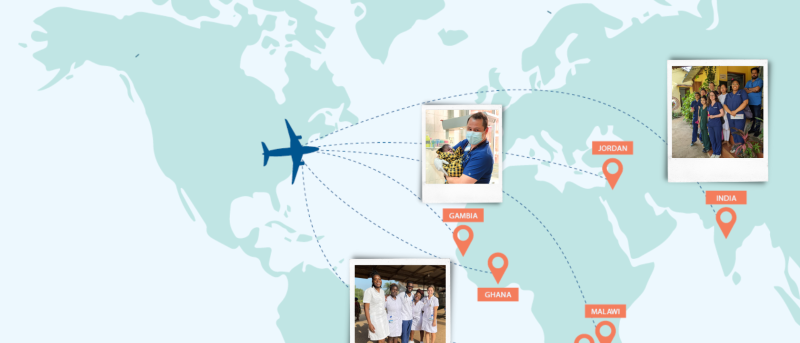 Back Out in the Field
Global Clinical Placement Program Reopens after Two-Year Hiatus.
When the world shut down in 2020 due to the COVID-19 pandemic, Columbia Nursing's Office of Global Initiatives (OGI) was forced to suspend all its global clinical placements. In 2022, OGI faculty and staff celebrated the program's reopening with a jubilant sendoff for 49 masters direct entry (MDE) students headed for clinical integration experiences at 11 sites across Africa, Asia, Europe, and the Caribbean; the students left on April 4 and returned on May 13.
Clinical integration experiences are a key requirement of the MDE program, with most students completing their integrations in or around New York City.
Many MDE students choose Columbia Nursing because of the scope of its global clinical opportunities, and members of this year's class (as well as the OGI team) were thrilled to have them available once again.
"The reopening of the global clinical experiences program was such an exciting time," says Jennifer Dohrn, DNP '05, assistant dean for global initiatives. "It was exhilarating to watch our students finally being able to once again absorb and understand the multiple ways that nurses are providing care and building their health care systems, as well as see firsthand the devastating effects on people's health from inequities and injustice globally."
A unique aspect of Columbia Nursing's global clinical opportunities, Dohrn notes, is that the school's program is guided by nursing leadership in each country, with the stated purpose of understanding nursing's responsibility to reduce longstanding disparities and inequities in accessing the best health care.
"The students learn about different illnesses and their management, such as malaria and sickle cell anemia. This year, they witnessed the nursing response at their site to the COVID-19 pandemic, including the challenge to access COVID vaccines," she adds. "They are immersed in many cultures and learn how different communities approach health, including birth and death. Overall, students tell us that they feel transformed into committed nurses to be engaged globally."
Natalie Voigt, PhD '20, now an assistant professor at Columbia Nursing, is the faculty liaison for the school's program at the University of Nairobi, one of two clinical sites new in 2022. "It's important for nurses to experience health care abroad," she says, "because it gives them perspective. I think immersive experiences abroad fundamentally change people for the better, and becoming an integral part of a foreign health care system will shape our students into increasingly empathetic and competent clinicians. Their experience abroad will also give them a unique appreciation for the wealth of resources we have here in the U.S., and hopefully help them confront personal biases, unconscious or otherwise. The experience can't help but make better nurses."
The OGI team is now preparing for its 2023 global clinical placements, which will include new sites and bring back others—for example, Spain—that couldn't host students in 2022 due to international travel and work restrictions. They will also hold two town halls to introduce the sites to students. "The students who went are the best ambassadors for the program," Dohrn notes.
Here, six students from the first class to go back out in the field talk about why they chose the global option, what they learned, what surprised them, and more.
The Interprofessional Approach in Zambia
Mary Ellen Morris-Delaney came to nursing from a career as a certified public accountant. Her work in finance began in the private sector and then continued with global nonprofits. During her clinical integration in Zambia—at University Teaching Hospital, the main hospital in the country's capital, Lusaka—she was struck by the strong collaboration among nurses, physicians, occupational therapists, physical therapists, and others who cared for the patients.
This interprofessional approach to health care is developing in the U.S., but in Zambia, it's intrinsic because it's just what they do. In Zambia there's a ward, the health records are shared, and they're all paper. I could engage with the physicians when they did their rounds, read the chart to understand the history of the patient fully so I could ask questions, and with that understand more about the care they prescribed, thereby becoming more a part of the conversation.
The first couple of weeks I worked on the internal medicine women's ward, caring mainly for heart failure patients. The next week, I was in the community doing household surveys with third year medical students. Then the last couple weeks, I was in the medsurgical step-down unit, on the men's ward, caring for patients with serious wounds.
The nurses were always interacting with the entire health care team, not just doing what was written in the care plan by the physicians but actually working together to improve the overall health of the patients.
It was also amazing to see how creative people could be, and how efficient given the limited resources available. I liked that, too, because it showed me that if I could do this without relying on technology, I can trust my skills, I can trust my training.
A Healing Community in India
Bel-Air Hospital opened in the mountain resort town of Panchgani, India, as a tuberculosis sanitorium in 1912, when fresh air and rest were among the only treatment options for TB patients. The hospital continues to care for TB patients and was also among the first in the country to admit HIV patients (who are at higher than usual risk of TB), providing them with effective treatment. Serving her integration at this unique site, Kimberly St Fleur was impressed to see how patients and their families had built a healing community.
It's a miraculous place, honestly, just its history and the way that it's dedicated to serving people, especially in India, where the stigma against HIV and TB is still very prevalent, especially in private medical settings, which are thought to provide better care.
The clinical experience was very informative. TB is not a huge problem in the U.S., but it is pretty common in India. We're basically learning from scratch all about TB—as well as TB drugs and treatment and TB testing and diagnostics—and also the history of tuberculosis in India and the national programs that the Indian government has implemented to control tuberculosis and the response to them.
For many of the patients that we met, Bel-Air was their last chance, and because of that, and the acceptance and the community that's been built there, people don't want to leave. They want to stay, they want to give back and serve.
Toward the end of my placement, a patient who had been there since we'd arrived was finally going home. On the day she was discharged, it was amazing to see all the different patients and patients' families coming from her unit and other units, all helping her prepare to leave, almost like a parade or celebration. It was surreal for me to see that, wow, this is truly a community that's been built between these patients and their families. And Bel-Air intentionally gives people the space for that.
Cultural Competency and Empathy in Ghana
After studying psychology in his native Ghana, moving to the U.S., and working for a couple of years as a certified nurse assistant, Godfred Boampong decided he wanted to be able to provide more advanced care to patients. He was excited to travel back to Ghana for his clinical integration at St. Anthony's Hospital, especially after learning the trip would take place in April, when he usually goes home to visit his wife and celebrate their anniversary.
Everything was new and a learning opportunity for me. I think what really helped me was the fact that I grew up there, which gave me insight into the culture and the health care system.
My experiences emphasized the need for nurses that are culturally understanding and empathetic. For example, a woman was about to undergo an emergency C-section, when another doctor ran in and told them to stop right away. While the woman had consented, her husband had phoned in and said he did not want his wife to have a C-section.
The patient might decide that "I don't want to do it, because my husband doesn't support it," and we might not understand why she's making that decision, and it takes a culturally competent nurse to understand that. It's better to try and bring the husband on board than try to say, "The patient has given consent, and we'll do whatever the patient wants." You might save the patient at that time, but they might go home and die from something else, like neglect or a divorce.
Translating Language and Culture in Jordan
Bay Area native Nadeen Eliyan grew up spending summers visiting extended family in Palestine. When she signed up for Columbia Nursing's program at the University of Jordan in Amman, she hoped to hone her already-fluent Arabic and learn more about how the language is used in medicine.
We were there during the month of Ramadan and Eid. We worked with the master's students there, and it was special to feel this togetherness—we're learning together, we're fasting together. They took us under their wings, inviting us to dinners, inviting us to the other hospitals that they worked at. Learning beside them was really, really awesome. The depth of knowledge that they had was admirable.
I consider myself quite fluent in Arabic, but when you're thrown in there and that's all they're speaking, you realize, "Oh, wow. I don't know as much as I thought I did and there are limits." As the translator for my peers, I was trying to translate English to Arabic and Arabic to English, but a lot of these things don't have direct translations, or I just didn't know the direct translation. So that was also a tricky spot to be in and added another layer.
I did my best in trying to translate not just language, but also cultural values. I felt like I took on a special role of trying to explain a lot to each side, which was interesting for me. And it was challenging for me at times to feel like I had that weight of being in this role for both parties.
One of my main goals in participating in the global experience was to see health care from a non-Western perspective, and how culture influences health care. Throughout this experience, I was reminded to always go into things with an open mind, always ask and not assume, always really try to understand somebody's cultural values before you make broadening assumptions, because people's ideas and health literacy and how they interact with their own health care experience—all of that is so greatly influenced by culture.
Becoming a True Patient Advocate in Malawi
Kaoru Suzuki Houghton spent more than 15 years as an educational program specialist for the United Nations and other nongovernmental organizations overseas, then a few years in the U.S. as a full-time mom (she and her husband now have four children), before deciding she wanted to work more directly with people. She settled on nursing and applied only to Columbia Nursing, motivated by the school's global clinical opportunities. She says her placement at Kamuzu Central Hospital in Lilongwe, Malawi, underscored how much more she needed to learn in terms of nursing skills and knowledge, but also offered invaluable lessons on providing patients with respectful care and advocating for their needs.
When I first arrived at the hospital, I felt immediately overwhelmed. The ward was overcrowded with high-acuity patients, while facing a severe lack of medical resources, including a scarcity of supplies. Because of the lack of physicians and nurses, there was not enough time or personnel to respond to the emotional needs of families about their loved ones' impending deaths. With a mix of expectation and anxiety, I jumped in to do what I could.
Throughout my clinical experience in Malawi, I learned and practiced the important role of the nurse as patient advocate at a deep level. For example, one of my patients could not be saved due in part to a blood shortage. It was an indescribable thing to accept that we could not save her life.
The physician appreciated that I had called for medical attention for my patient, and told me that physicians can respond to patients quickly only when nurses alert them to changes or abnormalities. While I could not save her life, I was proud to stand up for my patient and be her advocate. I was proud of myself and my colleague for finding something, even a very little thing like cleaning her body, to protect her dignity. I will never forget this patient, because she made me become a true patient advocate.
Hands-on Maternity Care in The Gambia
After more than a decade as a modern dancer in New York City, Jacob Szczypek decided to return to his premed dream of becoming a practitioner providing affirming health care—this time around, as a nurse midwife. He chose his placement at American International University of West Africa in Banjul for its focus on maternal care and midwifery. While male midwives remain rare in the U.S., they are common in many other parts of the world, including The Gambia.
Learning how scary it can be to give birth in the U.S., and about the lack of holistic, compassionate care, really inspired me to become someone who could provide that for people. It's heartbreaking to hear about the number of preventable maternal deaths and neonatal deaths that occur, especially in such an advanced country.
During my placement, I spent a week on the postpartum ward and then moved to the labor ward the second week. I was able to spend time at the bedside with the patients, helping them in a very tangible way.
I also saw several surgeries, including bilateral tubal ligations, C-sections, ectopic pregnancy surgery, and uterine fibroid removals. The range of exposure that I had was just incomparable. I don't know if I would ever be able to have that experience here in the U.S., in that short amount of time.
I think it's important that men and male-identifying individuals become educated on birth and maternal care and the importance of it. For me, in my experiences so far, I can provide and offer just as adequate care as any other person going into the field. It's about passion and care. It's something that I think is the most miraculous, amazing part of human biology, the way we reproduce. It's how we all come into life. To me, it's not gendered.
---
This article originally appeared in the Fall 2022 issue of Columbia Nursing Magazine.