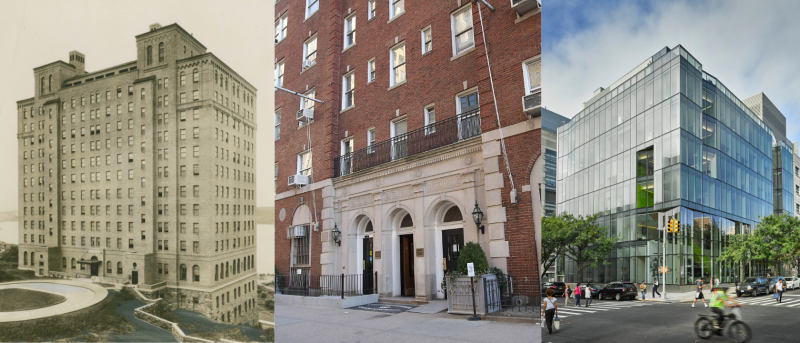 Columbia Nursing Celebrates its 130th Anniversary
Looking back and forward as Gallup once again ranks nursing as the country's most trusted profession
As Columbia Nursing marks its 130th year, the institution itself is in the ascendancy and the prestige of the nursing profession is at an all-time high. In 2022, for the 20th year in a row, nurses were number one in the Gallup Poll's ranking of professions by honesty and ethics. And U.S. News & World Report just named nurse practitioner as the best job in health care (with two other nursing disciplines also ranking in the top 10). 
Whatever this year may bring, Columbia Nursing will surely rise to the challenge, as it has throughout the school's history. 
Anna Maxwell founded the school, then known as the Presbyterian Hospital Training School, in 1892 as a two-year course of study in nursing. At that time, young women had few professional options, explained Stephen Novak, head of Archives and Special Collections at Columbia University Irving Medical Center's Augustus C. Long Health Sciences Library, in a recent talk introduced by Suzanne Law Hawes, BS '59. 
The virtual presentation covered three especially momentous periods of the school's history: 
1892-1920: The "heroic years" 
Maxwell was able to extend the school's course of study to three years in 1898, and she spearheaded the construction of the country's first nursing school building, Florence Nightingale Hall, which opened in 1904. This expansive structure included an elegant wood-paneled lounge and small single dorm rooms for nursing students. Previously, nursing students had  to sleep in the attic over the hospital's medical and surgical wards. 
1921-1937: A "long and torturous process" 
Even after the formidable Maxwell stepped down as director of the school, she helped her successor, Helen Young, lead the drive for affiliation with Columbia University. One hospital administrator of the time was against the affiliation, according to Novak, for fear of losing an inexpensive source of labor. Nevertheless, the affiliation finally came to fruition in 1937. 
1970s to today: Trials, tribulations, and rebirth 
Challenges for the nursing school and medical center mounted in the 1970s and were compounded by New York City's dire economic straits and high crime rates. From 1977 to 1985, undergraduate enrollment at the nursing school fell 57%. 
Mary Mundinger, DrPH, dean of Columbia Nursing from 1986 to 2010, played a major role in pulling the school out of its slump. Importantly, starting in 1988, the school began requiring faculty to establish a clinical practice or a research program. The clinical practice requirement led to the establishment in 1997 of Columbia Advanced Practice Nursing Associates (CAPNA), the nation's first independent primary-care practice run by nurse practitioners and the forerunner of today's ColumbiaDoctors Primary Care Nurse Practitioner Group.  The school was also among the first to offer a doctoral degree in clinical nursing, the Doctor of Nursing Practice (DNP), beginning in 2004.
Bobbie Berkowitz, PhD, was named dean in 2010. Under her leadership, Columbia Nursing broke ground in 2014 for its current home, which opened its doors three years later. In 2016, the school launched its Masters Direct Entry program, preparing nurses to serve as leaders in an evolving health care system. And the same year, the Nurse Practitioner Group opened its current location in Washington Heights. 
Today to the future: Addressing new challenges 
Lorraine Frazier, PhD, succeeded Berkowitz as dean in 2018. Under Dean Frazier's leadership, the school has met the challenges of racism and discrimination head-on, launching its first Social Justice Health Equity (SJHE) commitment, which aims to identify and dismantle racism and inequity on multiple fronts, from the personal to the institutional. Ongoing efforts include initiatives to recruit and retain more diverse faculty and promote the admission and retention of a more diverse student body. In 2020, the school launched the Center for Research on People of Color, which is dedicated to research on critical gaps in health equity.   
And in March of that year, when New York City became the epicenter in the U.S. of the COVID-19 pandemic, Columbia nurses and nursing students served on the front lines and throughout the community, including helping to vaccinate more than 150,000 people. 
In 2021, the school established two more research initiatives—the Center for Healthcare Delivery Research and Innovations and the Center for Sexual Gender Minority Health Research—and became the first nursing school in the country to offer a Certificate of Professional Achievement in Transgender Health Care. 
Dean Frazier said at a recent Town Hall meeting, "Our spectacular faculty are performing at the top of their game, and our students and postdocs are following their example. For the second year in a row, Columbia Nursing ranked fourth in National Institutes of Health research funding, with a total of 26 NIH grants. Six of our graduate students received predoctoral NIH awards this year. 
"In 2022," she added, "we will continue our school's great legacy of devising new ways of educating nurses, exploring new areas of research, evolving new paradigms in patient care, and, of course, identifying new and innovative ways to advance the nursing profession. We will do all that," Frazier concluded, "and influence all areas of the discipline of nursing regionally, nationally, and globally." 
Look for announcements of various anniversary events throughout 2022 to mark both the school's rich past and its impact on the promising future of nursing, nationwide and worldwide.