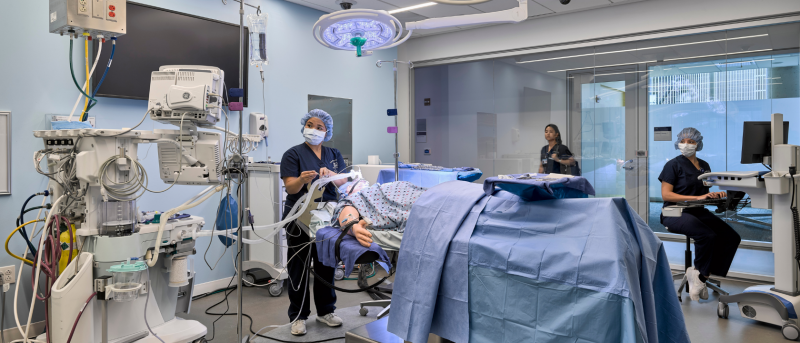 Columbia Nursing Launches DNP in Nurse Anesthesia
The School of Nursing will admit the first cohort of approximately 20 nurse anesthesia residents to its Doctor of Nursing Practice (DNP) Nurse Anesthesia Program in 2022.
"The Nurse Anesthesia specialty is proud to be joining Columbia Nursing's advanced practice nursing programs in one of the top DNP programs in the country," says Maribeth Massie, PhD, who has led Columbia Nursing's Nurse Anesthesia program since 2018. The deadline for applications is October 4, 2021.
DNP graduates will be prepared as expert clinicians and leaders in a variety of settings, Massie explains, including as executives in health care organizations, clinical program directors, and university faculty with a clinical focus.  
"Certified Registered Nurse Anesthetists/Anesthesiologists (CRNAs) play an integral role in the advanced practice environment. As expert leaders in the specialty of anesthesiology, CRNAs must be educated in all of the elements that influence the quality, access, and cost-effectiveness and efficiency of healthcare delivery," Massie says. "That is the role that the DNP program plays: advanced education in leadership, quality improvement, health care informatics, health care policy, and translational research."
The CRNA credential was established in 1956, and CRNAs were the first nursing specialty accorded direct reimbursement rights by Medicare, in 1986. CRNAs receive the highest salaries of all advanced practice nurses, and they are the only anesthesia professionals who have critical care experience before starting their formal anesthesia training. The American Association of Nurse Anesthesiology (AANA), the professional association for nurse anesthetists, has more than 59,000 members, including CRNAs and student registered nurse anesthetists.  
DNP cohorts that reflect the health care workforce  
Columbia Nursing is also committed to admitting and educating DNP cohorts who mirror the country's health care workforce, Massie notes. "The nurse anesthesia program is a founding partner in the Leadership Excel and Achievement Program (LEAP) through Case Western Reserve University. This program has been created for underrepresented minorities who have struggled in their admission into a nurse anesthesiology career and have shown resilience in their pursuit of their dreams."
The School of Nursing also boasts unparalleled clinical opportunities for DNP in Nurse Anesthesia candidates, according to Massie. "Our clinical affiliations are bar none in the world of anesthesia education! Our nurse anesthesia residents practice at world-renowned academic teaching hospitals, large tertiary care centers, community hospitals, and autonomous CRNA practice sites."
The DNP degree includes an additional semester of clinical residency compared to the previous master's program, increasing the length of the clinical residency from 15 1/2 months to 21 months and the length of the program from 27 months to 36 months. "This adds to the depth of knowledge that our nurse anesthesia residents already bring with them as critical care RNs before they are admitted into the program," Massie says.
"Program faculty are committed to providing the most evidence-based, current information to our nurse anesthesia residents," she continues. "We will learn and we will educate in the most engaging and innovative methods known. We will continue to evolve as the world does and address needs that arise locally, nationally, and across the globe."  
The AANA recently named Massie to its inaugural class of fellows, along with Laura Ardizzone, DNP '10, and Janice Izlar, MS '06.