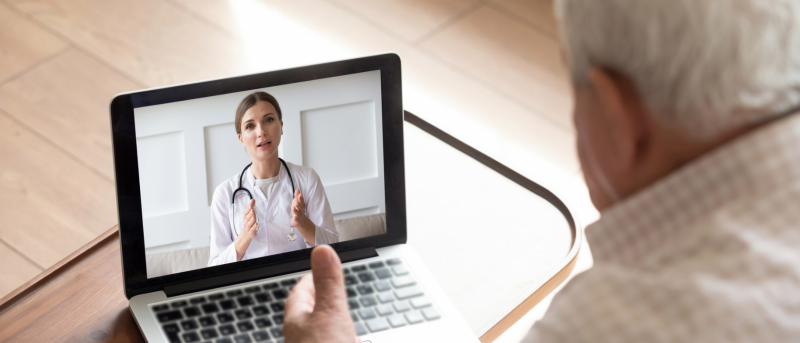 Columbia Nursing Study on Telehealth Use in Nursing Homes Shows Much Greater Use after Telehealth Regulations Were Relaxed in Response to COVID-19
Since the onset of the COVID-19 pandemic, public health officials and care providers have encouraged the use of telehealth services for patient treatment and consultations, to both mitigate exposure to the coronavirus that causes COVID-19 and to help reduce patient isolation. In a recent randomized study of nursing homes—led by Gregory L. Alexander, Ph.D., a professor of nursing at Columbia University School of Nursing, and published in the Journal of the American Medical Informatics Association—telehealth use increased elevenfold between March, when telehealth regulations were relaxed, and August, when the study concluded.
Medicare's telehealth rules and regulations were relaxed on March 6, 2020, in response to the virus to broaden access to telehealth services in nursing home settings, so beneficiaries could receive care they needed virtually, without having to risk travel to another health-care facility.
"We conducted a pre- and post-assessment of telehealth use in 664 nursing homes in the U.S. after the March 2020 emergency health crisis declaration, when the pandemic began to accelerate in the U.S.," explains Alexander. The study was designed to answer three key questions: Did the relaxation of federal telehealth regulations lead to increased telehealth use in U.S. nursing homes? What were nursing homes using telehealth for? Were there differences in nursing home telehealth uptake, pre- and post-telehealth expansion, based on facility characteristics such as number of beds, location, and ownership?
Joining Alexander in conducting the study, titled "An Evaluation of Telehealth Expansion in U.S. Nursing Homes," were Kimberly R. Powell, Ph.D., of the University of Missouri Sinclair School of Nursing, and Chelsea B. Deroche, Ph.D., of the University of Missouri School of Medicine.
A Wide Range in Telehealth Use
Nursing home administrators completing the survey reported a wide range of telehealth use—from no use of telehealth by16% of respondents (105 nursing homes) to maximum use of telehealth by 5% (32 nursing homes). Partial telehealth implementation was reported by 79% (527 nursing homes), with the majority of those facilities being on the lower end of the distribution. Larger metropolitan nursing homes reported greater telehealth use than their smaller counterparts in rural areas, small towns, and small cities. The ownership of nursing homes (nonprofit versus for-profit) showed little impact on the use of telehealth.
"We hypothesize that relaxation of federal regulations with telehealth expansion will lead to greater nursing home telehealth adoption nationally, a setting which accounts for over 10,000 (or 27%) COVID-19 deaths in the United States," Alexander and his coauthors wrote in the paper.
The study not only confirmed the increase in telehealth services over the study period but also impelled the authors to call for a continuation of the relaxed telehealth regulations. Doing so, they noted would help reduce nursing home residents' isolation, preserve limited resources (such as personal protective equipment), maintain proper distancing parameters, allow for timely care delivery, and maintain social connectedness.
Meeting the Need for Human Connection
Telehealth technology is now considered to be a critical health-care access point for vulnerable populations, chronically ill nursing home residents, and people living in rural settings.
"Without a vaccine and electronic connections to the outside world, nursing home residents could spend weeks, months, or even years in a facility without visitors other than regular staff," concluded Alexander and his coauthors in the paper. "This could have a profound effect on resident outcomes including depression rates, mobility, etc. One solution is to encourage the proliferation of telehealth with continued relaxed regulations."