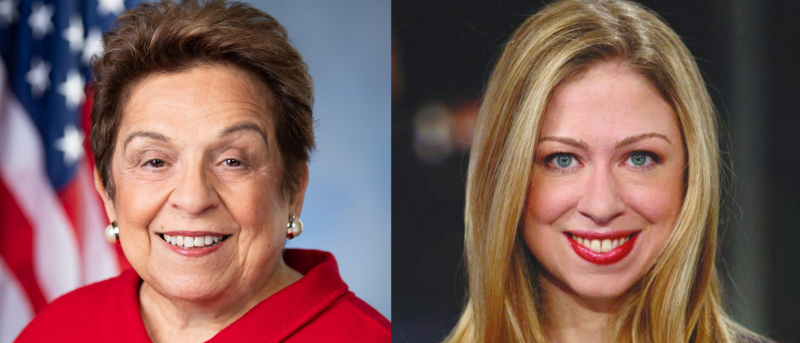 Conversations with Health Policymakers
Congresswoman Donna Shalala and Chelsea Clinton Join Columbia Nursing Class
This summer, Assistant Professor Adriana Arcia welcomed special guests Donna Shalala, U.S. Congresswoman serving South Florida's 27th Congressional District and former U.S. Secretary of Health and Human Services, and Chelsea Clinton, Vice Chair of the Clinton Foundation and Adjunct Assistant Professor at Columbia University Mailman School of Public Health, into her Health and Social Policy in the Context of Practice class. There they engaged with Columbia Nursing students to discuss health policy and nursing's impact in light of today's pressing issues.
The course, offered to a mix of Masters Direct Entry, Doctor of Nursing Practice, and Nurse Anesthesia students, examines contextual contributors to health status and the current social, legal, and political determinants of health care systems, emphasizing the U.S. system. It explores a range of issues and their impact on the current and future delivery of health care and, in particular, on advanced practice nursing.
Arcia thought her students would benefit most by hearing directly from today's health policy leaders. "Readings help students understand the material at a theoretical level. Having guest speakers is beneficial for them because they get to see how health policy plays out in the real world. It exposes them to additional perspectives," said Arcia.
The Conversations
Hosted via Zoom on June 25 with Congresswoman Shalala and on July 23 with Clinton, the 69-person class gave students the opportunity to ask a variety of questions.
During Shalala's class, which she conducted between votes on the floor, the Congresswoman fielded questions about topics ranging from how to improve access to health care, COVID-19, police brutality, and more. She emphasized that it's important for nurses to know how fragmented the health care system is, so that they can work towards improving it. Nurses, she said, make attractive political candidates, because they are "patient-centered and we need that for shaping policy." Shalala encouraged the students to get involved politically and to make their voices heard by becoming more visible on the Hill.
Clinton focused her discussion on the role of the World Health Organization, the value of international collaboration, and how public health officials can help solve global health problems. She reflected on the COVID-19 pandemic response, citing the critical role communications serves in educating the public about disease, even when there is limited information available. She also stressed the need for global collaboration during such times, and how, in an ideal world, the scientific and supply chain communities would come together to resolve problems. 
The Student Experience
For students, these classes provided a rare and valuable look into the world of health policy. Nurse Anesthesia student Kendall Case said, "Having access to speakers of this caliber was truly incredible. It offered our class a unique perspective into the importance of health policy, from the view of an expert. After hearing from the speakers, it was apparent how much work there is to be done and how nurses are greatly needed in the process."
Abby Anderson, a student in the Family Nurse Practitioner program, added to that sentiment, feeling inspired to influence health policy to improve health care for others. She said, "My biggest take away from the discussions with health policy makers is this: I cannot wait to utilize my health care career to contribute to policy. I have a unique ability as a nurse and future DNP to influence laws regarding health and wellness. I suspect my time in Columbia's pediatric nurse practitioner program will continue to increase my passion for health policy, while also providing me with opportunities to wield this passion for the betterment of others."
A Greater Mission
Arcia is pleased these policy leaders could help emphasize the school's--and the nursing profession's-- mission to promote social justice and health equity for all.
She said, "The guest speaker series drives home the far-reaching impact of health policy and the urgent need for nurses to be actively involved. Being politically engaged is important not only because we should have a seat at the table when issues affect our profession, but also because we have an obligation, as spelled out in the American Nursing Association code of ethics, to work towards social justice and health equity."