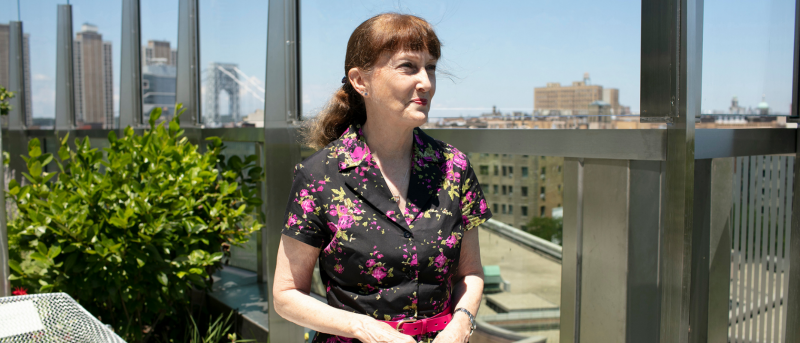 Dean Emerita Bobbie Berkowitz Named a Living Legend
Bobbie Berkowitz, Dean Emerita of Columbia Nursing, has been named a Living Legend by the American Academy of Nursing (AAN). This is the Academy's highest honor and is bestowed on individuals who have demonstrated extraordinary, sustained contributions to nursing and health care. This great honor will be accorded to Berkowitz at the AAN's 2020 Virtual Policy Conference on October 29 - 31. 
The Academy recognizes a small number of Fellows as Living Legends each year, and Berkowitz is the second from Columbia Nursing to receive the prestigious distinction. Professor Emerita Elaine Larson was named a Living Legend by the Academy in 2017. 
According to the AAN, "Bobbie Berkowitz, PhD, RN, NEA-BC, FAAN, is an exemplary public health nurse who has made lasting contributions to improve the public health infrastructure through implementing sound health policies that ultimately reduce inequities and strengthen communities. As Deputy Secretary for the Washington State Department of Health, Dr. Berkowitz helped to reform the state's public health system through her leadership to create the report that became the basis of the Health Services Act of 1993. Following the passage of this legislation, as faculty at the University of Washington, she helped lead a 10-year, national program funded by the Robert Wood Johnson Foundation, Turning Point: Collaborating for a New Century in Public Health, to modernize states' public health statutes, improve quality, enhance utilization of information technology, create performance management systems, and nurture public health leadership. Dr. Berkowitz served as President of the Academy from 2015-2017 and is Dean Emerita at Columbia University School of Nursing."  
Dean Lorraine Frazier added, "Having been granted the privilege to succeed Bobbie in shepherding this wonderful institution, I know full well the impact she has had on Columbia and on our profession. And it is particularly meaningful that she should receive this designation during a year when nursing has been celebrated as never before, for its role in battling the COVID pandemic." 
Dean Emerita Bobbie Berkowitz's legacy at Columbia Nursing includes elevating the school's curriculum, expanding its research enterprise, growing its primary care practice, and constructing and relocating to an ultramodern building with a state-of-the-art simulation center. Learn more. 
Read the AAN press release. 
Register for the AAN 2020 Virtual Policy Conference.