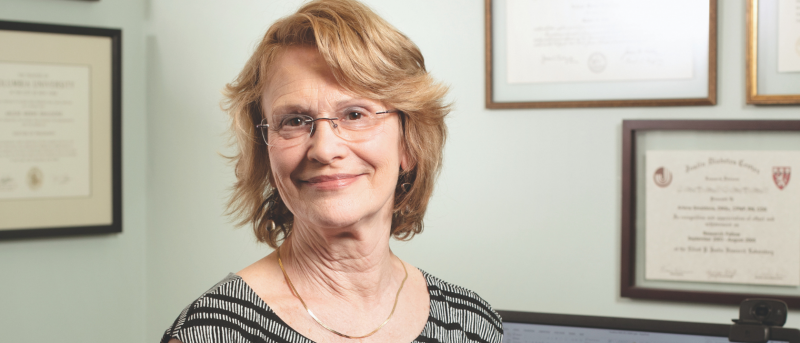 Faculty Profile: Arlene Smaldone, PhD, CPNP, CDE
Assistant Dean, Scholarship and Research
Arlene Smaldone, PhD, is an authority on self-management of childhood chronic health conditions, as well as diabetes care and education. She started her 43-year nursing career as a clinical nurse working in pediatric and neonatal intensive care.
Two decades later, she shifted her focus to outpatient care, while working at University Hospital and Medical Center in Stony Brook, NY, where she was responsible for a caseload of children with cystic fibrosis, many of whom also suffered from a secondary form of diabetes. In 1994, she became a Certified Pediatric Nurse Practitioner and joined an endocrinology team studying juvenile growth disorders and diabetes prevention. This sparked her interest in the investigative arena. She received her DNSc at Columbia in 2003 and then served as a postdoctoral fellow at the Joslin Diabetes Center and Harvard Medical School. She joined the CUSON faculty in 2005 and currently serves as director of the PhD program. Smaldone was recently appointed Assistant Dean for Scholarship and Research. She was inducted as a Fellow into the New York Academy of Nursing in 2010 and co-Chairs its Section on Evidence Based Health Care.
Q. As a graduate of our DNSc (now PhD) program in 2003 and current Director of the PhD program, what changes have you seen in the research doctoral program over the past 10 years?
A: Returning to Columbia as faculty following my postdoctoral fellowship was very exciting and those feelings have only been enhanced with these new responsibilities. It's an opportune time to be involved in higher education in nursing. The Institute of Medicine provides a clear mandate that our discipline must increase its number of doctorally prepared educators and scholars to improve the health of our nation. At Columbia, we see our mission as preparing nurse scientists who will teach, conduct research, and develop new knowledge to improve care delivery and inform health policy.
The DNSc program (now PhD)that I graduated from ten years ago has some core similarities with today's PhD program but there are distinct differences as well. Not too long after I returned to Columbia as faculty, the program changed from a part time to a full time program and provided funding to students during the first two years of study. This allows today's PhD students to participate more fully in the wealth of campus-wide activities. The school has also matured as a center for research. Our students receive many benefits in terms of training grants and opportunities to participate as research or teaching assistants in faculty projects. These types of experiences help to prepare students for the roles they might assume following graduation.
Q: Nurses have conducted research since Florence Nightingale's pioneering use of statistics in the 19th century. But many people only see nursing through a bedside lens and aren't aware of the important work done by nurse scientists today. What needs to happen to create greater appreciation for nursing research and nurse scientists?
A: First, as a profession, we need to value the role of research in guiding best practice.  This begins in the initial phases of nursing education but must be carried forward in the clinical settings where many nurses conduct their work. Often, bedside nurses lack opportunities to use what they have learned to provide best practice. Although we're making strides in interdisciplinary research efforts in one regard, when it comes to clinical care settings, disciplines too often think in narrow categories, placing nursing evidence in one silo, and medical evidence in another, for example.  That needs to change.  The section on Evidence Based Health Care at The New York Academy of Medicine that I co-chair has made a strong effort to move forward this idea of interdisciplinary collaboration in translating evidence to clinical care in our programs. In addition, nurse scientists need to publish their research in interdisciplinary journals to bring greater visibility to their work.
Q. You are a pediatric nurse practitioner and diabetes educator. How does that inform your research?
A: As a diabetes educator, I learned the importance of self-management of chronic illness. When we think about chronic illness affecting children, self-management takes on a different dimension. Parents must incorporate self-management into the daily lives of children, yet allow them to live a normal life. Over time, they must transition responsibility for self-care to them. During my postdoctoral fellowship at the Joslin Diabetes Center in Boston, I learned to measure the effect of interventions to improve self-management. Much of my work focuses on adherence and self-management partnerships between parents and youth. At Columbia, I've had the opportunity through interdisciplinary research partnerships to apply some of what I know about self-management of two other pediatric chronic diseases: early childhood caries and sickle cell anemia.
Q. What are some other promising research areas where nurses can make the most lasting or significant contributions to healthcare?
A:There are many promising areas for nurse scientists.  The implementation of the Affordable Care Act offers tremendous potential for health services researchers to study the primary care workforce and population health, new payment structures, and access to care for those who previously lacked health insurance. Important clinical problems such as multi-resistant organisms remain unsolved.  These are only a few of the many areas that await investigation by nurse scientists today and in the future.