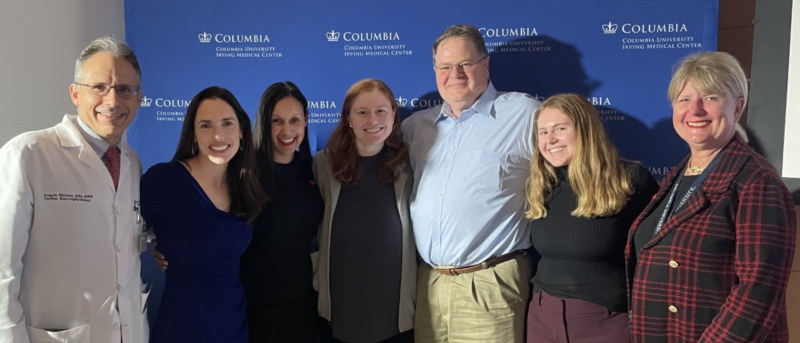 Hickey Remembered as Mentor, Scientist, Clinician, and Friend
Professor Ruth Masterson Creber, PhD, delivered the second annual Kathleen Hickey Endowed Lectureship in Science of Cardiovascular Care on February 9, 2023. 
The Center for Research on People of Color hosts the free, public lectureship in memory of Kathleen Hickey, EdD, an influential Columbia Nursing professor who conducted innovative, interdisciplinary research to improve cardiovascular health. Hickey passed away at age 54 in 2021.  
The series — Columbia University's only endowed lectureship honoring a nurse scientist — will be offered every February. Hickey's family was in attendence at the event, which was held at Columbia Nursing.
Hickey's research and clinical practice were focused on cardiogenetics, clinical care and management of atrial and ventricular arrythmias, and prevention of sudden cardiac death. She was also co-director of the Precision in Symptom Self-Management Center and held a joint appointment in the Division of Cardiology (electrophysiology) as a family and adult nurse practitioner. 
She was also principal investigator on the iHeart study, the first prospective, randomized controlled trial to test whether electrocardiographic monitoring with a mobile device in the real-world setting would improve time to detection and treatment of recurrent atrial fibrillation.  
'A life well lived' 
"We have so much to learn from the life and example of Dr. Kathleen Hickey. What I want everyone to get out of this lecture today is a sense of clarity on what a life well lived looks like. I want each of us to take something from her example and be inspired to live more fully," Masterson Creber said at the beginning of her talk, " 
In interviews with many of Hickey's mentees, Masterson Creber noted, common themes included Hickey's "endless energy," her availability, and the strength of her relationships.  
"She was a dynamic woman who held many different responsibilities in tension—clinical, teaching, research, and mentorship. She was able to do this because she was precise in terms of what she gave her effort to. She applied her time and attention to things that were synergistic. She was focused on patient priorities," Masterson Creber said. "The clinical and the research always informed the other." 
A model of efficiency in balancing multiple priorities, Hickey put her family first, and "lived a message of holistic health," she added.  
"I'm forever grateful to Kathleen for investing in me, investing in all of us and giving so much of herself and modeling being an impactful mentor," Masterson Creber concluded. "There is a void that is hard to fill. As one of her mentees said, 'The people who lost out most were the students who never had an opportunity to be in her presence.'"