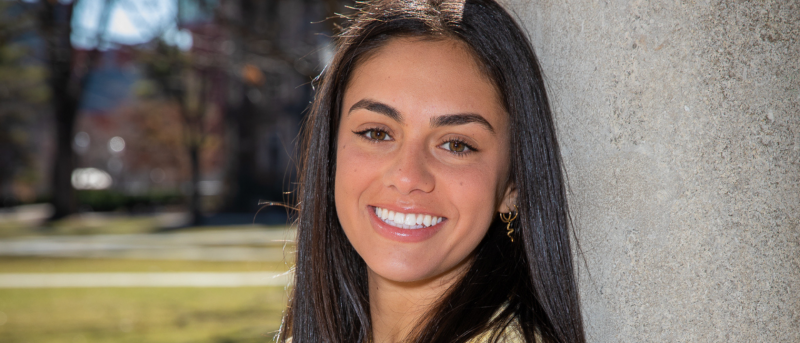 MDE-DNP Student Spotlight: Remy Klugman
Masters Direct Entry Program '21
It is such a gratifying feeling to care for patients and their families during the most vulnerable times of their lives.
Remy Klugman's passion for exploring the specialties, concentrations, and career opportunities available in nursing led her to co-found A Day in the Life, which invites practicing nurses to speak with nursing students about their experiences.
Please tell us a little bit about yourself—where are you originally from, and what do you like to do in your spare time? 
I'm originally from New Jersey, and recently moved to New York City. Last May I graduated from the University of Michigan, where I received a BS in Health and Fitness from the School of Kinesiology.  In my free time I enjoy exercising, baking (any sweet treat is the key to my heart), and spending time with friends.
Why did you decide to pursue nursing and why did you choose Columbia Nursing?
When I entered college, I wanted to become a registered dietitian. I intended to graduate and continue my education to receive my Masters in Dietetics, but through various volunteer opportunities and summer internships in health care, I was exposed to nurses and nurse practitioners. I was able to see the roles and responsibilities that they play on their team of health care professionals. I admired their compassion and holistic approach to patient care, and soon decided this was the career for me. Through my research, I was confident that the Columbia Nursing faculty are committed to teaching students invaluable clinical and didactic skills, while challenging them to think critically. Nursing students learn therapeutic communication techniques while incorporating evidence-based care. Additionally, Columbia's many hospital affiliations provide students unparalleled learning opportunities and connect them to a large alumni network. Moreover, the school's simulation center is incredibly innovative and uses standardized patients and high-fidelity mannequins to practice clinical skills. All of these factors made Columbia Nursing the perfect fit for me.
How has the pandemic shaped your feelings about becoming a nurse?
This year has been extremely difficult for so many people. In the thick of the pandemic, before becoming a nursing student, I watched the news and developed a renewed appreciation for nurses. Nurses continue to put their lives on the line to care for COVID-19 patients and provide unwavering support to their patient's families during this challenging time. Upon entering nursing school, I was intimidated and frightened, but also eager to become a frontline worker and do the same. It is such a gratifying feeling to care for patients and their families during the most vulnerable times of their lives. Not all heroes wear capes; some wear PPE gowns, N-95 respirators, and face shields!
How has your Columbia Nursing education and experience prepared you to deal with the pandemic?
Columbia Nursing has not only provided me with the proper clinical skills to function as a frontline worker during the COVID-19 pandemic, but my clinical experiences have helped me gain the interpersonal and therapeutic communication skills needed to care for my patients and their families during this time.
What are you passionate about, and how has being a student at Columbia Nursing allowed you to follow that passion?
I am passionate about exploring the various specialties, areas of concentration, and career opportunities available in the field of nursing. To that end, my classmate Emily Mollins and I founded an organization called A Day in the Life (ADITL), which was recently featured on Columbia's social media platforms. ADITL's mission is to educate nursing students on the plethora of specialties within nursing. The organization provides students with a realistic snapshot of the typical day-to-day routine of nurses from different backgrounds by inviting working nurses from various disciplines to speak to members of ADITL and enlighten them on their roles and responsibilities. I thank Columbia Nursing for allowing me the opportunity and freedom to create an organization I believe all aspiring nurses can benefit from.
What's your next step after you graduate? 
After I graduate I plan to attend the Doctor of Nursing Practice (DNP) program in acute care for adult and geriatric populations. I hope to work as I receive my DNP degree so that I can gain experience as a floor nurse prior to becoming a nurse practitioner. I hope one day to work as an acute care nurse practitioner in the ICU or in the emergency department.
Do you have a favorite memory of your time at Columbia Nursing?
I have two favorite memories . The first is my first day of clinical. I remember arriving to the clinical site nervous and excited but not knowing what to expect. My preceptor had assigned us patients the minute we got there. I was so frazzled and had no idea how to transfer the skills I had learned on paper to communicating with a real patient. Though now this seems ordinary, I will never forget turning my first patient for the first time or helping them ambulate down the hallway. Another great memory is of my weekly office hours with Professor Aboelela. Two of my nursing school friends and I were avid office hour attendees. Each session, Sally would greet us and ask about the lists of questions we had prepared prior to the session. I will never forget our little office hour crew. Professor Aboelela made office hours enjoyable, accessible, and something I looked forward to on my Friday afternoons.